A version of this story appeared in the Sept. 25-Oct. 8, 2015 print issue under the headline: Volunteers send notes from the field.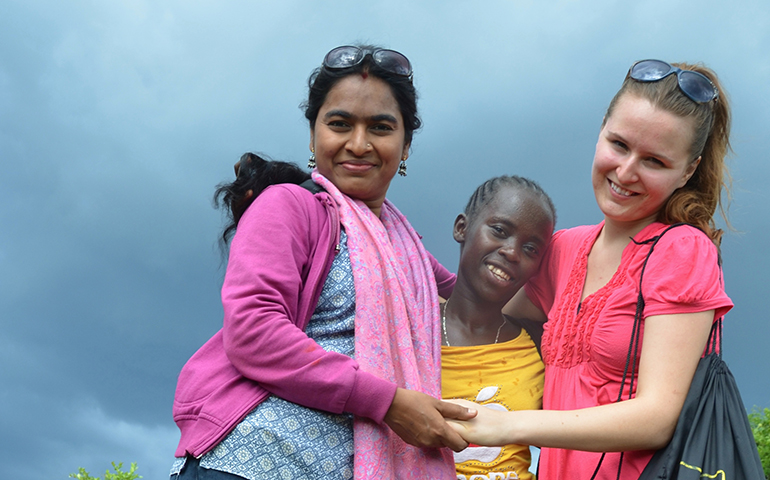 Angela Mahoney, right, with a teacher from India and an Ethiopian student
Roughly 200 programs offering volunteer service opportunities of a year or more are affiliated with the Catholic Volunteer Network. Working with the network, Global Sisters Report launched its summer 2015 blogging project with reports from four young women working in the ministries of Catholic sisters around the world. Below is an example excerpt, from Angela Mahoney's blog about her experience as a volunteer in Ethiopia. For the full stories, read more at GlobalSistersReport.org/series/notes-field.
Angela Mahoney, who studied design at the University of the Incarnate Word in San Antonio, works with the Salesian Sisters as a VIDES volunteer in Dilla, Ethiopia. She teaches communications and English, and on Sundays helps the sisters with the Oratory for children.
Mary Clare Mazzocchi served for a year at Immaculate Conception Academy, a Cristo Rey high school in the Mission District of San Francisco with Dominican Volunteers USA, a program sponsored by 18 congregations of sisters and friars. Mazzocchi is a graduate of the University of North Carolina at Chapel Hill.
Bridgid O'Brien was an international Good Shepherd volunteer in Nong Khai, Thailand, working with an organization that provides care, resources and income-generating opportunities for individuals affected by and infected with HIV/AIDS. A Boston native, she graduated from Boston College.
Kirsten Rotz, an Idaho native who attended Carroll College in Helena, Mont., worked as a VIDES volunteer with the Daughters of Mary Help of Christians (Salesian Sisters) in San Pedro Sula, Honduras. She taught English and PE and helped care for the 30 girls, ages 6 to 14, who lived with them during the week.
-- Mary Lou Nolan
---
Coffee and fruit
In March, I joined the Salesian sisters' mission in Dilla, a small town in southern Ethiopia. The mission here was taken over by the Salesian sisters in the mid-1980s. Initially, four sisters ran the mission, helping manage two kindergarten classes and the infirmary. A few years later, they started a sewing class and, after a while, a computer course.
A Salesian priests' compound is next door, so I can see the parish church from my window and it only takes a couple minutes to walk to Mass in the early morning. During Mass, women here cover their head with a netela, which is a big white shawl with embroidery at the ends.
During Mass, the doors and windows of the church are often left open to welcome in the cool air. But this sometimes welcomes in other things, like birds, which wildly circle overhead like over-caffeinated creatures. Either the birds are eating coffee beans off the plants outside or they are extracting energy from the drumming and lively singing of the congregation.
There is a legend here about Kaldi, a goat herder, who is said to have discovered coffee after his goats grazed in a field with coffee plants and were filled with energy. So, all you coffee lovers out there, you can say a quick prayer for Ethiopia and her people.
-- Angela Mahoney