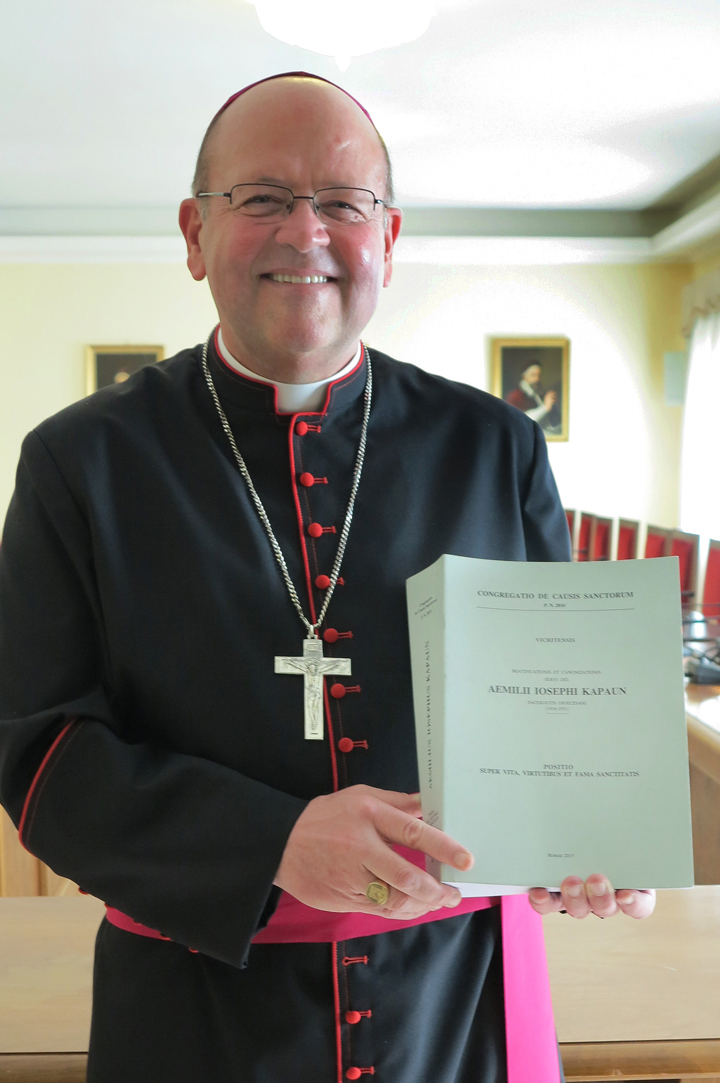 Bishop Carl A. Kemme of Wichita, Kan., holds a 1,066-page report on the life and holiness of Father Emil J. Kapaun that he formally delivered Nov. 9 to the Congregation for Saints' Causes at the Vatican. Father Kapaun, a priest of the Diocese of Wichita and an Army chaplain, died in a North Korean prison camp in 1951. (CNS/Cindy Wooden)
Vatican City — November 11, 2015
A week after the 65th anniversary of Fr. Emil J. Kapaun's capture in North Korea, the bishop of Wichita, Kansas, formally presented a report on the Army chaplain's life, virtues and fame of holiness to the Congregation for Saints' Causes.
Bishop Carl A. Kemme of Wichita and a small delegation from the diocese met Nov. 9 with Cardinal Angelo Amato, prefect of the congregation, and other officials to hand over the 1,066 report known as a "positio."
During the Korean War, Kapaun, a priest of the Wichita diocese, and other members of the 3rd Battalion, 8th Cavalry Regiment, were captured by Chinese troops in North Korea Nov. 2, 1950. The priest died in a North Korean prison camp May 23, 1951.
President Barack Obama presented the Medal of Honor posthumously to the war-hero priest in a White House ceremony in 2013, but the men who were imprisoned with Kapaun and the faithful of the Diocese of Wichita had been honoring him long before that.
"Since the day his fellow prisoners of war in the Korean Conflict (1950-1953) were liberated after their long and cruel incarceration, during which Father Kapaun was instrumental in providing to his fellow soldiers unparalleled pastoral care, word of his saintly virtue has been spreading and continues to our day," said a letter Kemme wrote and delivered to Cardinal Amato.
"I'm very honored and humbled to be part of this moment," Kemme said after handing over the "positio," which is based on a long diocesan investigation of Kapaun's life, writings and eyewitness testimony, including with prisoners who survived the camp.
Andrea Ambrosi, the postulator or promoter of the cause, said it took 12-13 months to write the volume, which should go to a team of Vatican historians for review in April.
Archbishop Marcello Bartolucci, secretary of the congregation, told Kemme and his delegation that if the historians have no questions and believe the biography and the information about the circumstances of Kapaun's death are complete, the report would go to a commission of theologians.
Under normal circumstances, Bartolucci said, the theologians would not get to the report for at least 10 years, but since Kapaun is the first sainthood candidate from the Wichita diocese, it gets precedence. He is hoping to get the report on the commission's calendar for late 2017.
"While you are waiting -- a year or two -- you can work on the miracle," the archbishop told the bishop.
In fact, Kemme told him, the diocese already has identified and is working on the documentation for two healings. One of them could be the miracle needed for Kapaun's beatification.
While Kemme was at the Vatican, supporters of Kapaun's cause were praying. A special novena for the beatification of Kapaun began Nov. 2, the 65th anniversary of his capture at the Battle of Unsan, and was to end on Veterans Day, Nov. 11.