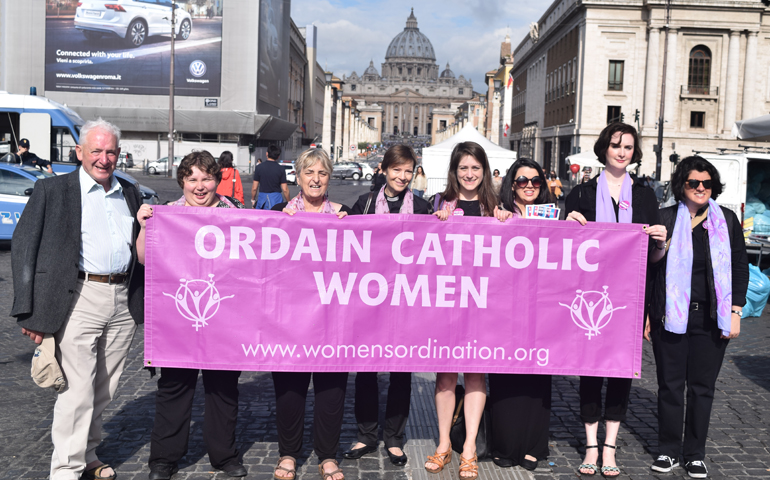 From left to right: Irish Redemptorist Fr. Tony Flannery, Polish activist Alicja Baranowska, British activist Pat Brown, U.S. Anglican Rev. Dana English, Kate McElwee, Erin Saiz Hanna, Miriam Duignan and Jamie Manson hold a sign supporting women's ordination in front of St. Peter's Basilica June 3. (NCR photo)
Advocates for the ordination of women to the Roman Catholic priesthood marked the 20th anniversary of the founding of their movement in Rome with a three-day conference that culminated today with a pilgrim's walk down the Via della Conciliazione to St. Peter's Square.
Women's Ordination Worldwide, or WOW, a coalition of international groups supporting women's ordination, hosted the meeting and march in Rome to urge church leaders to re-open a dialogue on the question of ordaining women, which Pope John Paul II closed 22 years ago with publication of his apostolic exhortation Ordinatio Sacerdotalis, "on reserving priestly ordination to men alone."
The "Open the Door to Dialogue" conference June 1-3 coincided with the Vatican's Jubilee for Priests and Seminarians, part of the official celebrations marking Pope Francis' Jubilee Year of Mercy.
"We thought that the Jubilee for Priests was a perfect time to really give an offering and a celebration for all women called to priesthood," said Kate McElwee, co-executive director of the Women's Ordination Conference, the U.S.-based member of WOW. "We really wanted to have this as a celebration and a serious conversation of women in the church."
The centerpiece of the "Open the Door to Dialogue" conference was a five-person panel discussion and a question and answer period in Rome June 1 at the Casa Internazionale delle donne, a center for feminist movements, located just steps down the Tiber river from the Vatican.
Almost 60 people attended the two-hour panel discussion, which included people with professional and personal experience with women in ministry.
One panel member, Tony Flannery -- an Irish Redemptorist priest who was removed from active ministry* in 2012 for his support for female priests -- compared the church's current stance on women's issues to the Middle Ages.
"I am becoming increasingly convinced that the inequality of women is becoming a major issue and a major challenge facing the Catholic church, and, unless addressed, [the Church] will continue becoming more sidelined and little more than a sect," Flannery told NCR.
Pope Francis' recent announcement that he would create a commission to study the history of female deacons in the Catholic church -- a hot button topic among members of the church -- was also brought to the table Wednesday, June 1. Flannery offered only positive feedback to the announcement. If women eventually are ordained as deacons, he said, parishioners will no longer distinguish between males and females performing liturgies on the altar. "They wouldn't see a significant difference. I think it would be a big step forward."
Panelist Jamie Manson, who is NCR's book editor and a columnist, offered a different perspective. "The establishment of women deacons, I think, runs the risk of being a compromise that ends up trapping women in a role in which they will continue to be subservient to men, particularly in service to priests," she said.
Panelist Marinella Perroni, a professor of the New Testament at Pontifical University of St. Anselmo in Rome, offered three points during her introduction Wednesday, including the ecclesiology of the Second Vatican Council, which "brought to light the necessity of re-thinking the theology of Catholic ministry," she said.
"I was always convinced that the church of Vatican II must come to de-clericalize ordained ministry, liberating it from the weight of sacrifice. Instead, the terror of a possible Protestantization of the Catholic church has blocked the reception of Vatican II and radicalized the theology of ministry as the stereotypical post-Tridentine ones," Perroni said. "Personally, therefore, I would prefer that women would aspire to ordained ministry rather than priesthood.
The Rev. Dana English, a panelist and assistant curate at All Saints' Anglican Church in Rome, called Perroni's remarks "extraordinary."
English, who's been ordained for 32 years, told NCR that open dialogue -- like the one the conference presented -- is a necessary step in continuing the presence of women in the public eye.
"If the voices continue to be clear and loud and frequent, both by presence and by voice, I think this issue can continue to sink into the public consciousness," said English. "The traditional structures are going to have to break down in the next 10 to 20 years."
Italian photographer Giulia Bianchi, also a panelist at Wednesday's conference, has spent the past three years photographing more than 70 excommunicated female priests -- work that has taken her as far as New Mexico and Colombia.
Bianchi's photographs, titled "Women Priests Project," have been printed as three-foot bill posters and are on public display around St. Peter's Square and the Trastevere district in Rome. The posters are to be on display until June 8.
Her work is more than just a picture, she said, but instead a call to women to break down the barriers created by society.
"The women priests are fine. They don't need my help. They don't need my photographs. I do my work for women that aren't empowered ... That think they aren't as good as a man," Bianchi told NCR. "There is nothing more important for spiritual people then to feel their spirituality is as big and as mystic and as profound as the spirituality of the man."
About 20 people gathered Friday in Piazza Pia at the far end of the boulevard that runs into the plaza outside St. Peter's Basilica, where a Mass for the Jubilee of Priests was beginning. The Women's Ordination Worldwide supporters dressed in purple stoles -- a symbol of women's ordination -- and carried signs that read, "Women priests are here." They also had a cardboard replica of a telephone booth that was labeled, "Door to dialogue."
WOW organizers had a permit for their demonstration, making it, they say, the first legal demonstration for the group in Rome.
"We walked down the pilgrim's path toward St. Peter's and joined the Mass for priests," McElwee told NCR. "However, the women priests with us had their stoles and signs taken away, as well as our leaflets and pins."
*An earlier version of this story misstated Flannery's status in 2012.
[Traci Badalucco is an NCR Bertelsen intern. Her email address is tbadalucco@ncronline.org.]