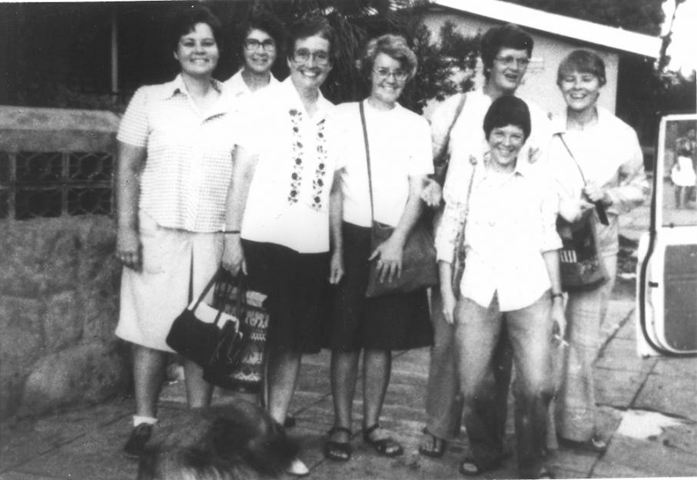 El Salvador, 1980, left to right: Two unidentified Cleveland missioners, Sr. Maura Clarke, Sr. Theresa Alexander, Sr. Pat Edmiston, Sr. Ita Ford (front), and Sr. Dorothy Kazel. (Maryknoll Mission Archives)
Judy Ress won't forget Dorothy Kazel.
After Archbishop Oscar Romero was killed in El Salvador by Salvadoran death squads suspected of ties with the government in March 1980, Ress and Kazel saw one another at a Mass in Santiago, Chile, celebrating his life.
"I asked her, 'Are you still going to go?'" said Ress, 70, a retired Maryknoll lay missionary in Santiago, as she recalled asking Kazel of her plans to work in El Salvador.
"Of course," Kazel told her.
Nine months later, members of the National Guard of El Salvador abducted, raped and executed four American churchwomen including Kazel, 40, an Ursuline sister from Cleveland; Maryknoll Srs. Maura Clarke, 49, and Ita Ford, 40, from New York; and Jean Donovan, 27, a lay missionary who was engaged to be married, also from Cleveland.
El Salvador, Nicaragua and Central America in general in 1980 were on the frontlines of American foreign policy, part of a $7 billion Cold War-era effort to prevent left-wing guerrilla leaders from coming to power. As many as 75,000 people died and an estimated 8,000 disappeared in El Salvador, mostly at the hands of right-wing death squads and the military. The murders of the four American women jolted the American public and led to a strong domestic policy debate about the efficacy of the U.S. government's supporting and training the security forces of repressive Central American regimes.
Now, 35 years later, commemorations for the women will be held on the anniversary of their deaths Dec. 2, highlighting their service and their legacy.