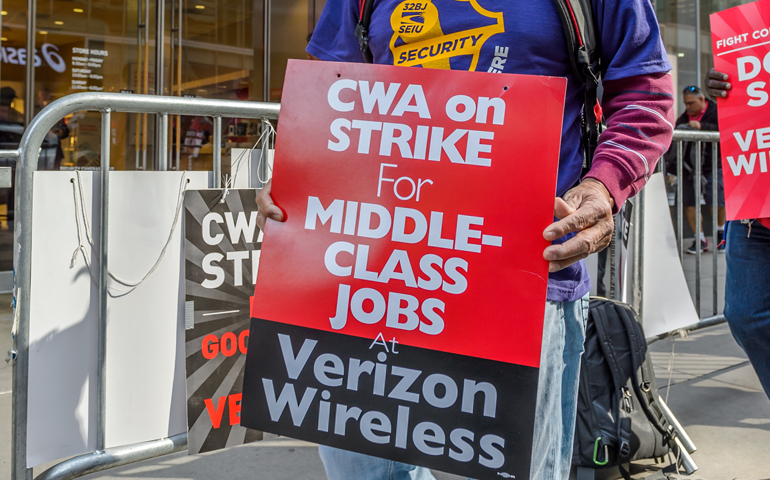 A man walks in the striking Verizon workers' picket line outside a store in New York May 12. (Pacific Press/Erik McGregor)
Any politician who wants the support of the AFL-CIO must answer a fundamental moral question: Will you choose a world of scarcity or one of abundance?
A vision of scarcity leads to the building of walls, the turning away of refugees, and the denial of vital services to the most vulnerable among us. A vision of scarcity leads us away from compassion and toward a bitter and impoverished society.
The Bible -- as well as the teachings of every faith tradition -- offers a different vision, one of abundance and love. In that vision, we trust that our world is overflowing with more than enough for ourselves and all those in need.
This isn't just a religious concept; the basic tenets prove true in economics.
Researchers at the Ninth Federal Reserve Bank in Minneapolis, for instance, have demonstrated the value of free early childhood education. For every tax dollar spent helping our children get off on the right foot, we get $19 back as they grow up and contribute to society.
On issue after issue -- whether raising wages or investing in roads, bridges, schools and water systems -- an abundant worldview leads to broadly shared prosperity.
Economists don't use religious terms, typically, but time and again they tell us of the success that comes from investing in ourselves. We are all enriched, literally, when we welcome immigrants and when we take care of each other.
That basic idea might seem out of place in today's society. That's why we need it. The vision of scarcity is holding America back. It's convinced too many of us to distance ourselves from each other. This has allowed our economy to get so upside-down that today two in three families can't afford a $500 car repair bill, and more than half of Americans have less than $10,000 saved for retirement.
Scarcity in the form of a bad contract offer pushed nearly 40,000 Verizon workers to go on strike earlier this year for good pay, retirement security and jobs. The truth is, the telecommunications giant can afford it. The company banked $18 billion in profits in 2015, and Verizon's CEO makes in a day what most workers take home in an entire year.
Verizon isn't poor. And neither is America. We produce more wealth today than at any other time in history, but a smaller and smaller part of the population every year keeps more and more of it, leaving precious little for the rest of us.
At moments like this, our faith shows us the way forward: Let's stand together for a vision of abundance in our communities and at the ballot box.
[Richard Trumka is president of the AFL-CIO, America's largest coalition of labor unions. He comes from a small coal-mining town in southwest Pennsylvania.]
A version of this story appeared in the July 29-Aug 11, 2016 print issue under the headline: An abundant worldview leads to shared prosperity.