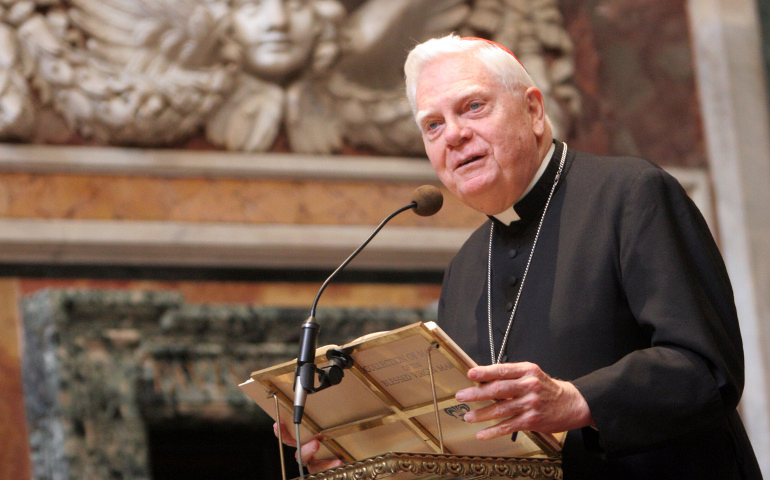 Cardinal Bernard Law, who had been one of the United States' most powerful and respected bishops until his legacy was blemished by the devastating sexual abuse of minors by priests in his Archdiocese of Boston, died early Dec. 20 in Rome at the age of 86. He is pictured in a 2007 photo. (CNS/Long Island Catholic/Gregory A. Shemitz)
Kansas City, Mo. — December 20, 2017
After resigning as archbishop of Boston in December 2002, Cardinal Bernard Law, who died in Rome early this morning, took refuge in a convent in Clinton, Maryland, owned by the Sisters of Mercy of Alma.
A year and a half later, in May 2004, he was appointed archpriest of St. Mary Major Basilica, one of the oldest and most important shrines in Rome, and settled into an influential, albeit quiet, role in the Vatican Curia.
Five years after Law's resignation, NCR ran a profile of the cardinal detailing his life in the heart of the Vatican. The article ran under the headline: "After the fall: Law finds normality in an unremarkable role in Rome."
Following is the Editor's Note that accompanied the story:
Dec. 13 [2007] marked the fifth anniversary of Cardinal Bernard Law's resignation as archbishop of Boston amid the frenzy of the sexual abuse crisis in his archdiocese and in the U.S. Catholic church — by any standard, one of the pivotal moments in recent American Catholic history. Today, Law serves as archpriest of the Basilica of St. Mary Major in Rome and a member of eight Vatican departments.

In light of the controversy that still surrounds Law, NCR asked senior correspondent John Allen to describe Law's situation in Rome: What his activities are, how he's been received, how much influence he holds, and, to the extent possible, what sense Law makes of his circumstances. Allen reported this story from Rome during late November and early December.