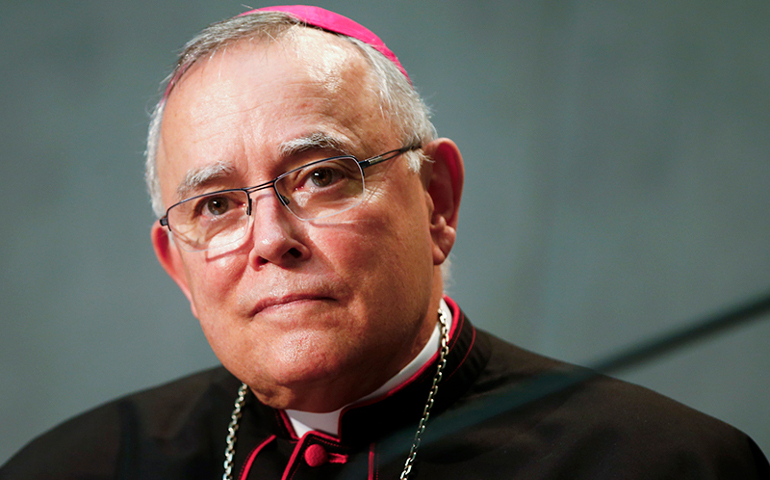 Archbishop of Philadelphia Charles J. Chaput attends a news conference at the Vatican on Sept. 16, 2014. (Photo courtesy of Reuters/Tony Gentile)
Philadelphia Archbishop Charles Chaput, a leader of the conservative wing of the Catholic hierarchy in the U.S., is denouncing President Donald Trump's critics for displaying what he says is unprecedented opposition to the new president.
And he suggested that the University of Notre Dame honor Trump with an honorary degree at graduation this spring.
"Since Inauguration Day critics of Donald Trump have marched, rioted, verbally abused and in some cases viciously assaulted their opponents on a scale previously unseen," Chaput wrote in a column published Jan. 27 as he was in Washington for the annual anti-abortion March for Life.
He noted that some of Trump's statements and actions during the campaign "were deeply troubling" but he repeated his contention that Hillary Clinton "had her own equally, though different, ugly and disqualifying baggage."
Chaput has said that Trump's opposition to abortion — the real-estate mogul supported abortion rights until he entered politics — was a key factor for Catholic voters.
"Mr. Trump is now President Trump, and curiously, some of the harshest, on-going fury directed at him has nothing to do with his personal character," Chaput wrote. "Rather, it's a very special brand of 'progressive' intolerance for the approach his administration may take toward a range of difficult social issues, including abortion."
The Catholic bishops have welcomed Trump's executive order barring funding for overseas programs that provide counseling on abortion and his administration's high profile presence at the March for Life, as well as his pledge to name a Supreme Court justice next week who would overturn Roe v. Wade.
But Chaput's defense of Trump was notable given that the new president's other statements and his behavior have alarmed many Catholic leaders. And some of his other actions as president — such as following up on his pledge to build a wall with Mexico, restrict refugees and overturn Obamacare — have also drawn sharp criticism from the U.S. Conference of Catholic Bishops.
The archbishop's public pressure on the iconic Catholic institution to honor Trump at commencement in May was also remarkable in that Chaput was one of the sharpest critics of the university when its president, the Rev. John Jenkins, gave newly-elected President Obama an honorary degree in 2009.
Catholic conservatives were livid that Notre Dame would honor Obama, who supported abortion rights, and who they viewed as a liberal who would oppose their positions and worldview.
Chaput's comments Jan. 27 were another chapter in the archbishop's critiques of Notre Dame.
At a talk at the university last September, the 72-year-old archbishop said Notre Dame's decision to give then Vice President Joe Biden a prestigious award a few months earlier (former House Speaker John Boehner, a Catholic Republican who opposes abortion, was a co-recipient) was "a baffling error of judgment." He said the move caused damage "both to the faithful and to the uninformed."
Then the next month he returned to the campus and in a wide-ranging talk pointed to Notre Dame's decision to honor the late New York Gov. Mario Cuomo — who delivered a speech on how he could support abortion rights as a Catholic politician — as a marker "to date the start of our current troubles."
In December, Jenkins said he was not sure he would invite Trump to graduation; Notre Dame has had more presidents deliver commencement addresses than any other nonmilitary college, and such an appearance is normally coveted.
But Jenkins expressed concern that Trump coming "may be even more of a circus" than 2009.
Now Chaput is pushing Notre Dame to invite Trump, saying Jenkins needed to give him a chance to engage with Catholics and to be heard.
"Maybe the best way to amplify and elevate President Trump's understanding of that word 'prolife' would be for a premier Catholic university — say, for example, the University of Notre Dame — to invite him to campus to offer its commencement address, to explain his personal evolution on the abortion issue, and to share, listen and learn with a cross-section of students and faculty in a respectful dialogue on the meaning of human dignity."
"Notre Dame takes pride in its tradition of welcoming to campus U.S. presidents from both parties and with very different views," he said, further tweaking Jenkins over past invitations.
"In that light, the invitation would certainly make sense and might be fruitful in unforeseen ways. God writes straight with crooked lines."