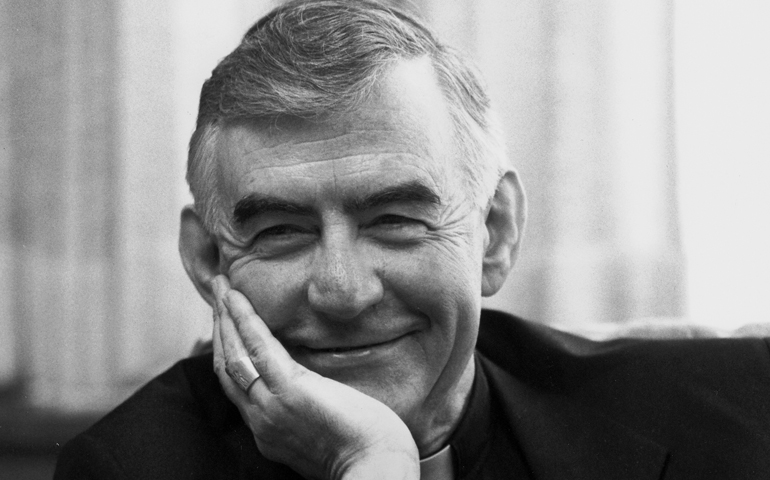 Retired San Francisco Archbishop John Quinn, pictured in an undated photo (CNS/courtesy Archdiocese of San Francisco)
It is understandably tempting to view Archbishop John Quinn, who wrote extensively of the need for church reform, as a man ahead of his times whose thinking was vindicated only in the latter years of his life.
But Quinn, who died June 22 at age 88, is also a reminder that within the church, rigid lines don't always hold, and that change, even when it happens at a Gutenberg pace in a digital age, is constant.
Quinn was only 38 in 1967 when Pope Paul VI named him an auxiliary bishop in his home diocese of San Diego. He was, at his death, one of the last members of the U.S. hierarchy of that era. He was ordained a priest in 1953, nine years before the opening of the Second Vatican Council, and the work of that council would color his writing and teaching for the rest of his life.
In that sense, said Cardinal Blase Cupich of Chicago, he was fully a man of his time. "He was an individual who learned from the council right away and taught it in his dogma classes when he was a seminary rector and professor," Cupich said in a phone interview with NCR June 23. "He was a man of the council."
It was upon the council documents, particularly Lumen Gentium, the Dogmatic Constitution on the Church, that he based his calls for change. Quinn's first book, published in 1999, The Reform of the Papacy: The Costly Call to Christian Unity, was actually spurred by Pope John Paul II's 1995 encyclical Ut Unum Sint.
That encyclical emphasizes the centrality of Christian unity in the Catholic Church and expresses John Paul's desire to enter into "patient and fraternal dialogue" about ways the papal office might better serve the unity of the church "without renouncing anything essential" to the mission of the papacy.
In speeches and writing, Quinn called for decentralizing church governance, giving far more influence to local communities in the choice of bishops and diminishing the role of the Vatican Curia.
Quinn tells of running into Cardinal Jorge Bergoglio outside a Rome coffee shop in April 2012, less than a year before Bergoglio would be elected pope. At that chance meeting, the cardinal told Quinn he had read his book about papal reform and told him he hoped the changes would be implemented.
Quinn "had a great affection for John Paul II, and I think it was reciprocal," said Cupich, who was a longtime friend of the archbishop. They met in Rome while Quinn was Oklahoma City's archbishop. Cupich was studying at the North American College and had become friends with a number of seminarians and priests from Oklahoma City.
---
Related: Retired Archbishop Quinn of San Francisco dies at 88 (June 23, 2017)
---
Quinn served in Oklahoma City from 1971 until 1977, when he was named archbishop of San Francisco. He stayed in that role until 1995, when, at age 66, he requested to resign ahead of the mandatory retirement age of 75.
When Cupich was assigned to the nunciature, the Vatican's embassy, in Washington D.C., the two became better acquainted. Quinn was in charge of a Vatican-mandated visitation of religious life, and Cupich was a staff member and worked with him to prepare reports. (For more on this time, see Ken Briggs' remembrance, "John R. Quinn -- A Spiritual Emissary.")
Quinn eventually became a good friend of Cupich's wider family, attending the funerals of both of his parents. "My family had a great affection for him," Cupich said. "It's a loss for me and my family as well."
If Quinn was a man of his time, it is also fair to say that his ideas have found a warmer reception in the Francis era than they received in previous papacies.
Quinn "knew that people come and go in different offices [in the Vatican], so he was never too concerned about any of that at all," Cupich said. "He was never in any way into that kind of political reading of the tea leaves. He thought that the church in many ways could benefit from people being forthright and honest and speaking boldly, much like what Pope Francis has called for in terms of our approach to dialogue and synodality in the life of the church. He anticipated many of the things Pope Francis is doing here now."
One of the bolder moves Quinn made had little to do with theology or the reform of church governance. Ten years into his term in San Francisco, he took a four-month sabbatical during which he spent time at the Institute of the Living in Hartford, Conn., for treatment dealing with matters of stress and exhaustion. It was a rare admission of vulnerability for a bishop.
That act "humanized the episcopacy," Cupich said. "He had, I think, the good common sense to realize that there are times when you need help and you should look for it. It's part of the human condition to do that. I think he was very astute and honest — there was a real honesty about himself, and I think that bodes well for all of us."
He took on a great deal of responsibility, accepting special assignments from Rome and taking on a leadership role in the then-National Conference of Catholic Bishops.
If people in Vatican offices come and go, so do popes, and Francis' election led directly to Cupich's elevation to lead the Archdiocese of Chicago and his being named a cardinal. In both of those events, Cupich invited Quinn to take very public roles.
Cupich considered him "brilliant," a man who possessed "one of the most incisive minds of our bishops' conference," which he led as president from 1977 to 1980. And there is more of his legacy to arrive posthumously. In his 88th year, he completed his third book, "a monumental work on the First Vatican Council," Cupich said.
Quinn had a great love for the church, Cupich said, and "his whole life was taken by that love and he dedicated himself to it. He had aspirations for the best of the church. He knew the tradition of the church, he knew the history of the church, not just a snapshot of maybe the past century. He thought that it was important to look at the entire historical tradition and mine that as a way to help us be faithful to that tradition."
[Tom Roberts is NCR editor at large.]
A version of this story appeared in the July 14-27, 2017 print issue.