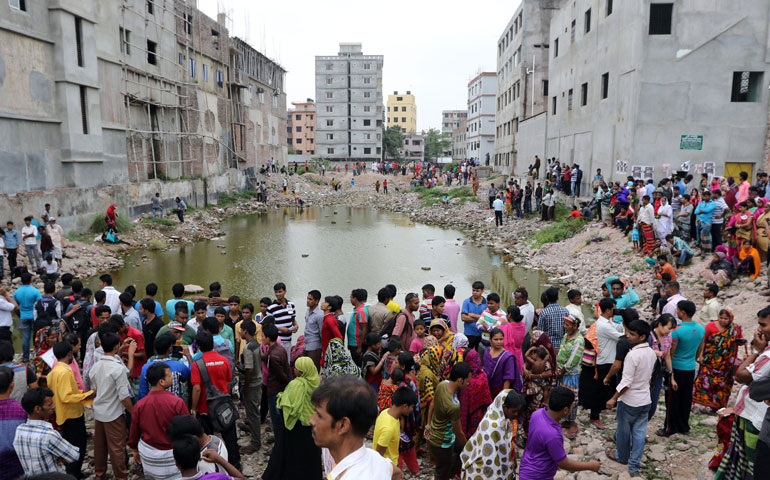 Relatives of victims gather at the Rana Plaza site on April 24, 2015, the second anniversary of the collapse of the garment factory in Savar, near Dhaka, Bangladesh. (Newscom/NurPhoto)
Dhaka, Bangladesh — April 20, 2016
In the weeks ahead, Shahana Khatun will relive an event she would rather forget.
Denied final closure because her daughter's body was never found, Khatun will, like hundreds of others, recall family members who died nearly three years ago in a tragedy that bears the particular mark of life today in Bangladesh -- the April 24, 2013, collapse of the Rana Plaza garment factory just outside the capital of Dhaka.
Authorities never found the body of Khatun's daughter, Halima, 26, one of more than 1,100 who died when the eight-story structure collapsed due to faulty structural design and construction. (About 3,500 people were rescued from the debris.)
An event of horrific proportions, the disaster galvanized Bangladesh to start addressing reforms in its increasingly prominent garment industry.
But the event's long shadow has embittered many, partly because much about the incident remains indeterminate: The exact number of those who perished remains in question, as numerous bodies, like that of Khatun's daughter, were never found. The impact of the building's collapse was that strong. The International Labor Organization (ILO), the Geneva-based United Nation's labor monitoring body, said 1,136 were killed.
Khatun is particularly bitter because her daughter was planning to quit her job -- she never liked it, her mother recalled. Supervisors constantly shouted and rarely praised workers for their labor. "They would ignore the good things," Khatun said. Work targets, or quotas, were constantly the goal, and with them came the need to work ever faster and faster.
Forty-one people -- including the building's owners -- have been charged with murder in what authorities have called a "mass killing." Public anger has not abated, in part because, on the day of the collapse, managers demanded workers return to the building even after telltale cracks in the structure had been visible the day before.
For now, Khatun and her husband, who were partly dependent on their daughter's salary, are living off government compensation and support from Caritas Bangladesh, a branch of the international Catholic humanitarian network.
The struggle is not easy. Khatun does not agree with those -- even those who lost family members -- who believe that the garment industry is somehow a necessity or a good thing for Bangladesh. "I am not pro-garment industry," she said. "I don't like it. Because of it, I've lost my dearest one."
---
Related: Survivors still coping with trauma of 2012 factory fire
---
And yet many have a personal stake in the wrenching changes in Bangladesh -- changes that have made the country a key supplier in the world's clothing market, but also have caused hardship and pain.
"The garment industry in particular is hard work -- it is hard mentally and physically," said Salesian Sr. Zita Rema, who works in the Chittagong diocese as an advocate and ombudsman for indigenous people who have left rural areas and migrated into urban areas like Chittagong or Dhaka, the capital.
As migration has come to be a fact of life in Bangladesh, the garment industry has become a national necessity.
But this national necessity and transformation has come at a deeply human cost. The Rana Plaza disaster followed an earlier event -- a fire that killed 112 people at the Tazreen Fashions factory in November 2012.
While Bangladesh is still coming to terms with the tragedies, those who might be expected to criticize the burgeoning industry -- clergy, religious, governmental critics, even workers -- find themselves saying that the people of Bangladesh need the factories that supply the world market with a growing percentage of the clothing that people wear.
"This is a very essential sector of our country's economy," Ranjon Francis Rozario, the regional director in Dhaka for Caritas Bangladesh, said in a recent interview.
He is certainly right about the prominence of the garment industry. In just a "few short decades," Bangladesh's ready-made garment industry has become the second-largest in the world, in competition with other prominent exporters such as China, India and Vietnam.
The garment sector "has become a key driver of the Bangladesh economy and the nation's development," the ILO said in a November 2015 report.
According to the report, ready-made garment exports "totaled US$24.5 billion (2013-14) accounting for over 80 percent of the nation's export earnings and employing some 4.2 million workers, 80 percent of whom are women."
The result? While Bangladesh remains a rural country, it is becoming increasingly urbanized. Data from the World Bank shows that the percentage of those living in urban areas is increasing by a percentage every year -- from 31 percent in 2011 to 34 percent in 2014. According to some projections, it is likely that the country could become a predominantly urban country by 2047.
"Bangladesh, a small and predominantly rural country, is undergoing a transformation towards urbanization at a remarkable pace," Nazrul Islam of the Dhaka-based Center for Urban Studies said in a 2015 report.
Moreover, Dhaka, Bangladesh's capital, with an estimated population of more than 15 million and a population density of 112,700 per square mile, is one of the world's most densely populated urban areas.
"This is a developing country, and there has been a need for job creation," Rozario said. The garment industry is now "a big sector" -- a substantial player in the country's present and future.
The two tragedies drew international attention to Bangladesh and the plight of its garment workers. "Business could not continue as usual," the ILO said. "Fundamental changes relating to safety, inspection and compliance had to be made if the lives of over four million workers were to be safeguarded and the confidence of global buyers retained."
The questions for many now aren't whether Bangladesh needs the industries -- that has been settled in the minds of most people -- but on issues of needed change.
---
More on Global Sisters Report: Women of Bangladesh have narrow options for work
---
Has the industry reformed itself in the light of this and earlier disasters? Is the industry more humane, treating its workers well? And what has happened to those who either survived the collapse (or other horrific events) or lost family members who perished?
For his part, Rozario believes that cooperation between groups like Caritas (which responded to the various factory disasters by assisting affected workers and their families), government authorities, factory owners and retail clothing buyers have resulted in incremental reforms that have benefited workers. The factories remain difficult places to work, he and others say, but incidents such as the collapse have cast needed light on conditions, with some resulting improvements.
In an April 2015 report detailing progress since the Rana Plaza disaster, the ILO lauded initiatives that included widespread inspections of "export-oriented garment factories" as well as revisions to the nation's labor laws that introduced new safety measures and made it "slightly easier to form trade unions."
Other points of progress, according to the ILO, include labor inspection reforms; occupational safety and health changes; and rehabilitation and skills training for those affected by the various disasters.
In an updated report from October 2015, the ILO said that nearly all -- 99.7 percent, or 3,496 out of 3,508 factories -- have now been inspected under various initiatives.
The Bangladesh Garment Manufacturers and Exporters Association, a trade group of some 4,300 factories, said it is "determined to ensure workplace safety" in the industry.
"The readymade garment industry which changed lives of millions of people in Bangladesh has undergone significant transformation in terms of workplace safety," the association says in a statement on its website, including mandatory calls to its members for regular fire alarm inspections and drills. It also said its members initiated their own building and structural inspections.
Caution is still required, though, when discussing the industry.
"We should say most of the factories are safe and secure," Rozario said. He emphasized "most" to make clear he does not mean "all."
Still, the events sufficiently traumatized the country to put needed pressure on all parties to make reforms. Bangladeshis seem to be unusually sensitive to how their country is perceived by the outside world. As Bipul Sarder, a Caritas field officer, put it, "Bangladesh is very concerned that this not happen again."
Caritas staff who responded to the immediate needs of those who survived the Rana Plaza building collapse note that long-term issues have emerged, not least of which is the accounting of the dead. As in a war, there are those like Shahana Khatun, who remain missing and unaccounted for. In those cases, families remain anxious, confused and at a loss. Closure is difficult.
One of those finding closure difficult is Mohammad Alam, 49, a vegetable vendor and widower, who is raising three children alone, following the death of his wife, Beauty Begum, 30, a Rana Plaza worker.
His wife cut threads -- and liked her job. She didn't like the noise and the din of shouting, but "it wasn't terrible," he recalled.
Like other survivors, he is receiving benefits from Caritas Bangladesh and from a public fund established to help survivors and family members -- though he is involved in a dispute with government authorities over the amount of compensation he is receiving.
That is not Alam's only dispute with the government. He believes authorities turned a blind eye when the owner of the factory built a 10-story structure with a five-story permit. Inspectors, he argues, should be sanctioned for that. "They said the building was fine, when it wasn't," he said.
He also believes a proper investigation has yet to be performed, saying even the exact number of dead remains murky.
"We do need the garment industry," he said, "because it provides a lot of employment in the country. But they need to follow specific rules" -- rules, he said, that might have saved the life of his wife and others.
To Rubina, who lost her husband, Mohammed Shamim Hossain, 26, the issue of rules -- how they were broken and ignored -- is also a constant that haunts her life. So does the weight of memories, and the fact that her husband's body still has not been discovered.
Her knowledge of Rana Plaza comes firsthand: For a time, both she and her husband worked at the factory, though her time was short-lived -- only 10 days -- because of family needs.
She liked the work, as did her husband, who worked only two months at the job before he died. "He was a good worker," she recalled.
She still believes the "garment sector," as she called it, "is good for poor, rural people" like herself, despite the din and shouting of supervisors.
Though Caritas Bangladesh has provided her assistance, a job with a garment bag company ended after the firm closed. She is now working with a group of other women at a smaller-scale business and making specialty clothing items.
Rubina has to work. She is raising two young sons.
"I was frustrated at the beginning," she said of life since the tragedy, "but when I look at my sons, that gives me the strength to survive."
[Chris Herlinger is Global Sisters Report international correspondent.]
A version of this story appeared in the April 22-May 5, 2016 print issue under the headline: Bangladesh counts the human cost of the garment industry.