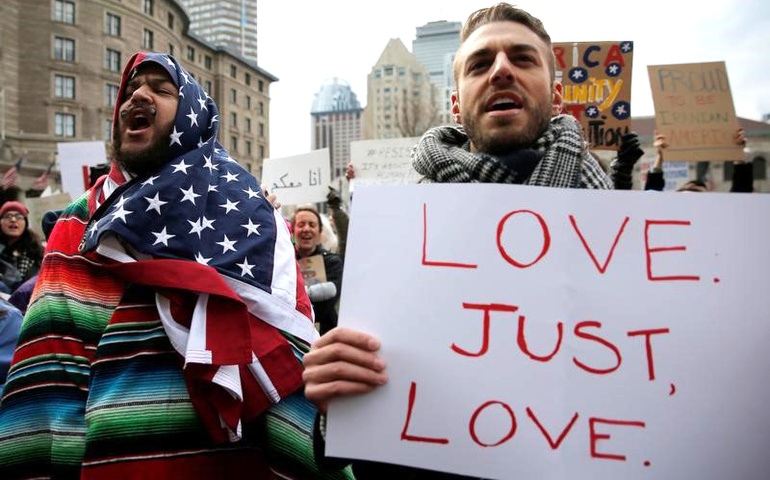 Demonstrators in Boston protest the travel ban imposed by President Donald Trump Jan. 29. (CNS / Brian Snyder, Reuters)
As President Donald Trump announces measures targeting the undocumented, refugees and those with green cards from certain countries, the possibility of offering some kind of sanctuary has leapt to the fore in many cities and among local groups.
The concept is an ancient one; in the Catholic tradition, the First Council of Orléans in 511 granted protection to anyone who sought asylum within a church or an ecclesiastical residence like the house of a bishop, even those guilty of the very worst crimes.
Today, however, the civil protections that sanctuary can offer are highly debatable. Jesuit Fr. Bryan Pham, a canon and civil lawyer practicing immigration law at Loyola Marymount University, presented a number of issues Catholic institutions should consider before making such a move.
Though most of what follows looks specifically at offering sanctuary to the undocumented, Pham finds the issues surrounding sanctuary for other groups, such as green-card holding foreign nationals, remains much the same.
1. The term "sanctuary" has no legal standing today in either civil or canon law
While many cities have already begun to declare themselves sanctuary spaces for the undocumented, in fact there is currently no body of law or judicial precedent to which they are appealing.
"There's really no legal definition of what sanctuary means," explained Pham. (Even the most recent 1983 Code of Canon Law no longer refers to the practice.)
A bizarre result is that definition of the term "sanctuary" will end up coming from the executive branch.
"The President is threatening to withhold funding from sanctuary cities," Pham said. "When he writes an executive order to do so, he's going to have to define what it means."
Some religious institutions might consider claiming that the declaration of sanctuary is an exercise of the rights afforded to religious organizations under the First Amendment. But that tactic will be of limited use to those seeking sanctuary, Pham said.
Such a claim, he explained, "is going to be resolved through a legal process through the courts, months later. It won't be resolved then and there. And by that time the undocumented person may have already been arrested and deported."
Pham also pointed out, "The housing of undocumented people is not necessarily covered under the First Amendment."
So, the first thing to know, Pham said, is that to declare oneself a sanctuary "is mainly a symbolic statement of support. It has no legal bearing. Police or government agents can continue to execute a lawful warrant. If a parish decided to prevent officers from entering, it can be seen as obstruction."
2. Calling yourself a sanctuary could in fact have the unintended consequence of making it easier for immigration officials to search your premises
In order to enter a building without a warrant, law enforcement officials need to have probable cause that a crime is being committed. In the case of U.S. Immigration and Customs Enforcement agents, that amounts to having reason to believe people without papers are on the premises. Publicly declaring oneself a sanctuary space gives ICE agents that threshold, as does the presence of people who might fit an ICE profile on or near the premises.
Pham also noted from a legal standpoint that "a church is not a living space. If you have people sleeping there, you may be violating city or state ordinances, such as the health code." This again could be enough for law enforcement officials to get a warrant to enter the premises.
"Police and ICE agents will not likely invade a church, because it's bad PR for them," he added.
Jesuit Fr. Greg Boyle of Los Angeles recalled how in the late 1980s Immigration and Naturalization Service agents regularly made their presence known in and around Dolores Mission after the church declared itself a sanctuary and started allowing men to sleep in the church. But after an INS agent in nearby Orange County chased a man into a Catholic church, "It pretty much hit the fan. The regional director ceased to be provocative, and the INS presence at Dolores Mission halted."
So, it's unlikely, said Pham, that officials would "break down the church door." But, he emphasized, that sort of "trial-by-media" protection "is the only kind of protection a church institution has. There is no legal protection."
3. While there could be legal consequences for providing sanctuary, the threat of federal funding being withdrawn has limits
Say you're a Catholic university that chooses to provide sanctuary for the families of some of your students. Could the federal government retaliate by withdrawing federal grants to your science or engineering programs? No, said Pham. The federal government cannot simply stop whatever funds it wishes. "Possible cuts to funding have to be specifically related to the violation."
The threat of cutting Pell Grants, which offer support to students with financial need, would seem similarly difficult to defend.
"Undocumented students don't get Pell Grants, they don't qualify for Pell Grants," Pham pointed out. "So if the federal government were to cut them, a university could sue, saying the action is arbitrary."
In addition to arrest for obstruction and/or a fine, there is the risk of the federal government attempting to remove a religious institution's tax exempt status.
"If you're saying 'We're here to help undocumented persons by going against an executive order,' it could be argued that you're making a political statement," Pham said. But again, this isn't a certainty. "These things haven't been tested," he explained. "Arguments would have to be made in court."
4. A Catholic institution that desires to protect the undocumented must be careful how it instructs its staff
Another hypothetical: Say you're a Catholic hospital with on-site private security. If as an institution you've made a commitment to provide sanctuary for the undocumented, can you instruct those officers (or anyone else on your staff) not to enforce the law?
Put simply, no.
"You can tell staff that since they are not federal law enforcement agents, they are not under any obligation to assist" in the implementation of an executive order, Pham said. But, he cautioned, "If you tell them 'You cannot do it,' or tell them if they choose to do it they may be fired, then you are violating aspects of employment law, among other things."
Even if an institution were able to make the case that it is fundamental to its mission to provide refuge and comfort to all those in need, it still cannot demand that its employees be involved in breaking the law.
A Catholic institution, then, can put its case to its employees in the negative: "Since we are not a federal agency, we will not require you to follow this federal mandate." But if employees decide independently that they wish to work with ICE, Pham said, "You can't say no to them."
5. There are other important things that a Catholic institution can do to help those at risk of deportation
One valuable thing that church institutions can do, Pham said, is mobilize their communities to put political pressure on the legal system to make sure people are afforded their rights, and help those who are undocumented to know those rights in advance.
"When undocumented persons are taken into custody," Pham explained, "they are often told their rights [such as that what they say can be used against them, or that they have the right to an attorney] only after they have been arrested and interrogated."
As a result, many are not aware that they have a right to have counsel present at their interrogation, or even to have a hearing in immigration court. Insofar as a Catholic institution can help connect those at risk of deportation with lawyers now, they do a great service.
In the end, Pham said that using the term "sanctuary" may be more harmful than helpful.
"It may give a false sense of safety," he said. "If you declare yourself a sanctuary, you're implying you can provide legal and other protection. And that's not true."
But for those considering declaring it, Pham advised consulting with a lawyer first, as well as with governing and/or advisory boards, dioceses and parishioners. He also emphasized the need for a clear, practical plan.
"What kind of support are you going to provide? Are you going to feed them, offer bathroom or kitchen facilities, provide other services? Are you going to lock the doors? Are you going to have 24-hour security?
"It's like you're adopting families. What concrete programs are you going to have in place for them?"
[Jesuit Fr. Jim McDermott is a screenwriter and journalist working in Los Angeles. He works as the West Coast correspondent for America magazine and was most recently on the writing staff of the AMC TV show "Preacher."]