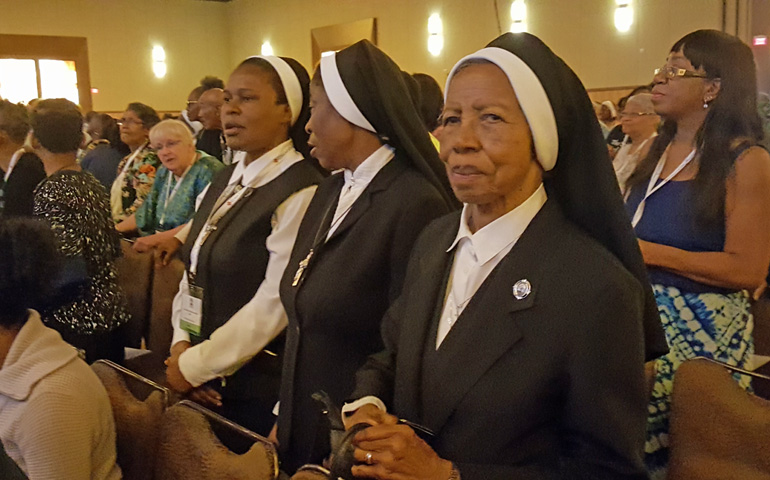 Attendees participate in the closing Mass of the 12th National Black Catholic Congress on Sunday, July 9, at the Hyatt Regency Hotel in Orlando, Florida. (NCR photo/Gail DeGeorge)
Orlando, Fla. — July 10, 2017
Black Catholics must work harder to bridge the racial divide in communities, the nation and within the church, while the Catholic Church needs to be a stronger force in confronting the systemic racism at the root of mass incarceration and economic inequality.
That was the key message at the 12th National Black Catholic Congress that attracted more than 2,200 participants July 6-9. They gathered from dioceses across the nation to learn from each other and draw inspiration from speakers such as Cardinal Peter Turkson, the head of the Vatican's Pontifical Council for Justice and Peace, attorney Bryan Stevenson, founder of the Equal Justice Initiative in Montgomery, Alabama, and Bishop Edward Braxton of Belleville, Illinois, author of the pastoral letter and study guide "The Racial Divide in the United States: A Reflection for the World Day of Peace 2015."
Amid workshops on prayer, Bible study and prison ministries were sessions on racism as a destructive force and lessons learned in the St. Louis Archdiocese from the unrest in Ferguson after the fatal police shooting of Michael Brown in 2014.
Held every five years, this congress gathered amidst a backdrop of an increase in racial violence, a polarizing presidential election and a nation ripped open by a series of killings of unarmed blacks by police. In powerful speeches and homilies, the collective pain of the community was clear — yet so was the call to action, including the issuance of a preamble with principles for a pastoral plan of action.
"Racism ultimately leads to death — both for those who are its victims and spiritual death for those who are perpetrators," said Fr. Patrick Smith, in a homily that drew a standing ovation, July 7 in the Basilica of the National Shrine of Mary, Queen of the Universe.
"Not addressing the bad news about racial injustice … leads to a slow progression toward despair, hopelessness and alienation — like a slow form of spiritual suicide for our soul," said Smith, the pastor of St. Augustine Church in Washington, D.C.
Smith and other speakers often drew on the history of the National Black Catholic Congress, Catholic journalist Daniel Rudd and the congress' other founders, and Fr. Augustus Tolton, the first recognized American diocesan priest of African descent. Tolton, denied entry into U.S. seminaries, went to Rome to study and was ordained in 1886.

Fr. Patrick Smith (Provided photo)
When black Catholic lay leaders first gathered in 1889, it was to address the needs and concerns of African-Americans across the U.S. "Black Catholics and sympathetic clergy demonstrated by this gathering — in a way like never before — that the plight of black citizens of this country and members of the Catholic Church matter," Smith said. "In other words, the first congress emphatically declared that 'Black Catholic Lives Matter' in the church and 'Black Lives Matter' in and across this country."
---
Related: "Engage young adults, support Black Lives Matter, bishops told" (July 7, 2017)
---
Braxton and others said that facing the historical complicity of the Catholic Church in perpetuating racism in society and within the church is essential to challenging the bitter legacy of slavery, segregation and discrimination that haunts African-Americans.
Catholics too often "did not see the contradiction in their belief in Jesus Christ the liberator and their presumption to buy and sell free human beings who were always free in the eyes of God," Braxton said in his address.
Noting the historical systematic exclusion of African-Americans from U.S. seminaries, and that there are currently just 14 African-American bishops and 250 African-American priests, the dream of the founders of the National Black Catholic Congress, "of a fully integrated American society and Catholic Church became a dream deferred, a dream deferred even to this day," Braxton said.
U.S. bishops are working on a new pastoral letter to follow up on the 1979 pastoral letter "Brothers and Sisters to Us" on the sin of racism which condemned racial prejudice as a heresy, Braxton said. While it is hoped the letter will contribute to a process of reconciliation, Braxton noted that the bishops are "somewhat chastened" by the awareness that many Catholics haven't ever heard of the 1979 letter and that its goals were not discussed or achieved. While the 1979 letter and a later pastoral letter by African-American bishops in 1984 were published, "Sadly, they were never read, never discussed, never prayed upon, never acted on … why not?"
Braxton exhorted the audience that "we can all do something," urging them to become "more engaged and involved in government and public service precisely as African-American Catholics."
Stevenson, a public interest attorney, told participants to stay "proximate" to poorer, marginalized communities and people. He recounted compelling stories, punctuated by repeated applause and standing ovations, of the work of the Equal Justice Initiative against mass incarceration, racial bias, and mandatory life-without-parole sentences for children 17 or younger, which the Supreme Court found unconstitutional in 2012.
Stay proximate, change the narrative, stay hopeful and do things that are uncomfortable, he told the audience. "We need to change the narrative about race in America," he said. "We are corrupted by this history of racial inequality that has burdened us and keeps us from being free." The narrative of racial difference and ideology of white supremacy was the "true evil" that "allowed us to endure centuries of slavery."
As people of faith, "we have got to believe we can do better than to have the highest rate of incarceration in the world, we have got to believe we can do better than having one in three black boys going to prison," Stevenson said.
"It feels like a community of people who are hungry to do justice work," Stevenson told the rapt audience. "It feels like a community of faithful people who want to use the power and righteousness that God gives each and every one of us on behalf of the neglected and abused."
First-time congress attendee Myra Jackson, a retired nurse from Belleville, Indiana, cited Stevenson's speech as one of the highlights of the event for her, saying it will encourage her to use more of her gifts and talents. "I want to try to do something to take us to the next level," she said. "I'm going to look seriously at running for public office and through this, the sharing of my faith."
In the session about lessons after the unrest in Ferguson, I. Lynn Squires, president of the board of directors of the St. Charles Lwanga Center, the St. Louis Archdiocese's Office of Black Catholic Ministries, told of how her archdiocese responded when protests and riots gripped the area after the shooting death of Brown.
Archbishop Robert Carlson "made it very clear that we were going to pray and then we were going to turn our prayer into action — and that's what he did," she said. He called on Catholic agencies to respond to the immediate needs of the community. With public schools closed for two weeks, for instance, Catholic Charities created lunches and study sites so parents had a safe place for their children while they went to work.
He called then on all the agencies that serve the archdiocese to examine how they were administering programs, especially in communities affected by the violence, she said. More recently, he asked Taize, an ecumenical community in France focused on prayer and reconciliation, to hold a Pilgrimage of Trust in Ferguson.
Another breakout session focused on ways that the bishops' conference new pastoral letter on race — tentatively scheduled for release in November 2018 — can be disseminated widely and more effectively. When participants asked about the process for writing the letter and how the bishops were getting input, Donna Grimes, assistant director of the bishops' Secretariat of Cultural Diversity in the Church, said while there wasn't a series of forums or listening sessions scheduled, the bishops have plenty of input from their communities.
Yet some disagree. "We have to challenge the leadership of the church because the church is called to be a living organism and for something to be alive, it has to have a process," said Fr. Donald Sterling in an interview after his workshop on racism as a destructive force. "I'm concerned about who is writing this letter, how inclusive it is and what kind of research and what the sources are," said the pastor of New All Saints Church in Baltimore. "It's all about control — we're our own worst enemy."
Many black Catholics are frustrated that "the church literally has not spoken or addressed" recent racial violence. Given the makeup of the church leadership and lack of diversity, there is concern they "have internalized and unconsciously adopted the values that undergird a racist system of operation and we have a bigger issue than we realize," said Sterling.
To really effect change, "this is going to be grassroots, parish to parish, organization to organization," he said. "We need to have these discussions going on in local parishes — you have to start somewhere and that's where most people are. If you're black, you're on one end, so if you're white, you're at the other — we need people to facilitate the dialogue."
Beyond the keynote speakers and workshops were opportunities for black Catholics to connect with each other. That was particularly valuable for black Catholics who don't belong to predominantly black or even mixed ethnic churches, such as Danielle Brown, an attorney from Lansing, Michigan. "This is the first time I've spent this much time with people who believe the same way I do and look like me," she said. "To be a minority within a minority is daunting and I didn't realize the weight it had on me until I got here — it's been stressful." Of the estimated 46 million African-American people in the U.S., about 3 million are Catholic.
The congress "was invigorating and very spiritually uplifting," said Valerie Washington, executive director of the National Black Catholic Congress, in an interview. "People understand the need that we have to be active and not just go to church and sit in the pew but find out what our gifts and talents are and go out to the marginalized areas if you're not in those areas; and if you are to do more work, to do more with social justice and be more compassionate." While racism is always been a theme at congresses, police brutality and racial violence demanded that it receive more attention this time, she said.
The preamble to the pastoral plan of action, developed every five years at the congress, serves as a framework for the plan of action [Preamble embedded below]. The plan provides a blueprint for bishops to adopt, to use what is helpful in their dioceses, Washington said.
One of the principles reached by delegates called upon members of to be "authentically black and truly Catholic" and "seek leadership in our Church at all levels." Among the other points was promotion of the cause of canonization of the five holy African-American women and men being considered for sainthood; and to "commit ourselves to dismantle racism in all forms, which is an obstacle to justice and evangelization."
[Gail DeGeorge is editor of Global Sisters Report.]
NBCC - Preamble to Pastoral Plan of Action by National Catholic Reporter on Scribd
A version of this story appeared in the July 28-August 10, 2017 print issue.