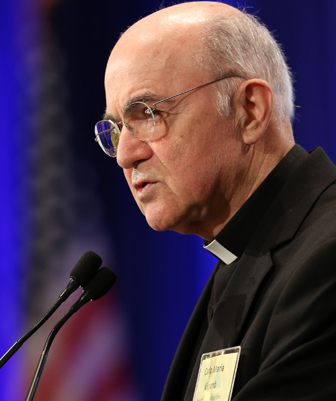 Archbishop Carlo Maria Vigano, apostolic nuncio to the United States, speaks Nov. 10, 2014, during the annual fall general assembly of the U.S. Conference of Catholic Bishops in Baltimore. (CNS/Bob Roller)
Archbishop Carlo Maria Vigano delivered what is widely expected to be his last address to the bishops this morning. The papal nuncio hits 75 on January 16 and word on the street is that his resignation will be accepted pronto.
The nuncio recalled the pope's visit. Perhaps we should not be surprised that he neglected to mention what became one of the more notorious items on the pope's itinerary, the meeting arranged by the nuncio between Pope Francis and Kim Davis. Nor did Ms. Davis accompany the nuncio to the USCCB meeting. Damn. I wanted to meet her and ask how her husbands are doing.
+Vigano spoke about the roots of the Church in the United States, and how the Church here became a refuge for clergy fleeing the French Revolution. He said that during that revolution, God and the Church were being exiled from the public square, which minimizes the barbarity of what happened then, and sets up a false comparison with current discussions about the role of the Church in the public square today. But, +Vigano has long been susceptible to false narratives and tendentious analogies about the state of the Church in the U.S. Later he spoke about a "secularized and pagan civilization." Really? Yes, U.S. culture is more secularized today than previously. But, the drop in the number Catholics has more to do with the clergy sex abuse crisis than with any amorphous secularizing power. Also, the excessive materialism of our culture tends to sideline concern for the transcendent. Alas, the culture warriors like to demonize others, rather than accept responsibility for their own transgressions and failings.
The nuncio spoke about the Catholic identity of our colleges and universities. This is an important issue, and one that I have considered many times in these pages. He quoted Pope Francis about the importance of the Catholic identity of our colleges and universities. The nuncio was not explicit about how or why this identity might be weakened or diminished. I nominate concern for the encroachments of neo-liberal economics in the business schools of our Catholic universities as a principal issue that should concern the bishops. I am not holding my breath. The left continues to be allergic to any discussion of Catholic identity, seeing it as a stalking horse for a conservative agenda. The right is only focused on Catholic identity as it relates to pelvic theology. This whole discussion deserves a reboot, but the nuncio's talk is not going to launch it.