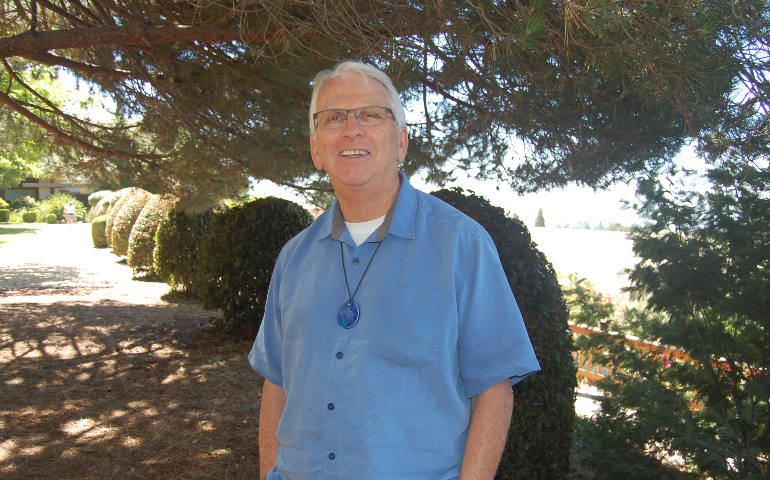 Jim Conlon, director of the Sophia Center in Culture and Creation Spirituality, retired in May after teaching at Holy Names University for 31 years.
When Jim Conlon launched the Sophia Center in Culture and Creation Spirituality in 1996 as a training camp for mystics, he asked incoming graduate students to make four promises to themselves. Those vows would become an ongoing tradition for each new class:

Forget those internal, set-in-stone road maps that predict what your future lives as cultural workers for the planet will look like.
Rely on compasses.
Cultivate patience for the twists, turns and surprises that will surface throughout your quests.
Spread the word to the world about your love for the cosmos and nature through art, a right-brain practice Conlon told NCR he deems "the very centerpiece of spirituality. We are never closer to God than when we are writing poetry, doing painting and creating ritual."
After retiring in May, Conlon, 78, is the one relying on an internal compass as he begins his own journey into uncharted territory. During his 31-year tenure at Holy Names University, in Oakland, Calif., Conlon served in professorial teaching and administrative capacities for both the Sophia program and its predecessor, the Institute in Culture and Creation Spirituality (ICCS).
He leaves the university with a legacy of projects and awards. In 2012 he created the Empowerment Project, a website to connect activists with one another at the local and regional levels to engage in social and environmental work. The following year he received the Thomas Berry Award from the Thomas Berry Foundation for his efforts in furthering the cultural historian's "Great Work."
The author of 10 books of essays, reflections, poetry and prayers, Conlon has an 11th due for publication in January: Becoming Planetary People -- Celebrations of Earth, Art and Spirit. He's yet to determine a specific context for future writing, but said it might involve reflections on around Pope Francis' environmental encyclical, "Laudato Si', on Care for Our Common Home."
Uncertainty, though, is familiar to Conlon, who didn't know how the future would unfold during the early years of his intense involvement in social justice causes. He didn't anticipate the surprise that waited backstage in the wings of his life -- the writings of Berry.
At the time of his epiphany, in the early 1980s, Conlon, a priest from Ontario, Canada, was immersed in community organizing work. He had studied at the Saul Alinsky-founded Industrial Areas Foundation in Chicago and then became active with Fr. John J. Egan's Catholic Committee on Urban Ministry at the University of Notre Dame, in South Bend, Ind.
Berry's writings took Conlon's awareness of justice issues to the very face of the expanding universe. His assertion that humankind's broken story -- our personal disconnection from the 14-billion-year-old "big story" of the universe -- is responsible for our current planetary devastation, proved to be a resonating wake-up call for Conlon. As was Berry's belief that the suffering of the poor is linked directly to the agony of the Earth.
"I began making connections between the universe story and justice work," Conlon told NCR.
Later, Conlon would coin an inclusive term for those connections: geo-justice, a word that became the theme for his first book, Geo-Justice: A Preferential Option for the Earth, which published in 1990.
Walking in Berry's footsteps led Conlon to a faculty position at the Institute in Culture and Creation Spirituality in 1984. When ICCS founder Matthew Fox moved his program to downtown Oakland in 1996, Conlon remained on campus, becoming founding director of the new Sophia Center in Culture and Creation Spirituality.
The program explores earth care, environment, art, cosmology and holistic spirituality based on Berry and Brian Swimme's universe story and Fox's creation spirituality. Swimme, a cosmology professor at the California Institute of Integral Studies in San Francisco and a long-time Sophia/ICCS faculty member, praised Conlon for making the Holy Names program into "one of the only graduate schools in North America or Europe where cosmology forms the basis for the educational process."
The context for education at Sophia Center, Swimme said in an email, "is not an academic discipline but life itself -- the rivers, the stars at night, the forests and oceans, the stunning diversity of plants and animals, including humans of this privileged planet." Under Conlon, he said, Sophia Center became "a wisdom school" guided by Berry's vision and "structured by a study of the wisdom of indigenous people, women, classical civilizations and science."
But Conlon's legacy is largely tied to the Sophia Center and its many graduates and noted instructors. Since the 1980s, nearly 800 people have gone through the ICCS and Sophia Center graduate, sabbatical and certificate programs, according to Lesley Sims, Holy Names marketing and public relations director.
Swimme described students as entering the Sophia Center as members of industrial society and leave transformed as "seed-bearers of a new planetary civilization."
"Today they carry the dream of a new earth and new world to many cultures and contexts," said Sacred Heart Fr. Diarmuid O'Murchu, author of numerous books on evolutionary and quantum theology and a longtime Sophia Center teacher. "My hope and prayer is that the many seeds sown over all these years will bear fruit to bring about a world of greater peace, justice and non-violence."
Both the weekend programs and summer institute – a four-day program averaging upwards of 100 participants annually -- have glittered with a faculty of notables, coming from the fields of permaculture, cosmology, theology, art, music and social justice.
In addition to Swimme and O'Murchu, program presenters have included:
Mary Evelyn Tucker and John Grim, co-founders of the Forum on Religion and Ecology at Yale University and the Thomas Berry Foundation;
Dominican Sr. Miriam MacGillis, founder of Genesis Farm;
permaculture expert Penny Livingston-Stark;
Jennifer Berezan, an alumna of ICCS, earth activist, recording artist and composer;
and death penalty acitivist St. Joseph Sr. Helen Prejean.
Tucker described her one-time colleague Conlon as "never being afraid to bring together people of differing views and he always felt that the Great Work was our common goal."
Cindy Acker was in the middle of another graduate program when she heard about the Sophia Center. Stressed out from the demands of job, school and family, she asked Conlon if she could "possibly just sit and be."
"He told me, 'Yes, absolutely,'" said Acker, director of a Montessori school with three campuses in nearby Alameda, Calif.
The message came at a time when Acker needed such calm, as her son had been hospitalized with serious injuries from an auto accident. Participating in Sophia Center classes kept Acker grounded.
Another Sophia graduate, Fr. Youngmin Song of the Daegan, South Korea archdiocese, arrived at the center in 2009 with a definite roadmap in his mind, one with "pragmatic programs and clear answers." Instead, he discovered "a compass of the heart."
"Jim constantly encouraged us to see ourselves in the unfolding larger reality and gently invited us to commit to transform our way of being with an open heart," Song said in an email.
Song ultimately discovered a "bigger dream" than he initially anticipated. He became interested in eco-theology based on Berry's vision, and plans to develop an ecological program for his home diocese after completing his doctorate at St. Thomas University in Toronto.
The ecological realities of South Korea, Song said, include widespread respiratory problems caused by fine, particulate dust (much coming from northern China) and a rise in water temperatures and decrease in cold water fish species – including popular pollack and codfish species -- as a result of climate change.
He said ecological issues remain controversial there, with economic development often seen are more important and even Christians questioning the church's participation in addressing ecological problems.
Despite the criticism he anticipates awaiting him, Song remains committed, in part from the three years he spent under the tutelage of Conlon and others at the Sophia Center.
"The Great Work takes time. It is not a onetime achievement, but an endless journey. I will go on my journey through trusting 'in the slow work of God,' as Jim's entire journey showed," Song said.
[Sharon Abercrombie, a frequent contributor to Eco Catholic, is a 1993 Sophia Center graduate and served briefly as an interim faculty member in 1996, teaching a class on "Dances of Universal Peace." Since 2010, she has been leading the dances in Columbus, Ohio.]
Editor's note: Want more stories from Eco Catholic? We can send you an email alert once a week with the latest. Just go to this page and follow directions: Email alert sign-up.