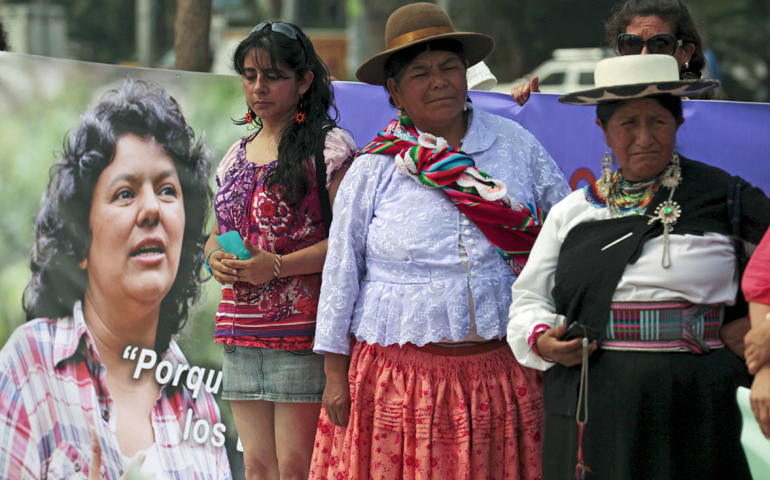 Women participate in an April 26, 2016, memorial service in San Salvador, El Salvador, for murdered environmental rights activist Berta Caceres Flores. (CNS/Jorge Cabrera, Reuters)
Each February, Notre Dame de Namur University remembers its most famous alumna: Dorothy Stang, a Notre Dame sister and environmental activist who was shot to death Feb. 12, 2005, in the town of Anapu in the Brazilian rain forest.
This year, the commemoration on the Belmont, Calif., campus had fresh grief to process.
Along with Stang, the candlelight vigil on Thursday honored another slain eco-defender: Berta Caceres, a Honduran indigenous rights activist and the 2015 Goldman Environmental Prize recipient who was murdered last March.
Roughly 75 people endured a rainy evening to attend the vigil in Cunningham Memorial Chapel, sponsored by the school's Dorothy Stang Center. Among the attendees was Caceres' nephew Silvio Carrillo.
"Berta was strong-willed, fearless and like a sister to me," he told NCR in an interview prior to the vigil.
Carrillo, who is two years younger than his aunt, traveled back and forth from his home in Washington D.C. to La Esperanza, Honduras, during his youth. His own parents had fled the country after participating in protests against the military.
He recalled how at age 19, Caceres co-founded the Council of Indigenous People of Honduras. She learned compassion, he said, at home from her mother, who worked as a midwife and a healer. During his visits, Carrillo remembered crowds of indigenous people coming down from the mountains each morning to see his grandmother for medical help. "You could always smell the alcohol and see the syringes," he said.
One day Carrillo and his young aunt witnessed an exhausted mother bring forth her frail five-year-old boy, suffering from diarrhea, but also severe malnourishment and dehydration. Finding it too late to help the dying boy, Carrillo's grandmother lay him atop a dresser and lit candles for him.
None of this was lost on Caceres, Carrillo said. Her own indignation at the way the elites treated the poor and their land eventually transformed into environmental awareness.
"Who better to take care of the land than the people who live on the land and develop a special nourishing bond around it?" he said.
Caceres, a leader among the Lenca indigenous people in the Central American country, drew international attention for her stands on behalf of her people against powerful landowners and their allies in government. Most notably, she opposed construction of the Agua Zarca Dam on the Gualcarque River in western Honduras. The river is considered sacred by the Lenca people and serves as a food and water source.
The opposition led to frequent death threats against Caceres, a single mother of four. In the early hours of March 3, 2016, a day before her 45th birthday, gunmen invaded the family home in La Esperanza and killed Caceres in her bedroom. So far, eight people have been arrested for her murder, according to the public ministry leading the investigation.
---
More: Daughter of slain Honduran activist calls for full investigation of death (April 18, 2016)
---
Yahaira Barahona, a junior at Notre Dame de Namur, spoke at the vigil about the profound impact Caceres has had on her own life.
"I am Honduran. I am even more proud to say that I am Lenca. The blood in my veins is what Berta Caceres fought for," she said.
Like Caceres, Stang was ambushed by her assassins.
Stang, 74, was walking to a planning meeting with a group of small farmers who had been burned out of their land by illegal loggers and ranchers. Two men with guns then stepped onto the jungle path. "Today you die," they said.
According to witnesses on the scene, the silver-haired sister pulled a Bible from her knapsack and began reading Jesus' Eight Beatitudes to her eventual killers.
Stang had lived in Brazil's Amazon region for nearly four decades, working to protect the land rights of peasants and speaking out concerning the dangers of deforestation. She taught sustainable farming practices, the same ones her own gardener father had used back home in Ohio.
---
More: Life of Sr. Dorothy Stang celebrated at her California alma mater (Feb. 10, 2015)
---
In addition for keeping alive the spirit of the Notre Dame sister, the Dorothy Stang Center also sponsors student volunteer projects in and around California's San Mateo County to help immigrants suffering from substandard housing, polluted water and transportation, and to offer tutoring for their children.
The vigil served a secondary role in shining a light on the plight of Hondurans and others migrating to the United States.
Gang violence and economic underdevelopment are often cited as reasons why people leave their own countries, but those factors don't always apply for indigenous peoples, said José Artiga, director of SHARE, a group that assists struggling Salvadoran refugees living in the San Francisco Bay Area.
During an eight-day fact-finding trip to Honduras last year, his group found recurring themes of rampant privatization and extraction of public resources — facilitated by political corruption and military might and the criminalization for dissenters — as drivers of displacement. A January report from the Global Witness environmental and human rights nonprofit listed Honduras as the deadliest country for environmental activism, with more than 120 people killed there since 2010.
---
Global Sisters Report: Closed mines haunt two towns in Honduras as threats against activists mount (Aug. 8, 2016)
---
Artiga said that geographically and culturally diverse communities in Honduras gave similar reasons for leaving. For example, the Garifuna, a coastal indigenous people, are battling a five-star tourist resort on their home of 200 years; in addition, the Campesinos in the Bajo Aguan valley have been plagued with harassment, disappearances and deaths by paramilitary and military groups for demanding that African palm plantation magnates return their stolen land. Meanwhile, there are national protests against the privatization of the country's major highways and toll increases.
In addition, the Lenca people of the Honduran highlands continue to fight the hydroelectric dam that Caceres fought as well as other mining projects. Carrillo said the government has claimed that the trees in the mountains of Esperanza had a disease that required they be cut down.
"They never miss an opportunity. It's deplorable how there is always somewhere else to start ruining the land of these indigenous people," he said.
Carrillo added that while Pope Francis sent a letter following his aunt's death, the response from the local Catholic hierarchy has been largely silent. "It's catastrophic," he said.
---
More: Latin American coalition: Mining causing damage, not delivering benefits (Sept. 9 2016)
---
At the vigil, Barahona, the Notre Dame student who plans to become an immigration lawyer, shared how her father at age 22 came to the U.S. from Honduras in the late 1980s.
She said he crossed on his long journey not just one border but three — Honduras, Guatemala and Mexico — and that he rode on "La Bestia," the train that many Central Americans take, many riding on its roof, through Mexico in order to reach the U.S. Arriving in Los Angeles, he obtained temporary protected status because Hurricane Mitch had destroyed many parts of Honduras; he still works in the U.S. but is not allowed to travel back home, and hasn't seen his family in 19 years.
The family home in Honduras is about 90 minutes from where Caceres lived. They grow coffee bean on their land to support themselves. While their land hasn't been seized for development projects, Barahona said the specter is always present.
[Sharon Abercrombie is a frequent contributor to Eco Catholic.]
Editor's note: An earlier version of this story incorrectly stated nine people have been arrested related to Berta Caceres' murder. As of Feb. 8, only eight have been arrested, according to the Honduran ministry leading the criminal investigation.
Want more stories from Eco Catholic? We can send you an email alert once a week with the latest. Just go to this page and follow directions: Email alert sign-up.