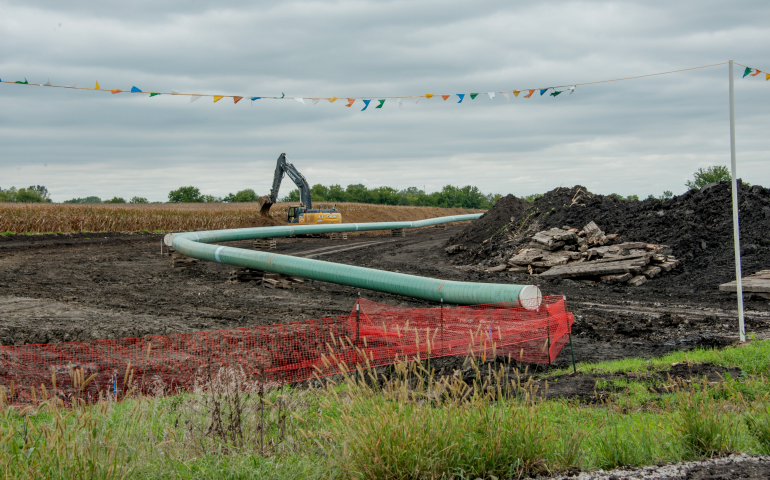 The Dakota Access Pipeline under construction in Central Iowa in September 2016 (Wikimedia Commons/Carl Wycoff)
Dubuque, Iowa — February 9, 2017
In one of Donald Trump's first acts as president, he signed executive orders expressing support for two controversial pipelines: the Keystone XL transnational pipeline and the Dakota Access Pipeline.
The latter project has seen thousands of people in the past year gather in solidarity with the Standing Rock Sioux Tribe of North Dakota in a sustained, mostly nonviolent resistance to the pipeline.
For the Standing Rock Sioux and their allies, the main concern with Dakota Access, approved for construction in March, is that its projected route goes under the Missouri River, half a mile upstream from the Standing Rock Sioux Reservation. They contend a possible oil spill would contaminate their water and threaten sacred burial sites. The pipeline's route takes it through four states: North Dakota, South Dakota, Iowa and Illinois.
The project was temporarily halted Dec. 5 by the Army Corps of Engineers in order to allow further review and to complete an environmental impact assessment. On Tuesday, the Army changed course, informing Congress that it will grant permission for an easement — a special permit allowing a company to cross private or federal land — and complete the project, without finishing the environmental review.
Advocates for the 1,172-mile, $3.8 billion pipeline, which is all but complete outside the 1-mile stretch under the river, argue it will create jobs and other economic opportunities, while also promoting energy independence for the United States. Sen. Heidi Heitkamp, D-N.D., said that Army's decision brings "certainty and clarity" to the conflict.
Opponents contend that, in addition the risks it poses to the Standing Rock Sioux, the pipeline will encourage the use of more fossil fuels, which are a major contributor to climate change. They also cite human rights abuses, noting the nearly 700 people who have been arrested since the standoff began in April, including 76 people earlier this month. While the Standing Rock Sioux have insisted on prayerful, peaceful opposition, violence has broken out numerous times between pipeline opponents, who call themselves "water protectors," and local law enforcement.
Throughout the past several months, many Catholics, including some in Dubuque, Iowa, have felt called to stand with the Standing Rock Sioux, whether by contacting elected officials about the issue, divesting funds from banks that support the pipeline, or in some cases traveling to the site itself to show solidarity with the native peoples who are fighting to protect their water.
---
More: Larger faith community comes to Standing Rock in solidarity (Nov. 7, 2016)
---
Franciscan Sr. Karla Kloft of Dubuque felt drawn to the #NoDAPL movement in part due to her religious order's charism.
"St. Francis was so steeped in creation. The sun was his brother; the moon was his sister," she said. "Francis also had a profound conversion experience with a leper, which led him to abandon his wealthy way of life and live in solidarity with the poor and marginalized.
"I want to ask, who are the lepers in our society today?" she said. "What we as a country have done to native people is atrocious. We need to reach out to them as brothers and sisters."
When Kloft visited Standing Rock in November, she was touched by the reverence she saw that all people showed for the Earth and by the non-hierarchical way that they related to one another.
---
More: Sioux anti-pipeline action sustained by Native American spirituality (Nov. 29, 2016)
---
"Every action started and ended with prayer," she said. "It made me angry at the media coverage, which sought to portray the water protectors as violent. Drugs, alcohol and weapons were not allowed in camp, and everything was done with a sense of reverence. People are being treated as so-called terrorists for doing nonviolent protests, being arrested and charged for doing nothing wrong."
In Pope Francis' encyclical on the environment, "Laudato Si', on Care for Our Common Home," he asserts that many Catholics need an "ecological conversion," whereby their encounter with Jesus becomes "evident in their relationship with the world around them."
"Living our vocation to be protectors of God's handiwork is essential to a life of virtue; it is not optional or a secondary aspect of our Christian experience," Francis stated in his encyclical.
---
More: Standing Rock activists see Pope Francis as spiritual ally (Dec. 2, 2016)
---
Some Catholics who visited Standing Rock believe they were engaged directly in this call to protect God's creation, and that they intend to hold to that in spite of the Army's greenlighting of Dakota Access. Kristin Juarez, a junior studying theology and international studies at Loras College in Dubuque, also found the experience to be moving and transformative.
"In Catholic social teaching, we hear of the dignity of every person," Juarez said. "We toss this term around without knowing what it means. Standing Rock was a prayerful setting where solidarity meant taking a step back from my own agenda, hearing the pain of what people were going through."
Juarez said that when one man asked her why she was at the camp, she replied, "To stand with you."
"He paused and responded, 'Thank you.' We need to make sure that we are standing with people, not standing up for them," she said.
Other activists have felt that their call to stand with Standing Rock is likewise grounded in Catholic social teaching. Dominican Sr. Peggy Ryan, who currently works with Latino/a populations in Lake County, Ill., felt compelled to leave her ministry for a weekend and make the pilgrimage.
"Stewardship, common good and solidarity are the principles of Catholic social teaching that guide me," she told NCR. "The main Vatican II document, Gaudium et Spes, says that we need to change our human action in order to take care of everyone. The universe is meant equally for all people."
---
Global Sisters Report: Sisters standing with Standing Rock (Nov. 22, 2016)
---
According to Mark Schmidt,* a longtime social justice activist from Dubuque with master's degrees in theology and social work, Catholic social teaching offers guiding principles for people to follow according to their well-formed conscience.
"The church would not necessarily say all pipeline construction is bad," he said. "The church urges us to switch to renewable energy sources as quickly as possible, but for now, our economy is still based on fossil fuels. Stopping all construction would further burden the current aging pipeline infrastructure, leading to more leaks and endangering life and creation. It would also make the product more expensive for low-income people who do not have the money to transfer to renewable energy."
Schmidt continued: "However, if a pipeline is to be built, legitimate concerns from all stakeholders must be addressed. With the Dakota Access Pipeline in particular, many of those voicing opposition seem to have such concerns. Have indigenous people been true stakeholders in the decisions that will affect them, and have their rights been respected? Does the pipeline serve the common good and respect human dignity? There are also documented instances of contractors not following their permits, damaging the soil and destroying biodiversity."
Brenna Cussen Anglada, a co-founder of the St. Isidore Catholic Worker Farm in Cuba City, Wis., said that if we are truly to respond to Francis' call to care for creation, as outlined in Laudato Si', we must listen to the voices of indigenous people. She believes the effort to oppose the pipeline project can help the church and its members correct mistakes of the colonial era — an opportunity that the U.S. government has not taken.
---
More: Read NCR's 2015 six-part series on the legacy of the Doctrine of Discovery
---
"The Earth that God has given us is precious. We are wasting this chance in this country to repair our relationship with indigenous communities. A great opportunity was given to reverse the damage and make things right. This decision is a slap in the face to the Earth," she said.
Despite the Army's approval of the Dakota Access Pipeline, the Standing Rock Sioux are not giving up the fight. New lawsuits are likely to come, and a Native Nations March on Washington is scheduled for March 10.
"I am in awe of the resilience and stamina the Sioux have shown," Cussen Anglada said. "I have so much respect for them standing up for what they believe in the face of the violent punishment they are facing, and I hope that many people will respond to their call for continued support."
"People from all over the world are watching this movement," Kloft said. "It is giving people the courage and energy to fight against these multibillion-dollar corporations. It is offering a little light."
Each of the people who went to Standing Rock expressed a desire to take what they have learned and translate it into their daily lives, by working to protect local watersheds, becoming more engaged in the concerns of indigenous peoples, and further educating others about Dakota Access and other environmental issues.
Juarez, the Loras College student, is doing just that with her fellow students on campus. In light of the Army order, she is determined to maintain hope. By standing with Standing Rock, she said, water protectors and their allies have drawn attention back to the need to care for the Earth.
"I hope that this will refuel people's fire of concern," she said. "We may be back to square one, but Mr. Trump does not speak for all of us. It is back to square one. We have faced this before, and we will stay strong."
[Jeannine M. Pitas is an assistant professor of English and Spanish at the University of Dubuque, Iowa. She also contributes to the Catholic blog Vox Nova.]
For more coverage of the new order from the U.S. Army Corps of Engineers on the Dakota Access Pipeline, see: Standing Rock Sioux vow to challenge pipeline in court.
*An earlier version of this article identified Mark Schmidt's employer. That has been removed because Mr. Schmidt did not have permission to speak in that capacity.