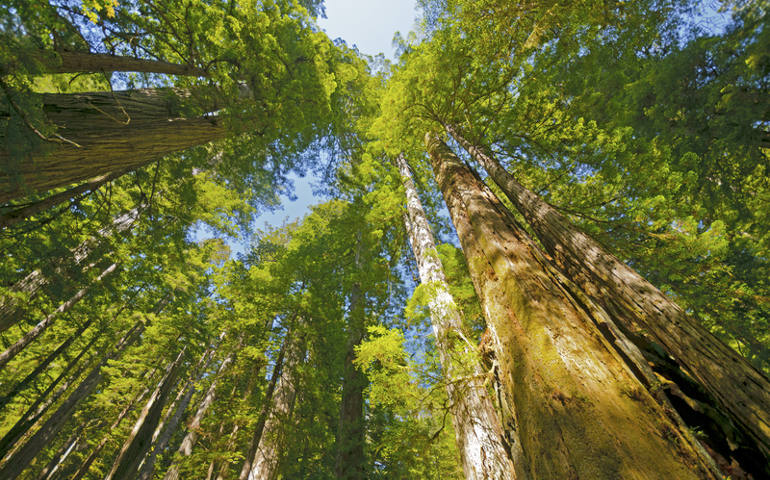 A sunny day in Redwoods National Park in California in July 2012. (Dreamstime/Steve Prorak)
A recent furniture commercial on TV features a frustrated woman who has too much stuff and no place to stash it. At first, she briefly considers downsizing, but quickly dismisses the notion when she encounters a brand-new bed frame complete with seemingly bottomless storage drawers. The bonus take-away, of course, is the roomy bed frame she purchases allows her to buy even more stuff.
My initial reaction: a sickening chill.
But a recent conversation with climate scientist/psychologist Jeff Kiehl altered my perception, as I see it now as a reflection of the contemporary archetypal myth that economic growth and prosperity are all that matter for our happiness.
In his book Facing Climate Change: An Integral Path to the Future, Kiehl explores the worlds of science, Jungian psychology and Buddhist philosophy in an attempt to offer hopeful ways in which we can change to break free of our old patterns to create a new story filled with compassion for the earth.
At one point in Facing Climate Change, Kiehl discusses the "Earth Destroyer" myth, written more than 2,000 years ago by the Roman poet Ovid in Metamorphosis.
The myth tells of a man who wants to build the largest house in town. To complete his ambitious project, he cuts down the largest tree in the sacred forest -- an action he took despite a warning from Demeter, the forest goddess, that he would suffer for his deed. Foreshadowing what is to come, the tree drips blood on his ax. At Demeter's request, her sister Famine devises a long-lasting punishment for the sacrilege by breathing into him a never-ending hunger. Seeking to satisfy his now-aching belly, the man, not finding enough food, sells his possessions -- including his house and his only daughter -- before ultimately consuming his own body.
Kiehl said this myth arose around the time when the Greeks built a massive array of ships to expand their control over the Mediterranean Sea. They cut down most of the trees on the Greek Peninsula, leading to deforestation and the loss of agriculturally valuable topsoil.
The allegory of the "Earth Destroyer," he explains in his book, shows "what happens when we become separated from nature and destroy it."
"Metaphorically, this depicts how by feeding our current endless hunger, we discount the future for our children," Kiehl wrote. "In addition, his disconnection from the feminine, represented by the sale of his daughter, means he cannot relate in a healthy way to others."
The furniture commercial, while free of Ovid's gruesomeness, taps into the basic idea that the hungrier and needier the shopper, the better for industry and the economy.
To truly create a healthier environment, Kiehl said heart and compassion have to enter the equation.
"Science can only do so much explaining," he said.
A senior scientist who heads the Climate Change Research Section at the National Center for Atmospheric Research, in Boulder, Colo., Kiehl said he devotes little time in lectures on climate change talking about facts, and instead veers toward asking how his audience feels toward the issue: be it, anger, grief, helplessness, or fear -- in particular, fear of change, income loss or lifestyles. All of which are understandable reactions, he noted, particularly from the standpoint of Maslow's hierarchy of needs, which suggests attention to higher-level needs, such as a healthy planet, often get less attention until more primary ones (food, shelter, safety) are first met.
In our conversation, Kiehl also delved into archetypes: those shared lenses, images and metaphors through which we view the world. Some are father, mother and hero; others include the elder, the warrior, the senex -- the latter of which offers particular insights into the caustic climate debate in America.
The senex likes things fixed, rigid and secure, wanting absolute certainty in things; even when he has evidence that change would be better, he continues to balk. His positive side includes careful assessment, along with weighing of the situation and deep reflection, but if it loses out, then the status quo remains.
Examples of the negative side of the senex archetype from history include those who fought against civil rights legislation or regulations on air pollution, Kiehl said. On the climate issue, he pointed to Republican presidential candidate Ohio Gov. John Kasich.
While Kasich acknowledges a human degree to climate change, he insists that environmental protection shouldn't come at the expense of the economy and cautions against actions akin to worshiping the earth. But inaction could itself disrupt the economy, Kiehl said, whereas shifting to renewable energy could lead to increased employment and economic growth.
"The idea that this would be an economic disaster comes from the fossil fuel industry or those who resist change because they fear change. This is the senex archetype in motion," Kiehl said.
---
More: "Psychological barriers complicate overcoming climate change denial" (June 1, 2015)
---
It was a curiosity that sprouted about 25 years ago into widespread resistance to the notion of human-caused global climate change that led Kiehl, who holds a Ph.D. in atmospheric science, to study clinical psychology from the perspective of Carl Jung at Regis University, the Jesuit school in Denver. Kiehl taps into that Jungian psychology background in Facing Climate Change, blending his clear and poetic writing with discussion of science and Buddhist spirituality.
Each chapter begins with a meditation on the beauties of nature Kiehl, who resides in Santa Cruz, Calif., finds during his daily walks. In one particularly memorable account, he and a police officer stand in admiration of a gorgeous redwood tree "so tall that I must arch backward to see its top." Standing quietly in awe, Kiehl ran his hand along the tree's trunk," the bark soft and fibrous."
"The contours of the red, corrugated surface reach out to the shape of my hand," he wrote. "Tree and I are present to the other in a state of 'being with.'"
If we are to survive, Kiehl said, we must return to our authentic spiritual roots, whether they be within our individual religious paths, or, in nature herself. We must learn to feel, to put ourselves in the places of suffering people everywhere in the planet. He offers two striking metaphors for imagining change: the cross, from Christianity, and from his own Buddhist tradition, Indra's net.
Jung perceived the cross image as a vertical-horizontal way of living; the horizontal symbolizes living in the world, and the vertical as being connected to the numinous, or spiritual, dimension. A healthy person, Jung believed, will live at the apex, where the two converge. Kiehl noted that in Jung's book Aion Christ is a symbol of the archetype of wholeness.
In Buddhism, Indra's net spreads across the universe, with highly reflective jewels placed at each intersection. Whatever is reflected at one point of the net is seen throughout the whole network.
"I believe this is how transformation can take place now; each individual is a jewel in the global social network, reflecting ideas, feelings, beliefs and actions," Kiehl said, explaining that Indra's net is a story that focuses on compassionate creation rather than destruction.
Like Passionist Fr. Thomas Berry, Kiehl believes that the arts are superb vehicles for helping to create new, positive archetypal images that will touch into people's consciousness. To that end, he is working with artists and filmmakers to discover images that can strike the hearts of people on the fragile beauty of the planet, to move them to action.
Kiehl's closing message says it all: "Look within and follow the path of your heart. See the basic goodness within yourself and others. This goodness is the ultimate ground from which we all begin. Touch it and stay true to the path of compassion and you will create that world of wonder."
Wonder that doesn't reside in the bottom drawer, crammed with stuff, of that new bed.
[Sharon Abercrombie is a frequent contributor to Eco Catholic.]
Editor's note: Want more stories from Eco Catholic? We can send you an email alert once a week with the latest. Just go to this page and follow directions: Email alert sign-up.