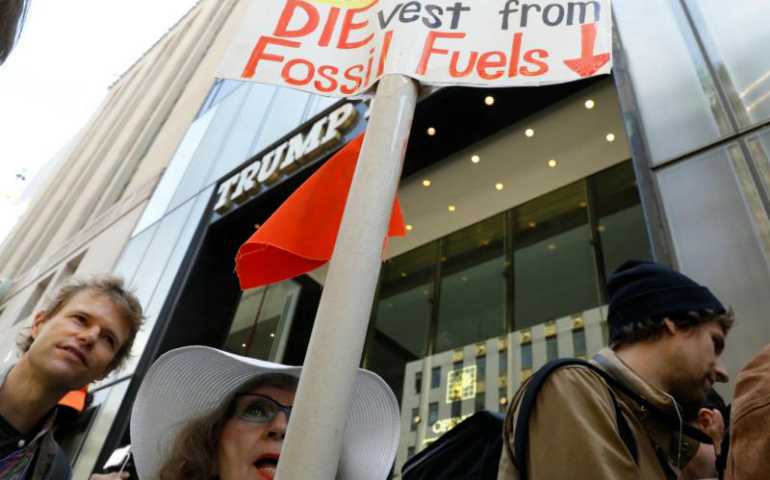 Protesters gather for a fossil fuel and climate change protest outside Trump Tower May 9 in New York City. (CNS/Brendan McDermid, Reuters)
Washington — May 10, 2017
Nine Catholic organizations, including five religious orders and an archdiocese in Italy, plan to divest from fossil fuel corporations in an action timed to send a message to the upcoming G7 summit.
Representatives of the groups said May 10 that they were inspired to act by Pope Francis' two-year-old encyclical, "Laudato Si', on Care for Our Common Home."
Joining the divestment movement were the Wheaton Franciscan Sisters and the Daughters of the Sacred Hearts of Jesus and Mary of Wheaton, Illinois; MGR Foundation in New York City; the Mission Congregation of the Servants of the Holy Spirit; St. Joseph's Province of the Passionist order in the United Kingdom; and in Italy, the Archdiocese of Pescara-Penne, Il Dialogo magazine, the Society of Jesus, Interdiocesan Network New Lifestyles and the Siloe Monastic Community.
The announcement came as part of a broader global divestment campaign running May 5-13 that finds organizations pulling funds from companies involved in the extraction of coal, oil and natural gas, and turning to firms developing renewable energy instead.
---
More: "On Francis of Assisi feast day, Catholic groups divest from fossil fuels" (Oct. 4, 2016)
---
Up to 97 percent of climate scientists have attributed climate change to human activity, at least in part.
The announcement also comes as the G-7 nations prepared to meet in southern Italy May 26-27 and a meeting of representatives of nearly 200 countries underway in Bonn, Germany, through May 18 for negotiations on the United Nations Framework Convention on Climate Change.
"This announcement is stressing the urgency of the climate crisis. It's a reminder that the world needs to transition extremely quickly away from fossil fuel to clean energy," said Tomas Insua, executive director of the Global Catholic Climate Movement, a coalition of more than 100 organizations. "It's about responding to Pope Francis' appeal in 'Laudato Si'' to care for our common home and care for the poor and our children who will suffer the worst consequences of climate change."
---
More: "Year-old Laudato Si' has stirred up action for Earth" (June 16, 2016)
---
Each organization pledged to begin divesting as soon as possible. It is expected to take up to several years before full divestment occurs.
In announcing the action, the Global Catholic Climate Movement released statements by representatives of the organizations involved.
Sr. Sheila Kinsey of the Wheaton Franciscans said her religious order has long considered the "root causes of violence" in society and that it became necessary to end all investments in fossil fuels. "Through our study and discernment we compassionately respond both to compelling immediate and systemic needs at the local and global levels," she said. "We find that it is imperative that we move away from fossil fuels because of the impact they have on the environment."
In Italy, Fr. Mario Parente, prior of the Siloe Monastic Community, said: "Strongly committed on the issues of caring and safeguarding the creation, we consider it is important to be part of an initiative that is in very deep harmony with the value in which we believe and that gives a concrete answer to Pope Francis' call in his encyclical 'Laudato Si'' asking for a real ecological conversion and a new way to inhabit the earth."
Archbishop Tomasso Valentinetti of Pescara-Penne, Italy, supported divestment and a turn toward clean energy. "This statement aims to be the a first concrete commitment in the logic of the integral ecology and the care of the common home, which Pope Francis called us to in the encyclical letter 'Laudato Si',' with a view of a progressive and effective process of divestment," he said.
With the announcement, 27 Catholic entities have divested from fossil fuel corporations, according to the Global Catholic Climate Movement.