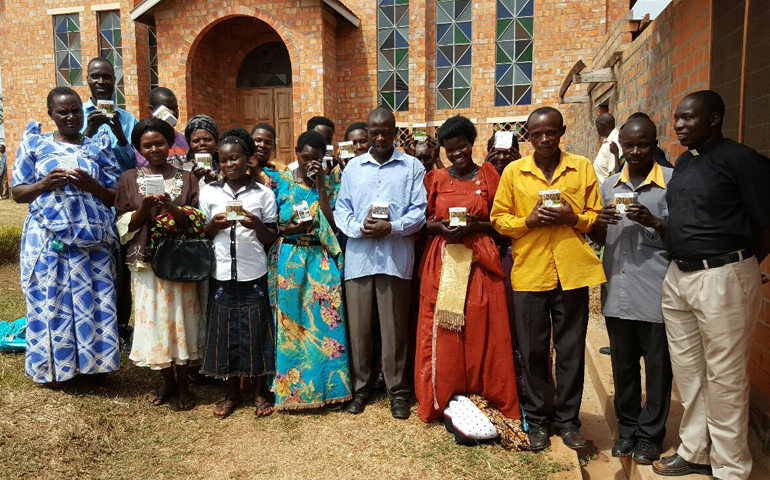 Fr. Mathias Mulumba standing with parents who received solar lamps for their children to study at home. (Provided photo)
A $5 solar lamp that could help save the environment — and lives — all the while enabling school children in East Africa to study was a sales pitch that Fr. Patrick Sheedy, an Irishman accustomed to tall yarns, had never heard before.
On the other end of the phone was Kevin McLean, president of Sun24, a nonprofit that partners with the Catholic church in Africa to distribute rechargeable solar lamps to families without electricity. 1.3 billion people worldwide live without electricity. The solar lamps reduce the use of kerosene lamps which emit toxic black carbon, the number two contributor to climate change.
"McLean somehow found out that our parish, Blessed Trinity, had a twin in Uganda," Sheedy said. "By the end of the call, I had 1,000 solar lamps."
The decades-long bond between the Ocala, Fla., and Nalweyo, Uganda, parishes began when Sheedy invited three Ugandan women religious from the Sisters of the Immaculate Heart of Mary Reparatrix to establish a convent at his parish.
A photograph of the unassuming home parish of Sr. Juliet Ateenyi, one of the three sisters, inadvertently inspired a third-grade teacher and her class to raise money to build a new one.
The original church was a brick building with a sheet metal roof with no flooring, doors, windows, pews or altar.
"We've got to get you a real church, Sister," the class said.
All told, they raised $1,000 by selling T-shirts.
"Well, you're never going to make it that way," Sheedy said, before appealing to his parishioners.
The new church holds 1,500 to 2,000 people.
"They really pack it in; it's not like the United States," said Joyce Lemek, a parishioner who has gone on five service trips there since 2004.
Fast-forward 12 years and the projects they have built include: a full parish church, replete with a rectory for three priests, a grade school for over 500 children along with a convent and teachers' quarters, 29 mission churches in various levels of completion, and over two dozen wells and water tanks to provide clean water.
Add to that thousands of solar lamps replacing the kerosene ones that are as dangerous as they are costly.
"From a humanitarian standpoint, kerosene lamps are filthy: They cause lung disease, both lung cancer and emphysema," McLean said. "They are also dangerous because they spill and cause fires with a million people worldwide dying from fuel lighting-related fires."
Ateenyi remembered that the task of completing homework — from elementary school all the way until she left for convent — always involved a fickle light source: smoky kerosene lamps.
Ingestion of kerosene is also the greatest cause of poisoning for children in the developing world.
"The kerosene lamp is not something easy," Ateenyi said. "The fumes which come in left my eyes burning, and my nose was always full of black soot from the smoke."
The cash-strapped pocketbooks of impoverished Ugandan families are also ill-prepared to fork over the 20 percent of household income needed to pay for kerosene fuel.
Gorret Womugisa, who is from Nalweyo, Uganda, remembers when the "missionaries from the U.S." came with solar lamps, which made studying easier. She and her classmate, Fortunate Kyosaba, are currently exchange students at Trinity Catholic High School in Ocala — they have the highest grades in the class. Their families were some of the first to receive the solar lamps.
"It produces greater light than the kerosene, which was toxic to the environment, and to us," Womugisa said.
Initially, Sheedy wanted a select group of parishioners in Uganda to test Sun24's lights in case they were not helpful.
The enthusiastic demand convinced him to go large-scale with the operation.
The water- and shock-resistant solar lights are small and self-contained, with a solar panel on the back with a lifespan of two to three years. They cost $3.76 each, but the shipping from a distribution center in Nairobi, Kenya, is an added expense, making the total cost about $5.
"I'm 60 years old, and all my life I've been searching for the most cost-effective nonprofits to donate to, especially for climate change," McLean said. "I really haven't seen one as cost-effective as Sun24."
Ridding the world of kerosene lamps is what McLean considers "the low-hanging fruit" in mitigating climate change.
"By replacing one kerosene lamp with a solar lamp, we can reduce 1.8 tons of carbon dioxide equivalent," McLean said. "It ends up costing $2.22 per metric ton of carbon dioxide mitigation."
Each solar light has the same effect as reducing the miles driven by a typical American car by 4,250 miles. Word of the solar lamps keeps spreading, and Sheedy has received letters from across the United States from people asking how they can contribute.
Angela Schreiner, a parishioner who was present when the lights were distributed in June, said that the solar lamps are helping children study, mothers cook and others read Bibles in order to grow closer to Jesus.
"If you had a brother who didn't have light, wouldn't you want him to have the light?" Schreiner asked.
[George Goss is a journalism student completing his graduate thesis on Iraqi and Syrian religious minorities seeking to emigrate to the United States.]
We can send you an email alert every time The Field Hospital is posted. Go to this page and follow directions: Email alert sign-up.