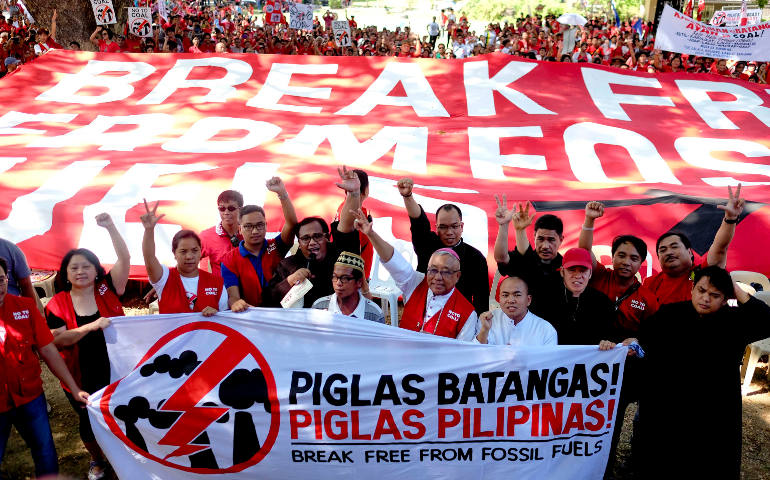 Archbishop Ramon Arguelles of Lipa, Philippines, center, joins more than 10,000 marchers May 4 in a Break Free from Fossil Fuels demonstration in Batangas City, in the Batangas province, in the Philippines. (350.org/Veejay Villafranca/Institute for Climate and Sustainable Cities)
Catholics around the world are joining with environmentally concerned people worldwide in heeding the call from climate scientists, ecologists and even Pope Francis to "break free" from fossil fuels and shift toward more sustainable, climate-friendly sources of energy.
Break Free from Fossil Fuels is a two-week global initiative (May 3-15) orchestrated by Greenpeace and 350.org with the assistance of a variety of faith, creation care, and social justice groups.
It aims to coordinate a series of peaceful civil disobedience actions on six continents, targeting power plants, pipelines and coal mines in an dual effort to disrupt operations at those locations while also raising the message that to meet the primary goal of the Paris Agreement -- holding average global temperatures "well below" 2 degrees Celsius, and toward 1.5 degrees, to avert the most severe impacts of climate change -- the bulk of coal, oil and gas reserves must remain in the ground.
Among the Break Free actions that have been organized so far are those at Australia's largest coal port, in Ecuador's Yasuni National Park, in Germany at one of Europe's biggest open-pit lignite coal mines, at the presidential palace in Jakarta, Indonesia, in Nigeria's Niger Delta (a site of numerous oil spills), and at fracking and off-shore drilling sites across the United States.
Yeb Sano, a Catholic leader, former Philippine climate negotiator and now the executive director of Greenpeace Southeast Asia, organized the Philippines Break Free actions in conjunction with numerous parishes and dioceses.
In a May 4 press release, Sano described Southeast Asia as "a major battleground" in the fight against fossil fuels. He called Break Free "a breath of hope" for those communities that have stood up against expansion efforts of the fossil fuel industry.
"As our communities rise against the ludicrous anachronism of the ongoing use of coal in Southeast Asia, we are buoyed by this global solidarity," he said in the statement.
Jennifer Morgan, executive Director of Greenpeace International, added that front-line climate communities "aren't waiting for governments to act," noting that the Paris Agreement came about as a result of the efforts of millions of people.
"Now that governments have committed to action, we must make sure they follow the science and deliver on their words. The only way to survive climate change is through a rapid just transition to 100% renewable energy, keeping oil, coal and gas in the ground," she said.
---
More: "After Paris Agreement, climate activists see next step in mobilizing the people" (Dec. 29, 2015)
---
In the wee hours of May 4, Archbishop Ramon Arguelles of the Lipa, Philippines archdiocese, in the Batangas province, led 10,000 people in a Break Free march to a local sporting complex where they celebrated Mass. Under shade trees and umbrellas, emblazoned with messages of "no coal" and "break free," they sought relief from the island nation's recent heat and drought.
Arguelles, accompanied by many priests, women religious and the archdiocesan environmental ministry, called for an end to the use of coal and other dirty and harmful energy.
"We are facing a planetary emergency. Now more than ever, we need leaders who are pro-people and pro-environment, not pro-coal and pro-climate change," Arguelles said in a statement released by Greenpeace.
Around 10,000 people marched to end the age of coal! Mabuhay ang Pilipinas! #BreakFree2016 #PiglasPilipinas pic.twitter.com/Bu8o4nWOvC

— angel carballo (@gelcarballo) May 3, 2016
Participants from Cathedral attend the #PiglasBatangas #PiglasPilipinas rally to break free from fossil fuel pic.twitter.com/O9SAHxkHSM

— SnSebastianCathedral (@cathedrallipa) May 3, 2016
The anti-coal march was part of a national campaign called "Piglas Batangas! Piglas Pilipinas!" against a 600-megawatt coal plant proposed by business conglomerate JG Summit Holdings, Inc., that would be built in Batangas City, one of the archipelago's fastest urbanizing areas. The Lipa archdiocese has been among the leading opponents to the project, along with local fishers and other concerned citizens.
"Piglas Batangas, Piglas Pilipinas is our battlecry for a safe, peaceful, and sustainable society," Sano said. "Batangas and the rest of the Philippines will not bow to those who think of nothing but profit instead of people and plunder instead of protecting the environment."
Reymond Mendoza, a local 27-year-old fisherman, said further coal plants would just make it harder to breathe and fish; existing JG Summit plants "are already poisoning our air, water and land."
Beyond the JG Summit plant, the marchers demanded the cancellation of nearly 30 coal plants across the Philippines. In a flyer advertising the Break Free event, the archdiocese stated that in his encyclical, "Laudato Si', on Care for Our Common Home," Francis "called upon all Catholics to act on climate change and protect the Earth, urging solidarity for the poor and the most vulnerable, for it is they who suffer most severely the effects of global warming."
In Laudato Si' paragraph 165, the pope wrote, "We know that technology based on the use of highly polluting fossil fuels -- especially coal, but also oil and, to a lesser degree, gas -- needs to be progressively replaced without delay. Until greater progress is made in developing widely accessible sources of renewable energy, it is legitimate to choose the lesser of two evils or to find short-term solutions."
---
More" "Philippine church takes lead on Francis' environmental encyclical" (July 25, 2015)
---
"Coal plants," the archdiocese said, "cause extreme harm to local communities and eco-systems, as we in Batangas know only too well," questioning the proposal of 27 new coal-fired power plants to join 17 already in operation.
Tying the situation to the recent presidential election, held Monday, the archdiocese asked, "Does not our country deserve a government that will do everything to protect our Filipino families from the ravages of dirty energy and climate change?"

"It is immoral to burden future generations -- with pollution and the cost of mistaken energy choices made today. It is time to end the age of coal," it said in the flyer.
The Lipa archbishop has also noted that the Philippines imports around three-quarters of the coal used, costing the nation precious foreign reserves. The Philippines has the potential for enormous renewable energy resources and is second to the United States in geothermal energy production. In addition, hundreds of renewable energy projects are in the pipeline.
"Let us have a true and lasting national renewal," Arguelles said in his Easter message. "May this Easter bring this country and our people a real transfiguration for the better, a total stop to coal mining, and a speedy transition to renewable and clean energy."
---
More: "Global Catholic climate network launches ahead of papal visit to Philippines" (Jan. 14, 2015)
---
According to a UCA News report, Fr. Raul Enriquez of Pagbilao told a multi-faith gathering in April that the advocacy for renewable energy and the clergy's anti-coal stance "is deeply rooted in our yearning for the renewal and transformation of lives and communities." Catholic bishops have led earlier action too; in 2015, the Catholic Bishops' Conference of the Philippines joined the "One Million Against Coal Campaign" in gathering over 1 million signatures against the construction of further coal-fired plants.
Fr. Edwin Gariguez, executive secretary of Caritas Philippines' National Secretariat for Social Action, said the church needed to be at the forefront in the fight against coal in part because the government is pursuing their development.
"In the guise of providing more efficient energy source, higher tax revenues and the so-called greater development, the state and the multi-national coal companies are opening another door for Philippines to becoming the major contributor to climate change," Gariguez said in a statement.
[Marie Venner is chair of the National Academies' Transportation Research Board subcommittee on Climate Change, Energy, and Sustainability and former co-chair of the Risk and Resilience Planning and Analysis subcommittee. She is also on the Steering Committee of the Global Catholic Climate Movement.]
Editor's note: This story is part of a new joint project of two NCR blogs, "Eco Catholic" and "The Field Hospital," looking at parish- and grassroots-level efforts by Catholics to live out Pope Francis' encyclical, "Laudato Si', on Care for Our Common Home." Follow both The Field Hospital and Eco Catholic for future reports.
Want more stories from Eco Catholic? We can send you an email alert once a week with the latest. Just go to this page and follow directions: Email alert sign-up.