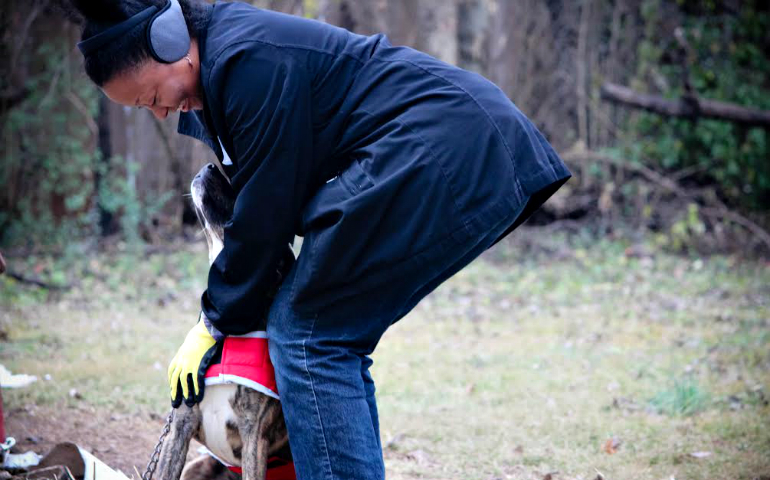 Akisha Townsend Eaton, one of the co-founders of the St. Francis Alliance, takes a break from volunteering to play with a dog. The effort sought to to assist Nashville, Tenn., residents unable to afford resources to help their four-legged friends endure the winter elements. (Nathan Walters)
Just before Lent, about two dozen people gathered for three days at the San Damiano Spiritual Life Retreat Center in White Post, Virginia, to reflect on their various faith calls to protect all of God's creation — and creatures.
Led by Dominican Fr. Hyacinth Cordell, chaplain of the Washington, D.C., Archdiocese's Care for Creation Committee, the participants reflected on Catholic teaching about animals and examined them from the Dominican and Franciscan traditions, as well as what other Abrahamic traditions have said.
What prompted the retreat, though, was a desire to engage the whole message of Pope Francis' environmental encyclical, "Laudato Si', on Care for Our Common Home," particularly the interconnected relationship among humans and other animals.
The retreat, possibly one of the first devoted to Laudato Si' and animal protection since the encyclical's June 2015 release, was hosted by the St. Francis Alliance: Faithful Voices for Animals, a newly formed nationwide group intent on proclaiming the Catholic Church's teachings on God's creatures.
Formed shortly after the encyclical's debut to honor its critter protection message, the St. Francis Alliance is open to "Catholics and other people of good will committed to seeking a just and compassionate world for all creatures," its website states. Its members hope to foster dialogue, educate and, ultimately, inspire others "to act faithfully in our daily choices to promote the inherent value of animals who share our common home."
Even with the far-reaching impacts already seen in just under two years since Laudato Si' was published, what has largely gone unnoticed has been the papal letter's reflections on the care and protection of animals, said Sarah Spengeman, one of the founders of the St. Francis Alliance.
Francis addresses animals and creatures in more than three dozen of his encyclical's 246 paragraphs, and includes them within the first three lines of the two prayers he offered at its conclusion:
All-powerful God,
you are present in the whole universe
and in the smallest of your creatures.
You embrace with your tenderness all that exists. …
(A prayer for our earth, Laudato Si' no. 246)

Father, we praise you with all your creatures.
They came forth from your all-powerful hand;
they are yours, filled with your presence and your tender love.
Praise be to you!
(A Christian prayer in union with creation, Laudato Si' no. 246)
Throughout Laudato Si', Francis points to animals' roles as reflections of God's love, the inherent value they possess, the interconnectedness humans have with all of God's creatures and humankind's misunderstanding of "dominion" as described in the Book of Genesis.
"Be­cause all creatures are connected, each must be cherished with love and respect, for all of us as living creatures are dependent on one another," Francis wrote, later adding that God giving humans dominion over the Earth doesn't justify "absolute domination over other creatures." At one point, the pope lamented development projects that do not consider the impact on biodiversity, "as if the loss of species or animals and plant groups were of little importance."
"Each year sees the disappearance of thousands of plant and animal species which we will never know, which our children will never see, because they have been lost forever," Francis said. "The great majority become extinct for reasons related to human activity. Because of us, thousands of species will no longer give glory to God by their very existence, nor convey their message to us. We have no such right."
In Laudato Si', the pope states, "The ultimate purpose of other creatures is not to be found in us. Rather, all crea­tures are moving forward with us and through us towards a common point of arrival, which is God, in that transcendent fullness where the ris­en Christ embraces and illumines all things."
Members of the St. Francis Alliance surmised theirs may be among the first Catholic animal concerns group to emerge in the U.S. in response to Laudato Si'. Another group, Catholic Action for Animals, similarly formed in the United Kingdom, which is also home to perhaps one of the older Catholic animal-focused organizations — Catholic Concern for Animals, which held its first meeting in November 1929. Since then, that organization, which has as its president Liverpool Archbishop Malcolm McMahon, has since expanded to form branches in more than a dozen countries, including the U.S.
Chris Fegan, chief executive of Catholic Concern for Animals, also attended and presented at the February retreat.
On its website, the St. Francis Alliance offers Catholic resources beyond Laudato Si' regarding compassionate care for animals. Among them is Franciscan Fr. Jack Wintz's book Will I See My Dog in Heaven? on whether or not animals go to heaven (he says yes). Other recommended reads are books on animal compassion from various faith traditions, and a collection of Pope Benedict XVI's statements on environmental justice.
The alliance has also compiled recipes for people interested in exploring a vegan diet, and updates its blog with the latest regarding animal activism and legislation. It plans to add soon a pocket-sized brochure with all of Francis' quotes about animals.
The diverse collection of readings make it clear that Laudato Si' is far from the first church document to address compassion for animals.
From Genesis through the New Testament, the Bible describes the value of animals and humans' role in tending to them. The Catechism of the Catholic Church in the section on the Seventh Commandment (You shall not steal) states, "Animals are God's creatures. He surrounds them with his providential care. By their mere existence they bless him and give him glory. Thus men owe them kindness."
The writings and spirituality of St. Francis of Assisi led him to be named the patron saint of animals and ecology. More recently, Popes John Paul II and Benedict also emphasized the care of animals, but even with Francis continuing that message, the topic has yet to gain widespread consciousness at the parish level, said Heather Young, another alliance founder.
A lawyer who at one point studied vegetarianism in 19th-century American Christianity while completing graduate work in religious studies at George Washington University, Young didn't find much support within her Catholic tradition as she made the switch herself to a vegetarian and ultimately vegan lifestyle.
About five years ago, she finally connected with a group of Catholics in D.C. who shared her animal beliefs. Among them were Spengeman and three animal protection attorneys for various humane organizations: Akisha Townsend Eaton, Jessica Almy and Elizabeth Holtz. The women are now all part of the St. Francis Alliance team, which formed in the wake of their excitement with the encyclical.
During a 2014 trip to Europe — which included stops in Assisi and Rome, Italy, and in Oxford, England, to meet with local animal protection groups — Eaton and her husband, Jack, both lifelong animal advocates who live in Kentucky, heard rumors that a papal encyclical on the environment would be released within the next year.
Akisha Eaton remembers the two waking up at the crack of dawn on June 18, 2015, the day the encyclical was released, "thinking we'd need to strain our eyes to see one mention of 'animal' buried as a footnote in the middle of a massive document. But what we actually encountered was beyond our wildest expectations."
"We had to do a double and a triple take," she said. "The encyclical not only gave mention to animals, but covered what our relationships with them should look like in tremendous breadth and depth throughout the entire document."
One passage that immediately jumped out at Eaton was where Francis quoted from the catechism: "It is contrary to human dignity to cause animals to suffer or die needlessly." That the excerpt was among those tweeted by the pope on the day the encyclical published emphasized its importance, Eaton said.
Unable to stop talking about Laudato Si', the Eatons created a Facebook page and hosted small group teleconferences on specific themes the encyclical raised about animals. They reached out to Catholic creation care activists in Baltimore and D.C., and slowly grew from a two-person ministry to a larger membership, eventually naming themselves officially over a vegan potluck at a farm animal sanctuary in Maryland.
"Our hope was to continue the conversation on what a Christ-modeled relationship with animals should look like in today's world, using Laudato Si' as our initial conversation-starter," Eaton said.
Since then, the St. Francis Alliance has hosted several international teleconferences, as well as the pre-Lenten retreat in February.
During the retreat, Cordell shared how after watching Al Gore's documentary "An Inconvenient Truth" in 2006 he began delving into the issue of climate change more, from religious and scientific perspectives. The process prompted Cordell in the past year to become totally vegan.
The 39-year-old priest also announced a 10-week summer series titled "Faith and Earth" that he has organized for his parish, St. Dominic Church in Washington.
At other points of the weekend, the 21 participants — Catholic, Protestant, Jewish and Muslim — shared their own stories, spent time studying Scripture and church teachings, and made commitments to act to protect all God's creatures. They also watched the documentary "Peaceable Kingdom: The Journey Home" about farmers examining their long-held beliefs about the morality of meat-eating.
For Akisha Eaton, the link that connects all people, regardless of their background is this: "I believe that when we improve our relationships with God's creation, we improve our relationships with God."
"It falls upon us as people to do our best to protect creation, because God's creation is so abundant and good," added Jack Eaton in an email. "In doing so, I believe that we bring about aspects of our highest good when we show mercy to animals in the same manner that God shows mercy upon us."
[Sharon Abercrombie is a frequent contributor to Eco Catholic.]
Editor's note: Want more stories from Eco Catholic? We can send you an email alert once a week with the latest. Just go to this page and follow directions: Email alert sign-up.