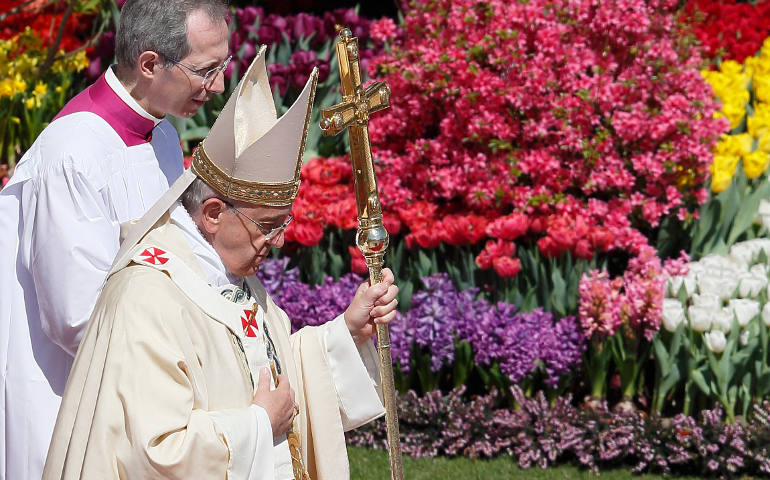 Pope Francis walks past flowers as he leaves after celebrating Easter Mass in St. Peter's Square at the Vatican April 20. (CNS photo/Paul Haring) (April 22, 2014)
Vatican City — March 18, 2016
During Holy Week and in the Easter season, the Vatican will take part in several initiatives highlighting the importance of ecology and the care for creation.
The Governorate of Vatican City State announced Friday that the thousands of floral arrangements for the Easter morning Mass and the pope's solemn blessing "urbi et orbi" (to the city and to the world), will be repurposed after the celebrations.
Thousands of bushes, flowering trees, tulips and other flowering bulbs, which are a gift of growers in the Netherlands, will be replanted in the Vatican gardens. The plants also will be distributed to various pontifical colleges and institutions "so that they may bloom in the coming years," the governorate said.
Charles van der Voot, who has designed the Vatican Easter floral arrangements for the past 15 years, will arrange the flowers for the last time in 2016, the Vatican said. He will be succeeded by another Dutch florist, Paul Deckers, who has assisted van der Voot.
Heeding the pope's call to care for the environment, the governorate also announced the inauguration of an "ecological island," a recycling center for the separate disposal of waste and compost.
The cupola of St. Peter's Basilica and Bernini's famed colonnade will also go dark Saturday for one hour in an effort to promote climate change awareness.
The Vatican announced it will join countries around the world in turning off non-essential lights for "Earth Hour 2016," an event promoted by the World Wildlife Fund International. The initiative, according to the fund's website, is meant as "a symbol of their commitment to the planet."
Editor's note: Want more stories from Eco Catholic? We can send you an email alert once a week with the latest. Just go to this page and follow directions: Email alert sign-up.