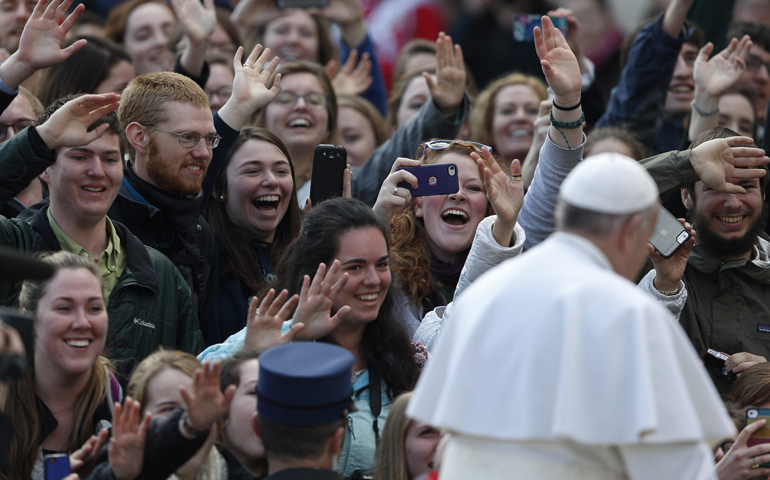 Students from the Austrian program of Franciscan University of Steubenville react as Pope Francis arrives to lead his general audience Wednesday in St. Peter's Square at the Vatican. (CNS/Paul Haring)
In only two years, Pope Francis has changed the face of Catholicism by radically reimagining how it presents itself to the world. From the moment he stepped out on the balcony of St. Peter's, he has presented a different style of being pope and a new set of priorities for the church.
The change in style was what first caught people's attention. He rejected the usual papal finery of silks and furs and presented himself to the people of Rome in a simple white cassock. A simple greeting of "Good evening" were his first words, and before he blessed the crowd in St. Peter's Square, he bowed his head and asked them to pray over him.
This was quickly followed by his decisions not to live in the papal apartments but in Casa Santa Marta; to celebrate his first Mass as pope in St. Ann's, the small parish church of Vatican City; and to celebrate Holy Thursday in a prison for young male and female offenders whose feet he washed.
These early gestures of the pope garnered him worldwide attention, but more importantly, they were symbolic gestures that communicated his vision for the church. He realizes that the Gospel is preached not just in words, but in actions. As St. Francis of Assisi said, "Preach the Gospel always, use words when necessary."
The pope's early actions were a direct assault on clericalism in the church by modeling what it means to be a good bishop, a good priest, a good Christian.
The pope's frontal attack on clericalism is an attempt to change the culture of the church. It is a call to conversion in attitudes and practices.
He has been clear that he wants bishops and priests who are close to their people, so close that they are shepherds who smell like their sheep. They should be "gentle, patient and merciful; animated by inner poverty, the freedom of the Lord and also by outward simplicity and austerity of life," he said. They should "not have the psychology of 'Princes.' "
Leadership in the church is about service, not power and prestige.
Many observers do not recognize how revolutionary is the change in style and culture that Pope Francis is calling for. It is more important than moving around boxes on the organizational chart. The difficulty is that it requires buy-in by bishops and clergy throughout the world. There will be no "Francis effect" unless hearts and attitudes are changed. Too many seminarians and young priests see themselves as correctors of lay laxity and heterodoxy rather than as companions in a pilgrimage to the Lord.
The pope has also called for open discussion in the church. He is not afraid of arguments and disagreements. "Open and fraternal debate makes theological and pastoral thought grow. That doesn't frighten me. What's more, I look for it," he said.
He remembers attending synods where the bishops were told that certain topics were off the table. Rather, he told the fall synod on the family, "Speak clearly. Let no one say, 'This can't be said, they will think this or that about me.' Everything we feel must be said with parrhesia [boldness]." He purposefully used the Greek word that described the boldness with which St. Paul spoke to St. Peter at the council of Jerusalem in arguing against making the Gentiles follow Jewish practices.
Pope Francis has made his priorities for the church clear. We are not to obsess over abortion, gay marriage and birth control since everyone knows the church's position on these issues.
Rather, he wants a "poor church for the poor." He supports a church that feeds the hungry, clothes the naked, and cares for the sick. He also wants a church working for justice, peace and the protection of the environment. He sees no contradiction between works of charity and the work for justice. But he also wants the poor welcomed in our communities. We must not only feed them and fight for them, but also listen to them and love them as individuals.
The church of Pope Francis is not a reward for the perfect, but a field hospital for the wounded. The first words of evangelization are not a list of do's and don'ts but the announcement of God's compassion, mercy and love for us. He realizes that mystery first enters through the heart, not the head. People are not convinced through arguments but through the example Christians living lives of compassion and love.
He also understands that the church's message must be simple and not overintellectualized. This is not a pope who worries about whether Jesus is one in being with the Father or consubstantial with the Father.
Most importantly, when people walk away from the church, he does not attack or condemn them, but rather asks what the church did wrong. As he asked the bishops in Brazil, was it because "the church appeared too weak," "distant from their needs," "cold," caught up with itself," "a prisoner of its own rigid formulas," "a relic of the past, unfit for new questions"?
"We need a church," he concluded, "unafraid of going forth into their night ... capable of meeting them on their way ... capable of entering into their conversation ... able to dialogue with those" who have left the church.
The pope has called for a new style of being church, a style that is pastoral and open. He has set out a new set of priorities that are rooted in the Gospel.
But the church is not the pope. Unless bishops, priests and laity follow his example and embrace his priorities, there will not be permanent change in the church. The temptations to clericalism and self-centeredness are too strong. We have to stop admiring the pope and start imitating him.
[Jesuit Fr. Thomas Reese is a senior analyst for NCR and author of Inside the Vatican: The Politics and Organization of the Catholic Church. His email address is treesesj@ncronline.org. Follow him on Twitter: @ThomasReeseSJ.]
Editor's note: We can send you an email alert every time Thomas Reese's column, Faith and Justice, is posted. Go to this page and follow directions: Email alert sign-up.