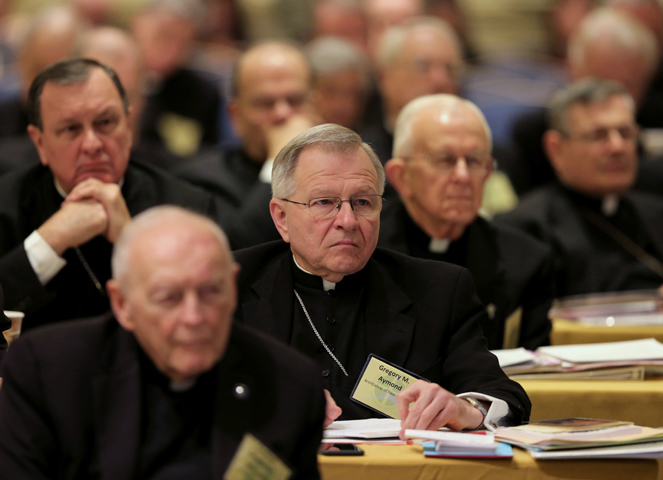 Archbishop Gregory M. Aymond of New Orleans, center, and other prelates listens to a speaker during the 2014 annual fall general assembly of the U.S. Conference of Catholic Bishops in Baltimore. At this year's Nov. 16-19 assembly, the bishops, among other things, will address USCCB priorities and a statement on political responsibility. (CNS/Bob Roller)
The upcoming election of committee chairs by the U.S. Conference of Catholic Bishops (USCCB) will present the American bishops with clear choices that will indicate the direction of the conference for the next few years.
The elections will take place at the bishops' annual fall meeting in Baltimore, Nov. 16-19.
Four of the candidates are clearly "Francis bishops," because they were chosen by him for their dioceses or for a special assignment.
I am not saying that only bishops appointed by Pope Francis can be considered "Francis bishops," but it is interesting that the USCCB elections will have four Francis appointees on the ballot. Will the bishops like these candidates as much as Pope Francis does?
First, Bishop Frank J. Caggiano, appointed to Bridgeport, Conn., by Francis, is running for chair of the Committee on Laity, Marriage, Family Life and Youth against Archbishop Charles J. Chaput, OFM Cap., of Philadelphia, who was "very disturbed" by the debate over church teachings on gays and remarried Catholics at the 2014 synod on the family, saying it sent a confusing message, and "confusion is of the devil."
Chaput was elected by the USCCB to be one of its delegates to the recent synod on the family, where he was reportedly elected by the synod to the synodal council.
During the synod he wrote about gays and divorced Catholics saying, "It's very hard to include those who do not wish to be included, or insist on being included on their own terms." Chaput concluded, "We need to be a welcoming Church that offers refuge to anyone honestly seeking God. But we need to remain a Church committed to the Word of God, faithful to the wisdom of the Christian tradition, and preaching the truth of Jesus Christ."
Earlier in September, he hosted the pope and the World Meeting of Families in Philadelphia.
Caggiano has been known for reaching out through simplicity and dialogue. "There's always the great challenge of allowing people to see that which unites us is greater than that which divides us," Caggiano told NCR in a 2014 interview. He has a doctorate in theology from the Gregorian University in Rome.
In another election, Robert W. McElroy, appointed bishop of San Diego by Francis, is running for chair of the Committee on Domestic Justice and Human Development against Bishop Frank J. Dewane of Venice, Fla., where in 2014 a group of 10 priests accused Dewane of ignoring canon law, abandoning consultative processes and ruling by intimidation and fear.
Dewane has supported farmworkers in his state, opposed the death penalty, and fought human trafficking. Dewane ran for this chair in 2009 and lost. He also lost the race for secretary in 2011.
Dewane has a M.A. in international affairs. Prior to his appointment to Venice, he was undersecretary of the Pontifical Council for Justice and Peace worked at the Pontifical Council Cor Unum.
McElroy has a doctorate in political science from Stanford University and another in moral theology from the Pontifical Gregorian University. He has written extensively on Catholic social teaching, including an article in America magazine on how Francis' teaching is calling Catholics to care for the economically impoverished.
In a third election, John C. Wester, appointed archbishop of Santa Fe, N.M., by Pope Francis is running for chair of the Committee on Migration against Archbishop José H. Gomez of Los Angeles, who is himself an immigrant from Mexico.
Wester became well known to the media as chair of the bishops' communication committee. He is also a member of the Pontifical Council for the Pastoral Care of Migrants and Itinerant Peoples, which involves him in migrant issues on the international level.
Both bishops have been chair of this committee in the past, and both support comprehensive immigration reform.
In a fourth race, Bishop George V. Murry, S.J., of Youngstown, Ohio, who was appointed by Francis to the recently concluded synod on the family, is running for chair of the Committee on Catholic Education against Archbishop Robert J. Carlson of St. Louis, who is a canon lawyer.
Carlson has been chair of the bishops' Committee on Clergy, Consecrated Life and Vocations, and Murry has been conference secretary. Murry was president of an archdiocesan high school in Washington, D.C., and is familiar with Jesuit education in the United States. Carlson is known to host meetings with the theology faculties from Catholic colleges in his archdiocese.
The candidates in the other two races also present stark choices.
Archbishop Joseph W. Tobin, C.Ss.R., of Indianapolis, who was chased out of Rome because he was too nice to nuns, is running for the chair of the Committee on Clergy, Consecrated Life and Vocations against Archbishop Samuel J. Aquila of Denver.
Tobin was elected superior general of the Redemptorists for two terms beginning in 1997 and served as secretary of the Congregation for Institutes of Consecrated Life and Societies of Apostolic Life from 2010 until appointed to Indianapolis in 2012. He would certainly bring more experience with religious life to the chair than any of its previous occupants.
Archbishop Aquila attacked Cardinal Walter Kasper's proposal on Communion for divorced and remarried Catholics, comparing it to the Church of England caving in to King Henry VIII on his divorces. He also used a Nazi analogy when discussing religious liberty issues in the United States.
In a contest over the chair of the Committee on Divine Worship, Archbishop Wilton D. Gregory of Atlanta, a protégé of Cardinal Joseph Bernardin and former USCCB president (2001-2004), is running against Bishop John O. Barres of Allentown, Pa.
Gregory upset some bishops by his strong support of zero tolerance toward abusive priests while he was president. His doctorate is in liturgy from the Benedictine Sant'Anselmo University in Rome, and he has written extensively about the liturgy. Gregory was chair of the liturgy committee before (1991-1993).
Barres has a MBA from NYU and joined Opus Dei as a priest. He has a doctorate in spiritual theology from Opus Dei-led Holy Cross University in Rome. In 2010, Barres quit the bishops' national antipoverty program (CCHD) in favor of a collection for diocesan poverty programs.
He is "one of the most likable people you could ever want to meet," according to his former classmate Michael Sean Winters.
Who will win? Traditionally, archbishops beat out simple bishops, which gives Chaput, Carlson, and Gregory the advantage. The other elections put prelates of equal rank against each other.
Whatever the outcome, this will certainly be one of the most interesting USCCB elections in years. For each chair, there is a real choice.
[This story was updated on Nov. 11 with information on the work of Bishop Dewane at the Vatican.}
[Jesuit Fr. Thomas Reese is a senior analyst for NCR and author of Inside the Vatican: The Politics and Organization of the Catholic Church. His email address is treesesj@ncronline.org.]
Editor's note: We can send you an email alert every time Thomas Reese's column, Faith and Justice, is posted. Go to this page and follow directions: Email alert sign-up.