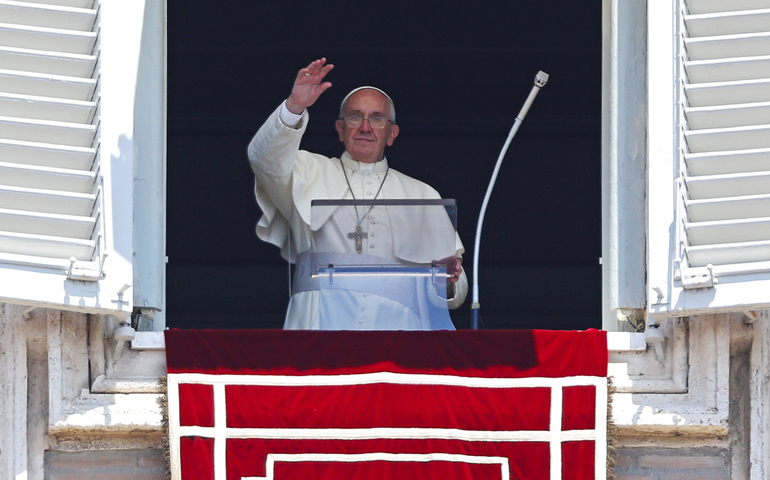 Pope Francis waves as he leads the Angelus Sunday from the window of his studio overlooking St. Peter's Square at the Vatican. (CNS/Reuters/Max Rossi)
Vatican City — July 20, 2015
A good pastor always sees what people are going through, feels compassion and then nourishes them with God's Word, Pope Francis said.
Seeing and being moved to pity "have always been associated with Jesus," the Good Shepherd, he said Sunday before reciting the Angelus with visitors gathered in St. Peter's Square.
"In fact, his gaze isn't the gaze of a sociologist or a photojournalist because he always looks with 'the eyes of the heart,' " he said.
With the Sunday recitations of the Angelus prayer scheduled to be Pope Francis' only public events in late July, visitors flocked to St. Peter's Square. The pope congratulated those who stood on the black cobblestones and under the hot midday sun, saying, "I see you are courageous with this heat in the square -- good job!"
He said the day's Gospel reading, Mark 6:30-34, talks about Jesus seeing a vast crowd and feeling sorry for them because "they were like sheep without a shepherd; and he began to teach them many things."
"Jesus sees, Jesus has compassion, Jesus teaches us. This is beautiful," he said.
Pope Francis said he had wanted that same spirit and approach to guide him through his "unforgettable" July 5-12 trip to Ecuador, Bolivia and Paraguay.
He thanked all those who made the trip possible and he thanked the people for their warm welcome.
The entire Latin American continent, he said, has enormous "human and spiritual potential and safeguards deeply rooted Christian values, but it also experiences serious social and economic problems."
The church will continue to "mobilize the spiritual and moral forces of its communities" and collaborate with all people in solving these problems, he said.