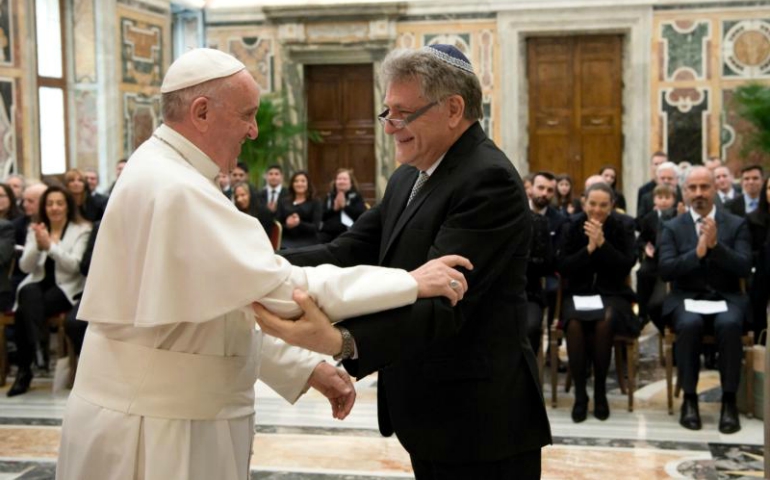 Pope Francis greets Rabbi Abraham Skorka during a meeting with an interreligious group of scholars at the Vatican Feb. 23. (CNS/L'Osservatore Romano)
Vatican City — June 15, 2017
Reaching out to people of other religions can be both challenging and enriching for individuals and is the only hope for true peace in the world, said a variety of religious leaders, including Pope Francis.
The pope and his friend Rabbi Abraham Skorka appear in a video montage and together in their own video as part of the "Make Friends" initiative coordinated by the Elijah Interfaith Institute, which has offices in Israel and in Dallas.
The video series, posted on YouTube June 14, also includes Orthodox, Anglican and Lutheran leaders, Jewish rabbis, Sunni and Shiite Muslim clerics, Buddhist monks and nuns, and Hindu and Sikh leaders.
In their video, Francis and Skorka talk about how their own religious convictions led them into conversations with each other, and how those conversations not only increased their understanding of God and formed the basis of a television series and book, but also led to true friendship.
When sending emails back and forth, "because we still have projects going on," Skorka said, they address each other as "'Dear brother,' and it's not just a saying. We have such open, deep and affectionate conversations. We understand each other."
As they met and held discussions in Buenos Aires, Argentina, "the friendship grew, always retaining our respective identities," the pope said. "'Brother and friend' — those are my feelings for him."
Explaining the "Make Friends" initiative, the Elijah Interfaith Institute said, "Friendship and getting to know one another are the antidotes to negativity and divisions in society, enhancing understanding and unity."
Rabbi Alon Goshen-Gottstein is the founder and director of the institute.
To learn more about the Elijah Interfaith Institute and the "Make Friends" initiative, visit http://elijah-interfaith.org/.