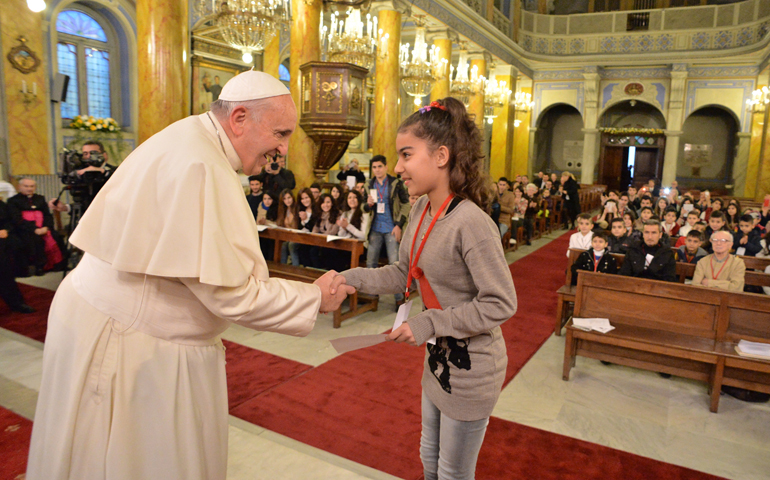 Pope Francis meets with young refugees from civil wars in Syria and Iraq, Nov. 30, 2014 in Instanbul. (CNS photo/L'Osservatore Romano)
A quote from Pope Francis:
"It is easy to say this, but please make an effort not to be discouraged. With the help of God, continue to hope in a better future, despite the difficulties and obstacles which you are currently facing. The Catholic Church is with you, including through the invaluable work of the Salesians. The Church, in addition to other forms of help, also offers you the opportunity to see to your education and formation. Remember always that God does not forget any of his children, and that those who are the smallest and who suffer the most are closest to the Father's heart.
For my part, together with the whole Church, I will continue to pray to the Lord, asking him to inspire those in leadership, so that they will not hesitate to promote justice, security and peace and do so in ways that are clear and effective. Through her social and charitable organizations, the Church will remain at your side and will continue to hold up your cause before the world."
— Address to refugees and asylum seekers at Cathedral of the Holy Spirit, Turkey, Nov. 30, 2014
Editor's note: We can send you a biweekly email alert with content from The Francis Chronicles. Follow the directions on our email alert signup page.