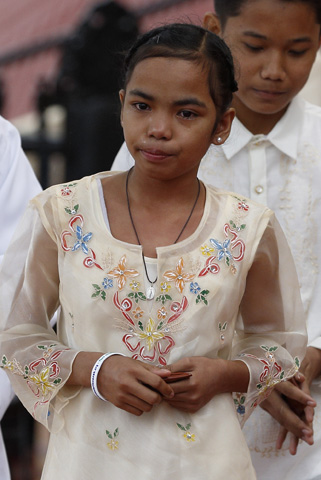 Glyzelle Palomar walks to her seat after greeting Pope Francis during a meeting Sunday with young people at the University of St. Thomas in Manila, Philippines. (CNS/Paul Haring)
For years, I have written in the pages of NCR about the Philippines. (See here and here.) The country, I believe, epitomizes the need for all Catholics to continue the fight against the Roman Catholic church's ban on contraception.
The pope's visit to the Philippines last week seems to have finally raised awareness of the issue.
It wasn't the media or the theologians who brought this crisis to the world's attention, but rather, a 12-year-old girl named Glyzelle Palomar.
A former street kid, Glyzelle gave voice to the estimated 1.2 million homeless Filipino children who every day forage in the trash for food and sleep on cardboard boxes in slums.
"There are many children neglected by their own parents," she told Pope Francis. "There are also many who became victims and many terrible things happened to them, like drugs or prostitution. Why is God allowing such things to happen, even if it is not the fault of the children? And why are there only very few people helping us?"
Some reports said Glyzelle's sobs were so deep, she was unable to finish her statement to the pope. Francis, visibly pained by her words, embraced the girl and then offered a 40-minute excursus on the nature of suffering and the transformative power of tears.
The scene might have been more moving if the church were not complicit in this young girl's suffering.
For more than a decade, the Roman Catholic hierarchy obstructed the passage of the Reproductive Health Bill, a proposed Philippine law intended to bring free or subsidized birth control options (condoms, birth control pills and intrauterine devices) to government health centers, including remote areas where some of the poorest live. It would provide family-planning training for community health officers and require sex education in public schools. It also would vastly improve maternity care for poor women. Abortion and abortifacients would remain illegal.
The RH bill finally passed in December 2012, but its implementation was stalled by the Catholic hierarchy, who led a challenge to its constitutionality. In April 2014, the Supreme Court upheld its constitutionality but struck down, either partially or in full, eight of its provisions, which weakened the law. Filipino bishops declared the ordeal a "partial victory."
Sadly, the bishops were not representing the desires or needs of the majority Catholics in their country. The Filipino people are known for their devotion to Catholicism, as was clearly demonstrated by the 6 million people who showed up for a papal Mass in Manila on Sunday. But surveys show that most Filipino Catholics also believe that the individual conscience -- not the church -- is the final arbiter in moral decision-making.
According to a 2014 poll by Social Weather Stations, a local Philippine social research institution, 84 percent of Filipinos agree that "the government should provide free supply or service to the poor who wish to use any family planning method."
In addition, 72 percent said they were in favor of the RH bill, and 77 percent agreed that "the RH Law follows what the Constitution should stand for, so it is only proper for the Supreme Court to allow it."
In January 2012, a PBS NewsHour special called "Food for 9 Billion" profiled the impact that access to contraception has on the lives of Filipino families. Reporter Sam Eaton spotlighted a program run by the PATH Foundation Philippines, a community-based family-planning program funded mostly by the U.S. Agency for International Development that makes birth control accessible and affordable by allowing couples to purchase the pill for as little as 70 cents a month.
The program was popular among parents, many of whom remember starving as children with eight or more siblings. Crisna Bostero, who participated in the PATH program, said, "We would only eat once a day because we were so poor. We couldn't go to school. I did not finish my school because there were just so many of us."
Because of PATH, she and her husband, Jason, were able to choose to have two children. They were able to provide three meals a day and send their children to school. "My income is just right to feed us three times a day. It's really, really different when you have a small family," Jason Bostero said.
The church's rigorous defense of its teaching on contraception has had catastrophic consequences, especially for children and families. The United Nations Population Fund estimates that half of the 3.4 million pregnancies in the Philippines each year are unintended, and that there are 11 pregnancy-related deaths in the country each day, on average.
Right now, more than a quarter of Philippine people live on the equivalent of 62 cents a day, according to government data. Poor parents are often forced to abandon their children to the streets because they cannot provide for them.
Already, the Philippines has one of the highest birth rates in Asia and a population of almost 100 million. By 2080, demographers predict that population could swell to 200 million. (I would need a separate column to detail the impact that this population growth will have on pollution, water scarcity, and the health of the oceans and coral reefs.)
Saddest of all, children like Glyzelle Palomar are forced to witness and endure levels of suffering that are unimaginable to most of us in the West, suffering that shows little hope of abating if the Filipino families are not given the resources to determine their family size.
Pope Francis claimed this week that "responsible parenting" was crucial to avoiding situations like Glyzelle's. He detailed a story of "rebuking" a mother of seven children when she became pregnant with her eighth child. (One hopes he also rebuked the father.)
Yet in the same statement, he reaffirmed the church's ban on contraception, leading us to conclude that abstinence is his answer to rampant population growth and its consequential poverty and environmental destruction.
If the church plans to push an abstinence program to curb population growth, I think it's fair to say we're all doomed.
Pope Francis has been highly touted for his criticism of institutional evils that create poverty. But there is something disturbing about a church leadership that rails against poverty and institutional sin while rigidly defending church teachings that are clearly exacerbating the conditions of the poorest.
Many continue to express joy at Pope Francis' acts of humility and passion for the poor. But our zeal for this pontificate should not blind us to the connections between Roman Catholic doctrine and the suffering of the poor globally.
Those looking for prophetic Catholic leadership on this issue may want to listen to the words of Philippine President Benigno Aquino III. For years, the hierarchy threatened him with excommunication for being one of the main backers of the Reproductive Health Bill. In an interview with the BBC in December 2011, Aquino appealed to his faith to explain his support for the law.
"We're taught that when you come before the Almighty, you will be asked: 'What have you done to the least of your brethren?' " Aqunio said. "I cannot in good conscience say we saw the problem and we refused to see it, we refused to talk about it, we refused to hear it. That would be criminal, against the oath that I subscribe to. That would be against the teachings of the church I belong to."
[Jamie L. Manson is NCR books editor. She received her Master of Divinity degree from Yale Divinity School, where she studied Catholic theology and sexual ethics. Her email address is jmanson@ncronline.org.]
Editor's note: We can send you an email alert every time Jamie Manson's column, "Grace on the Margins," is posted to NCRonline.org. Go to this page and follow directions: Email alert sign-up.
A version of this story appeared in the Feb 13-26, 2015 print issue under the headline: Catholic church is complicit in girl's suffering.