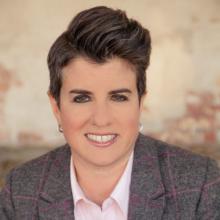 Jamie Manson, former columnist and books editor at the National Catholic Reporter, is president of Catholics for Choice.
She is a three-time winner of the Religion News Writers Association's (RNA) award for Commentary of the Year and has garnered over a dozen Catholic Press Association awards for her work at NCR. She also won the 2015 Wilbur Award for Best Online Religion News Story for her piece "Feminism in Faith" about St. Joseph Sr. Elizabeth Johnson, written for Buzzfeed. Her activism on behalf of women and LGBTQ people earned her the Theresa Kane Award for Women of Vision and Courage from Women's Ordination Worldwide in 2015. She is editor of Changing the Questions: Explorations in Christian Ethics, a collection of writings by Mercy Sr. Margaret Farley (Orbis, 2015). She received her Master of Divinity degree from Yale Divinity School, where she studied Catholic theology and sexual ethics.
Jamie travels around the country as a speaker, retreat leader and media commentator on issues related to women and LGBTQ Catholics, young adult Catholics, and the future of the church.