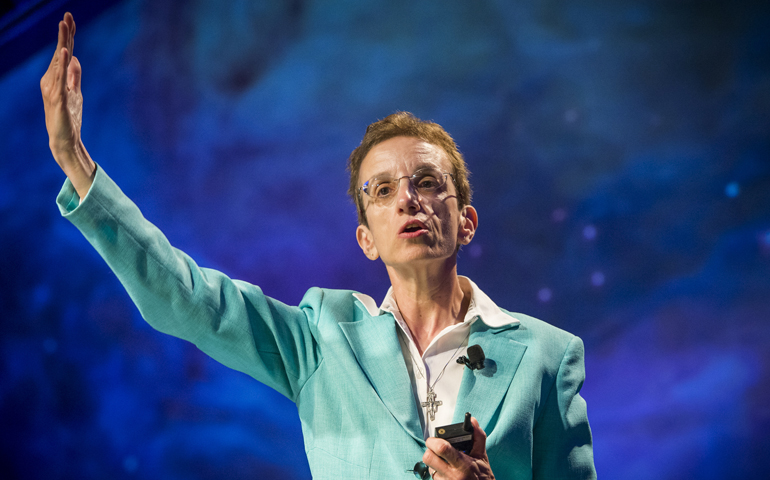 Franciscan Sr. Ilia Delio delivers the keynote address Aug. 14, 2013, during the Leadership Conference of Women Religious assembly in Kissimmee, Fla. (CNS/Roberto Gonzalez)
Washington — July 16, 2014
"We are dying -- and that's OK," Ilia Delio told a gathering of 150 Sisters of St. Joseph in Brentwood, N.Y., in late June.
"It just means something new is emerging. We need to become young again."
It was a bold statement, made all the more audacious by the fact that the average age of the assembled group was likely in the neighborhood of 72.
But Delio isn't concerned with chronological age. She's taking the long view: 13.8 billion years long, to be exact. The age of the universe. From her perspective, what may seem like upheaval and uncertainty in the future of religious life is just a natural stage in an unfolding evolutionary process.
"If we attend only to the breakdown," Delio says, "we think we're over. We see death. But that's a closed-system way of thinking."
A Franciscan sister, Delio reads the struggle between the Vatican and the Leadership Conference of Women Religious through the lens of systems theory, an idea often employed in the study of evolution.
Open systems, she says, remain open to their surrounding environment, and they respond to changes in the environment by reorganizing themselves. After the Second Vatican Council, most orders of women religious underwent a similar reorganization, transforming structures of rigid conformity into non-hierarchical, collaborative communities.
"An open system has a capacity for newness. New basins of attraction arise within the system and pull it, over time, in a new pattern of life. So chaos really is a saving grace," she says, adapting the notion of chaos theory from physics.
Welcome to the mind of Ilia Delio, where most questions related to the church or theology are answered throuFgh analogies to the physical sciences.
Delio is the rare theologian with doctoral degrees in both science and theology**. But at her heart, she is a teacher. She longs for you to see what she sees: the vast interconnectedness of human beings, God, and the universe.
Her engaging personality has made her a popular speaker not only among women religious, but in spiritual and academic circles. The breadth of her knowledge can make these events downright epic. When Delio addressed the LCWR assembly in 2013, she spoke for more than two and a half hours over the course of two sessions, then took questions for another hour.
Delio's intellect works like a hummingbird in flight. As she speaks, she moves swiftly and precisely from physics to medieval theology to the 20th-century mystics. She feverishly taps each of these sources, cross-pollinating ideas and generating new, complex images of God and the universe.
Her writing, on the other hand, has been known to bedevil even some sophisticated theological minds. More than one LCWR community had to develop a study guide to her 2013 book, The Unbearable Wholeness of Being, before the assembly. It isn't so much that Delio's prose is dense, but that her theological imagination is so fertile it cannot resist making connections between religious and scientific ideas. The resulting insights can overwhelm readers who are new to the concepts.
But Delio insists that her message really is quite simple.
"I want everyone to see that we are loved into being at this moment just as we are by a God of unconditional love," Delio says.
"We emerge out of this long, cosmic process we call evolution. But evolution is about deep relationality," she continues. "We are created for love, and that's what keeps pulling us onward."
Perhaps what is most intriguing about Delio isn't her understanding of evolution, but that evolution is the story of her life.
Born Denise Delio in 1955, her upbringing was more "Sopranos" than scientific -- minus the mob ties, of course. She was raised in northeastern New Jersey by second-generation Italian immigrants. Her mother was a nurse and her father worked for the railroad. Delio fantasized from an early age about becoming a nun -- a dream her Sicilian mother, left wary by her sister's negative experience in a convent, tried for years to discourage.
And she succeeded for much of her daughter's youth. A gifted science student who dreamed of one day winning a Nobel Prize, Delio earned undergraduate and master's degrees in biology. A doctorate in pharmacology from Rutgers University's New Jersey Medical School followed with a specialization in spinal cord physiology. Her research earned her a post-doctoral fellowship at Johns Hopkins University School of Medicine to study the pathology of Lou Gehrig's disease.
But just months before Delio was to begin her new post, Thomas Merton's spiritual masterpiece The Seven Storey Mountain rekindled her desire for contemplative life.
"I saw my life in his life," Delio says. "I longed to love the world from afar and live only for Christ."
She declined the fellowship. Her classmates and soon-to-be colleagues were baffled. "They were convinced that I had either inhaled a toxic chemical in the lab or had suffered a nervous breakdown," she laughs.
A devotee of the Latin Mass, Delio sought an austere, cloistered life. In 1984, she joined the Carmelite order. Their long, traditional habit represented the holiness and sacrifice she craved. In a photo taken on the day of her profession of vows, she bears a resemblance to Therese of Lisieux. A crown of flowers atop her veiled head symbolizes her status as a bride of Christ.
Delio contemplates the image for a moment. "I was happy for about 20 minutes," she jokes at first, then turns serious. "The Carmelites really taught me how to pray."
They also gave Delio her name. "Ilia" is the Greek feminine translation of Elijah, the prophet who, according to the Hebrew Scriptures, ascended Mount Carmel to challenge 450 prophets of the false god Baal.
But her romanticized vision of religious life soon buckled under the tightly controlled day-to-day realities of monastic life. "The God to whom I had felt so drawn began to melt into the darkness," Delio wrote in a 2009 essay. "I wondered whether I had chosen solitary confinement."
After four years in the cloister, she requested a leave and was sent to discern with the Franciscans in North Plainfield, N.J.* Though they, too, wore the habit and followed a somewhat regimented life, they had an openness to the world that Delio found freeing.
"As I listened to their stories of mission," she recalls, "I began to see that Jesus comes in many ways."
Delio redid her novitiate and joined the Franciscans, but her knowledge of theology remained rudimentary. The community sent her to pursue graduate studies in religion at Fordham University in New York.
During the school year, she lived with Ursuline sisters in the Bronx. As the burden of both completing her doctoral studies and directing vocations for her Franciscan community weighed on her shoulders, Delio says it was the Ursulines' kind support and attentiveness to her needs that helped her "see what the Incarnation is really about."
"Suddenly I saw God present in these nuns wearing jeans and sweatshirts," she recalls.
At Fordham, she immersed herself in historical theology, finding inspiration among medieval theologians, particularly St. Bonaventure, on whom she would write her doctoral dissertation. Her dissertation director, renowned scholar Ewert Cousins, also introduced her to the work of Pierre Teilhard de Chardin, the Jesuit paleontologist whose mystical writings on Christianity and the cosmos have inspired generations of Catholic theologians. She was drawn to the way he synthesized his deep scientific knowledge with his mystical vision of the world.
Teilhard developed the concept of evolutionary Christianity, theorizing that the whole of creation was progressing toward fulfillment in Christ. The goal of the universe, which he called the Omega Point, was full consciousness with God.
"He believed that love energy was at the heart of the Big Bang," she says. "As love emerges in evolution, there is a rise in consciousness."
Like Teilhard, Delio is as steeped in science as she is devoted to God. She isn't simply an expert in his work. She shares his spirit.
"He was a deeply incarnational, deeply spiritual man," she says. "I guess you could say we share an incarnational resonance."
Delio's latest book, From Teilhard to Omega: Co-creating an Unfinished Universe, is an edited volume of essays by 13 of the finest scholars on science and religion. She challenged each writer to apply Teilhard's insights to the needs of the current age.
The contemporary hunger for meaning is a concern that spurs much of Delio's own work. Though she currently serves as visiting professor and director of Catholic studies at Georgetown University, she seems less inclined to do traditional academic theology.
"I'd like to do theology with the people in the malls, in the parks, and on Facebook," she says. "I'm afraid we've become the most unnatural of species. We are dying for life, but we try to control nature and we reject one another. It is a beautiful world that we often make into a terrifying world."
Delio believes that God speaks God's love in all of creation, even in small and fearsome creatures like jellyfish or snakes. "In their natural habitat they have a beauty and a goodness," she says. "I call them 'little words of God.' "
"It's hard for us to get our minds around this idea because we are such control freaks," she continues. "We think everything has to fit our mentality of what is good and beautiful. But by doing that, we reject God's invitation to love."
"Part of what drives me is I think God just wants to be God: in a good way, in a loving way," Delio continues. "Not in a controlling way, but as that source of compassion and unity and justice."
The challenge, Delio says, is that "the only way that God can be God as the heart of this world is through us as the conscious voice of this evolutionary universe."
Our failure to see God's loving presence in all of creation has led to our ongoing degradation of the environment and our increasing violence toward one another. "It's no wonder TV shows like 'Law and Order' or 'Criminal Minds' are so popular," Delio says. "They reinforce this idea that we are totally depraved and that God is separate from this world."
"I think we have become closed systems, unnatural and detached. And therefore we are not at home in this cosmos," she says. "We are not at home in nature, and we're not at home with one another. We are literally lost in space."
Delio believes that religion often perpetuates the disconnect between God and creation. "The church is not moving people toward a new level of consciousness, but rather, divisiveness," she says.
"Religion should be making us conscious of becoming part of the whole," she adds, "but we don't teach that. We don't practice it. We don't ritualize it. We don't create a community where a person is valued in his or her rich diversity."
Delio's own religious identity has continued to evolve with the deepening of her awareness of God's presence in the particularities of life. When she got her first teaching job at Washington Theological Union in 1997, she was still, as she says, "bound to the veil."
"By no longer wearing the veil, I shed the last of the external signs of religious life," she recalls. "I realized that the whole of life is religious because the whole of it seeks a deep connectivity."
Delio now belongs to a religious community that attempts to live out religious life as an open system. Known as the Franciscans of Washington, D.C., it is a small community of vowed women who seek to vitalize the Franciscan charism in the 21st century.
They have tried to move away from economic and ecclesial divisions, such as the distinction that divide lay and religious. "In medieval times, 'religious' meant that you had a special grace. 'Lay' meant that you were illiterate -- literally, 'hard as a rock.' Well, the body of Christ doesn't work that way. We are one baptism, one faith, one hope," Delio explains.
She is also working to expand our understanding of Catholicity. Her next book from Orbis, Making All Things New, will be the first in a series of books called Catholicity and the Evolving Universe. The volumes will be written by multiple authors, and Delio will serve as general editor.
"We've all been taught that the word 'catholic' means 'universal,' but that is based on the early church's translation of the Greek katholikos into the Latin universalis," Delio explains.
The word "universal" does not adequately capture the rich meaning of katholikos as the ancient Greeks used it. "Katholikos means 'through the whole' or 'throughout the whole,' " she says. "It connotes an active consciousness of the whole or a seeking to make whole."
But by the third century, "catholic" became less about a whole-making process and more about orthodoxy. Eventually, it was employed to distinguish orthodoxy from heresy.
"We know that Jesus was a Jew, but he was 'catholic' in the sense that he was a whole-maker," Delio says. "He came to bring life and bring it to the fullest."
"Jesus taught us that salvation is about whole-making and healing," she continues, "It's not this grace of being rescued from a depraved, fallen world. It's that grace of love that heals us. I think that's what it means to be saved: to be healed and to be whole and to be sent on our way to be whole-makers ourselves."
If Catholicity has shriveled in our current milieu, it's because it has shrunken into a legalistic set of propositions and rules. Religious belief, Delio believes, loses its power to transform anything when it no longer relates to concrete, lived reality.
"Catholicity is about how we think about whatever we're thinking about. Hopefully, this series of books will explore dimensions of Catholicity in an evolving universe, with particular emphasis on theology, spirituality, science, the arts, the economy and the environment," Delio says.
After a young adulthood spent trying to transcend the world, Delio now wants to be immersed in it. "The Franciscan way is the way of the concrete," she says, "seeing the love of God in the leper, among the flowers and birds, in the moon. Francis taught us a consciousness of God in the concrete."
But as it was with her namesake, Elijah, Delio does find herself sometimes alone on a mountain. Like a prophet, she is mostly unbound from institutions. Not only is she living out a renewed form of religious life, her position at Georgetown is untenured.
Not surprisingly, she is comfortable in the chaos, insisting that it is indeed a grace. "For me, it's a gift not to be too stable in anything. I think it allows me to be unbridled in my creativity."
"I think this is how God works," she adds. "God untethers some people in history so that they're free to give themselves over in a radical way to create and to participate in the new."
*An earlier version of this column gave an incorrect location of the order.
**An earlier version of this column listed an incorrect degree.
[Jamie L. Manson is NCR books editor. She received her Master of Divinity degree from Yale Divinity School, where she studied Catholic theology and sexual ethics. Her NCR columns have won numerous awards, most recently second prize for Commentary of the Year from Religion Newswriters (RNA). Her email address is jmanson@ncronline.org.]
Editor's note: We can send you an email alert every time Jamie Manson's column, "Grace on the Margins," is posted to NCRonline.org. Go to this page and follow directions: Email alert sign-up.
A version of this story appeared in the Aug 15-28, 2014 print issue under the headline: The evolution of Ilia Delio.