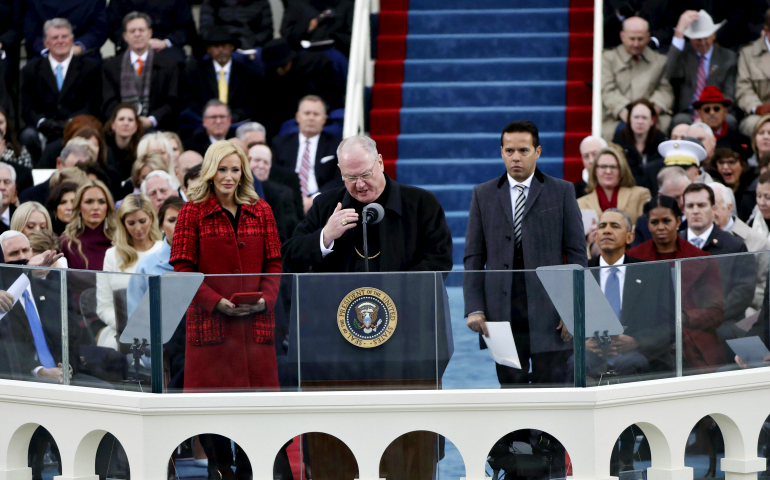 New York Cardinal Timothy Dolan delivers the invocation before Donald Trump's swearing-in as U.S. president Jan. 20 at the Capitol in Washington. (CNS/Reuters/Carlos Barria)
Since Donald Trump signed executive orders to build his promised wall along the Mexican border and to ban travelers from seven primarily Muslim nations, the Catholic bishops of the United States have been enjoying some positive headlines for speaking out on behalf of immigrants, Muslims and refugees.
But before we coddle the bishops with the praise that we regularly give Pope Francis each time he speaks out for the poor and marginalized, it's important to ask why the bishops are only finding their prophetic voices after Trump's inauguration.
Trump has been stirring waves of anti-immigrant, anti-Muslim and racist sentiment for well over a year. Building a wall and banning Muslims were the two key rallying cries of his campaign. The bishops remained largely silent throughout election season. They seem tragically late to the party.
One could argue that the bishops did not want to get mixed up in a political campaign, lest they blur the lines between church and state. But back in late October, the U.S. Conference of Catholic Bishops didn't hesitate to issue a thinly veiled criticism of the Clinton campaign after emails between John Podesta and Sandy Newman were leaked (we now know) by Russian hackers.
In the 2011 email exchange, Podesta and Newman discuss the possibility of "a Catholic Spring" rising up to reform church teachings on issues like contraception and gender equality.
Kellyanne Conway, Trump's then-campaign manager, called the emails "vicious anti-Catholic bigotry." And the bishops' conference seized the moment, issuing an Oct. 13 statement suggesting that "some may have sought to interfere in the internal life of the Church for short-term political gain. If true, this is troubling both for the well-being of faith communities and the good of our country."
The statement, signed by the conference's then-president Archbishop Joseph Kurtz, also took advantage of the opportunity to encourage U.S. Catholics "to reflect on one of the founding principles of our republic — the freedom of religion." The issue, they seem to suggest, is of paramount importance to the upcoming election.
Since the early days of the Obama administration, the bishops' conference has been strongly preoccupied by religious liberty. In 2011, in response to the increasing legalizations of same-sex marriage in various states and the contraception mandate in the Affordable Care Act, the bishops created the Ad Hoc Committee for Religious Liberty, tapping then-Bishop William Lori as its chairman.
As I reported in January 2012, the issue was so urgent that several Catholic bishops signed a joint letter with right-wing evangelical groups called "Marriage and Religious Freedom: Fundamental Goods That Stand or Fall Together."
The letter was a declaration of their crusade to win exemptions for individuals and institutions (both religious and secular) from laws governing "employment discrimination, employment benefits, adoption, education, healthcare, elder care, housing, property, and taxation" on the grounds of their religious beliefs.
In September 2016, as Trump was trying to rescue his faltering campaign, the candidate made a major promise to conservative religious group lobbying for religious liberty.
As the National Review reported, Trump seemed to be appealing directly to the U.S. bishops:
In conjunction with his recent rollout of a Catholic advisory group, Donald Trump articulated his dedication to a number of issues of critical importance to American Catholics, including his hard-line defense of religious freedom. Among his many promises, Trump pledged to sign the First Amendment Defense Act (FADA) if Congress were to pass the legislation during his presidency. The bill is narrowly tailored to protect from government discrimination those religious Americans who believe that marriage is a union between one man and one woman.
Trump was promising to be the answer to the bishops' religious liberty prayers. All of their "fortnights for religious freedom" could finally pay off through his presidency.
Is it possible that the reason the bishops said so little against Trump throughout the campaign was because they knew how much they stood to gain through his election? There is ample evidence to suggest so.
Take a look at the bishops' top five priorities in their strategic plan for 2017-20 and see how well they match up with Trump and Mike Pence's conservative social agenda. Three of the bishops' five priorities are:
"Inspiring Catholics to embrace the sacrament of matrimony";
"Upholding the sanctity of human life from conception to natural death";
Promoting and defending religious freedom.
From the first full day of his presidency, Trump began to deliver the goods. He reinstated the Mexico City Policy, effectively barring U.S. aid to any international organization that provides abortions or even offers counseling about abortion.
The bishops' Pro-Life Chairman, Cardinal Timothy Dolan, released a statement applauding Trump for the move. (He no doubt felt vindicated after the Obama administration, back in 2011, denied the bishops' conference a grant to aid victims of sex trafficking because they refused to offer them reproductive health care.)
While Dolan may be pleased on ideological grounds, Trump's move may also offer a substantial payday for the bishops' aid organizations. As NPR reported in late January:
The U.S. spends more than $10 billion annually on global health — including $607.5 million specifically on reproductive health. And it remains to be seen how much of that goes to groups that currently provide or promote abortion as defined by the policy — and that would opt to give up U.S. aid dollars rather than falling in line.
All of those unused funds could become available for groups that are opposed to abortion, NPR explains:
Anti-abortion groups like the Family Research Council and the U.S. Conference of Catholic Bishops argue that aid organizations that are willing to comply with the policy will spring up to fill any gaps that result.
The reinstatement of the Mexico City Policy isn't the only potential boon for Catholic institutions. Trump and his new education secretary, billionaire evangelical Betsy DeVos, are both fierce advocates for school choice and vouchers.
The Trump education plan calls for $20 billion to be provided to the nation's poor students. Each student would receive a $12,000 voucher that could be used to pay for tuition at religious schools. Money like that could go a long way to rescue some struggling Catholic elementary and high schools.
But the bishops' conference stands to reap its greatest benefits from a Trump presidency through its shared agenda to protect and defend religious liberty.
Now, the bishops did seem to suffer a setback last week when Trump decided to retain President Barack Obama's 2014 executive order that protects federal government contractors from discrimination based on sexual orientation or gender identity failed to deliver.
In a joint statement, Archbishop Charles Chaput and Archbishop Lori expressed "concern and disappointment" at Trump's continuing the "deeply flawed" executive order.
But there may be a much bigger religious liberty payoff waiting in the wings for the bishops. Last week, a draft of a proposed executive order titled "Establishing a Government-Wide Initiative to Respect Religious Freedom" was leaked to The Nation's Sarah Posner. The document is strikingly similar to the First Amendment Defense Act that Trump promised Catholics and evangelicals on the campaign trail.
As Posner reported on Feb. 1, the proposed executive order "seeks to create wholesale exemptions for people and organizations who claim religious or moral objections to same-sex marriage, premarital sex, abortion, and trans identity, and it seeks to curtail women's access to contraception and abortion through the Affordable Care Act."
If signed by Trump, the order would make real the bishops' wildest religious freedom dreams.
There was one more promise that the Trump campaign made that undoubtedly appealed to the bishops' anti-abortion and religious liberty agenda: his vow to appoint a Supreme Court justice "in the mold of Antonin Scalia."
Once again, Trump did not disappoint. The bishops have quite an ally in nominee Neil Gorsuch, a conservative Episcopalian who sided with the Little Sisters of the Poor and Hobby Lobby in their own religious liberty battles.
Though Gorsuch's record of ruling on abortion cases is minimal, his opinion in the Little Sisters case suggests that he believes that birth control pills act as abortifacients, an argument unsupported by medical research.
It's interesting to note that the Little Sisters and Hobby Lobby were defended by the Becket Fund for Religious Liberty, which receives ample funding from the Knights of Columbus. As NCR's Nicole Sotelo has reported, "Between 2006 and 2010, Knights officials diverted over $1.5 million to the Becket Fund under the guise of annual 'charitable contributions.' In 2012 alone, Knights officials siphoned off $326,000 from their charitable funding toward the Becket Fund and listed it as one of their 'Community Projects.' "
And lest we forget, Supreme Knight Carl Anderson has served as a consultant to the Pro-Life Committee of the U.S. Conference of Catholic Bishops since 2002. According to David Gibson, back in August, when the presidential campaign was entering its height, Anderson told an international meeting of the Knights that they could not vote for any advocate of abortion rights.
"Anderson also cited the fight for religious freedom at home and abroad as priorities for the Knights," Gibson noted.
With all that the bishops stood to gain through a Trump presidency, is it any wonder that they refrained from criticizing him during his candidacy?
Is it any wonder that Dolan offered the invocation at Trump's inauguration?
In the course of the presidential campaign, the bishops' conference put out one press release about promoting Catholic-Muslim dialogue and one release about "partisan divides" on migration issues.
But as Trump inspired hate-speech, xenophobia, bias crimes, and violence toward women, the bishops remained mum.
In the end, Trump won 52 percent of the Catholic vote. If the bishops had spoken out as vocally for immigrants and refugees as they have since the ink dried on Trump's executive orders, surely they could have peeled away some of those voters.
Instead, the evidence suggests that the bishops' conference threw under the bus the needs of these vulnerable peoples for the sake of advancing their anti-abortion, anti-LGBT, right-wing religious liberty agenda.
And what will this crusade for religious liberty gain in the end? A woman's painful choice to have an abortion will only become more agonized, difficult and unsafe. Lesbian, gay, bisexual and transgender people may be able to keep their marriages, but their rights to work, housing, benefits and services will no longer be guaranteed under the law.
The bishops, of course, will continue to rest in absolute security, their rights protected, their privileges untouchable, their every need taken care of.
One can only hope that they will begin to see that even they may not be safe under the forces they helped put into global power: unfit, incompetent, mendacious men whose beliefs are anything but pro-life.
No one knows how the Trump presidency will end, but we are seeing more and more clearly who allowed it to happen. As Catholics, we must begin to ask our bishops: Was it worth it?
[Jamie L. Manson is NCR books editor. She received her Master of Divinity degree from Yale Divinity School, where she studied Catholic theology and sexual ethics. Her email address is jmanson@ncronline.org.]
Editor's note: We can send you an email alert every time Jamie Manson's column, "Grace on the Margins," is posted to NCRonline.org. Go to this page and follow directions: Email alert sign-up.