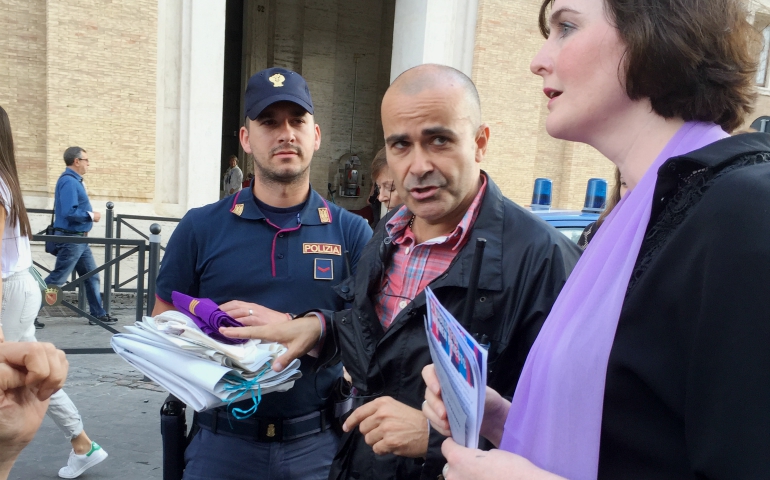 Women witnesses' stoles, posters and buttons were confiscated and held by the police for the duration of the papal Mass for the Jubilee for Priests in June 2016. (Jamie Manson)
This is a story that should have been told a year ago. I'm not sure why I have hesitated to tell it. But the strange alchemy of the fear and suspicion generated by recent terror attacks, combined with Pope Francis' recent comments about the "vocations crisis," compels me to recount an incident* that I was involved in one year ago this week: the day that a small group of women and I become a clear and present danger at the Vatican.
Before I tell the story, here is a quick review of Francis' words about the "vocations crisis," which he offered in a question-and-answer session with priests and religious during a one-day visit to Genoa, Italy, last week.
According to Crux's Inés San Martín, Francis named a host of factors that are contributing to the crisis. First, he blamed lower birth rates. "When families had bigger families, there were more [vocations]," he said. Now, it's "easier to live with a cat or a dog."
He placed an even bigger blame on priests and religious who are joyless or too worldly. "A young person will see them and say, 'I don't want to live like that.' It pushes people away," Francis said.
"It's a time to ask the Lord and ourselves, what do we have to do? What do we have to change?" the pope reflected. "Addressing the problems is a necessary thing. Learning from problems is mandatory."
The story I am about to recount might qualify as joyless and certainly involves being pushed away. But I tell it with the hope that it might help the pope and his brother priests in their discernment about what might need to change.
Last year, Francis declared an Extraordinary Jubilee Year of Mercy, and many events were held at the Vatican to celebrate it. On June 1-3, 2016, the Vatican hosted a Jubilee for Priests, which concluded with a Mass led by the pope.
In response, leaders at Women's Ordination Worldwide and Women's Ordination Conference devised an action called "A Jubilee for Women Priests" to run concurrently with the Vatican's Jubilee for Priests. It involved a peaceful witness in front of Castel Sant'Angelo, just blocks away from St. Peter's Square. Organizers had also secured us tickets to the Mass with the pope.
Our message at the witness was simple: God calls men and women to the priesthood.
With the help of an Italian citizen, a permit was obtained for the protest in front of Castel Sant'Angelo, a site that, we hoped, priests would be walking past on their way to concelebrate the Mass at St. Peter's. But it was the police, rather than priests, who were there to greet us that morning.
Six members of the Roman Polizia interrogated our organizers, scrutinized our permit and tried to find a reason to end our witness before it even started. The chief negotiator for the Roman police, a female officer, patiently spoke to our organizers while five male officers encircled them.

A Roman police official explains to Dana English, an Anglican priest, that her clerical collar will be considered provocative in St. Peter's Square. (Jamie Manson)
She told us that normally her unit is charged with protecting the Vatican from terrorist threats, but that day they had been assigned to watch us. Throughout the negotiations, she made several cellphone calls to the chief of the Corpo della Gendarmeria, the Vatican's police and security force.
Our organizers told the police that we also had tickets to the papal Mass, which was set to begin just after our witness concluded. Looking at the tickets, she said, "Oh, you are pilgrims." Suddenly the police were keen to keep us in place, and insisted on "escorting" us to St. Peter's Square. Our band of nine women witnesses would not be permitted to walk to the Vatican on our own.
The most intensive negotiation surrounded a female Anglican priest who had joined our witness in solidarity. She is one of a handful of Anglican priests who serve in Rome and she was wearing a Roman collar, as she does most days as an ordained minister.
We explained in detail why she was entitled to wear a priest's collar. "I understand who she is and why she can wear it," the officer said, motioning with her arm toward St. Peter's Basilica in the distance. "But they will not understand. It will make them uncomfortable. They've never seen it before."
Our witness was allowed to carry on. We prayed, sang and spoke to the media about our belief that women, too, have a vocation to the priesthood.
The nine of us were then marched, two by two, up the Villa della Conciliazione. Two police officers led us at the front of our line and two held up the rear. Two police cars, one marked and one unmarked, tailed us on either side. The officers inside glared at us as they cruised along.

Members of the special unit of the Roman police lead the women witnesses to St. Peter's Square. A silver unmarked police car tails them on the left. (Jamie Manson)
When we at last arrived at the Vatican's barricades, we were met with a dozen new security officials, some from the Roman police, others from the Vatican's Gendarmeria, and still others who were unidentified men in black suits. We were outnumbered two-to-one by officers from various security agencies, some of whom spoke to us from behind a barrier that separated us from St. Peter's Square.
While other pilgrims were herded onto the square with the most cursory glance at their belongings, we were held as a group and subjected to a thorough search of our bags.
I was carrying a small satchel with a fresh blouse inside. The security officer whipped the shirt out, shook it violently in the air, and then threw it back into my arms. It took me a moment to realize that he wasn't looking for a weapon; he was looking for a clerical collar.
They confiscated our banners, flyers and buttons. They were adamant about searching our bags for priests' stoles.
"Whatever you do, you cannot wear a stole on St. Peter's Square," the policewoman warned us. "It will be considered a provocation."
Two women, members of Roman Catholic Womenpriests, had their stoles seized like contraband.
All of our confiscated items were taken to the police station on the square. We were told that we could pick them up after the Mass had concluded.

Roman Catholic womanpriest Janice Sevre-Duszynska has her bag searched for priest stoles. (Jamie Manson)
When the police were at last satisfied that our threatening materials had been neutralized, we were led through metal detectors and shown to our seats. Francis was visible in the distance, surrounded by thousands of men in albs and stoles.
A member of the Vatican security force was posted in front of us, and another on the aisle. Their eyes were trained particularly on our Anglican priest supporter and her collar. About 30 minutes into the liturgy, the Anglican priest left the Mass to attend to her own church. The security guards, who perhaps had gotten bored of watching us watch the liturgy, hadn't noticed her departure. When they realized she was missing from our row, a minor panic broke out.
One of the guards approached us demanding to know where she was. When we assured them she had left to return to work, they searched for her among the crowd. Their worry, it became clear, was that she was going to try to slip in among the male priests and create a disturbance. Or worse, try to concelebrate. They never found her.
When the time for Communion came, dozens of priests were dispatched to give out the Eucharist. When one of our organizers put out her hands to receive, the priest rebuffed her. "I have to put it in your mouth and I need to see you to swallow it," he said.
When she refused, he walked away, denying her Communion. A brief heated exchange ensued between her and the priest. Another priest, hearing the commotion, quietly placed a wafer in her hands.
It was an undignified conclusion to a remarkably demeaning day. Though it is unlikely that those priests knew who we were, the symbolism of a woman stretching out her hand in a desire for Communion, only to be degraded, dictated to, and sent away empty seemed like an apt ritualization of our experience.
A year after this incident, my hope is that as Francis contemplates what can be learned from the supposed vocations crisis, he might somehow hear this account and other women's stories like it.
Perhaps he will recognize what we learned that day in Rome: There is a radical lack of hospitality or goodwill shown toward any person who dares to say that God calls women to ordained ministry in the church.
Standing so close the pope as he spoke in St. Peter's Square, I wondered how this man, who washes the feet of female prisoners, would have felt if he'd known that, just a hundred yards away, we were being treated like credible threats on a watch list.
How would he have felt if he knew that, in his declared Year of Mercy, as thousands of priests were being feted and forgiven, we were shown no compassion? Instead, we were regarded with suspicion and derision.
What would he have thought if he knew that, in the midst of the culture of encounter that he was trying to cultivate, we were being handled like a clear and present danger?

After being searched and interrogated, the women witnesses were escorted to their seats on St. Peter's Square by high-ranking members of the Gendarmeria and monitored for the duration of the Mass. (Jamie Manson)
Hearing our stories, perhaps the pope would have begun to realize that there is, in fact, no vocations crisis at all. There is, however, a crisis of sacramental imagination on the part of the church's hierarchy.
Francis has won legions of followers precisely because he sees the presence of God in the bodies of the sick, the suffering, the homeless and the destitute. Yet he still cannot see God's presence in the women who long to serve and lead the church and celebrate its sacraments with God's people.
Francis is right. The institutional church has contributed to the vocations crisis. But it isn't worldliness or joylessness that pushes people away from vocations. It is the institutional church's rigid refusal to hear the voices of women called to be priests and the voice of God who calls them.
Until the pope and his brother priests can listen to women, rather than silencing them, and see God working sacramentally through women, rather than treating women as a threat to be controlled, they will have little hope of learning from a problem they themselves have created or addressing a crisis that they alone can fix.
*This account of these events is purely my own and does not necessary reflect the experience of any of the other women with whom I witnessed that day.
[Jamie L. Manson is NCR books editor. She received her Master of Divinity degree from Yale Divinity School, where she studied Catholic theology and sexual ethics. Her email address is jmanson@ncronline.org.]
Editor's note: We can send you an email alert every time Jamie Manson's column, "Grace on the Margins," is posted to NCRonline.org. Go to this page and follow directions: Email alert sign-up.
A version of this story appeared in the June 30-July 13, 2017 print issue under the headline: Clear and present danger.