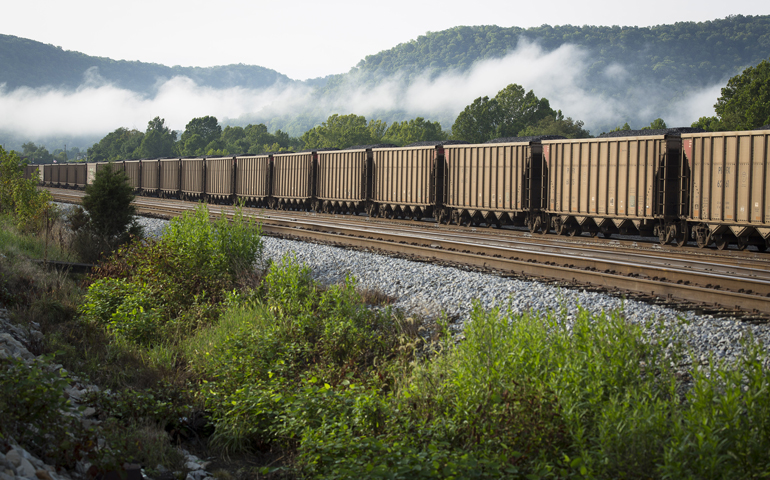 A train carries coal near Ravenna, Ky., on Aug. 21. (CNS/Tyler Orsburn)
"The Spirit of the Sovereign Lord is on me, because the Lord has anointed me ... to bestow on them a crown of beauty instead of ashes." -- Isaiah 61:1,3
The above segment of Isaiah 61 has been repeating itself in my head since I returned from a Memorial Day weekend trip from the mountains of southeastern Kentucky, one of the battlegrounds of the alleged "war on coal."
Parts of the region do look like a war zone, but not because of anything the Environmental Protection Agency or the Obama administration has done. Juxtaposed against the lush forests covering mountains that reach higher than 4,000 feet are slopes that have been strip-mined, their once green and fruitful surfaces blown off, pulled back, and bulldozed to reveal a layer of coal that can be mined from the surface instead of underground. The green and the gray often sit side by side, with nothing separating them but titles to the land.
"A crown of beauty instead of ashes." The phrase sits amid promises to the poor and brokenhearted, to captives and prisoners, and to people who mourn and grieve. I saw or heard stories of many people who could fit into any of those categories, or multiple ones.
Kentuckians For The Commonwealth, the group I traveled with, sat in on a radio show that takes calls from people separated from fathers, mothers, sons, daughters, mothers, wives, husbands, or other people they love by incarceration. We dialogued with activists in a town where 80 percent of the residents live below the poverty line. They grieve the divisiveness of the "war" and the loss of land, jobs and a part of their heritage. Family members break their hearts by leaving the state for better opportunities or by staying but diminishing their future potential through addiction or selling drugs.
Too much of the mountains' beauty has been reduced to ashes, and I wonder if their beauty can be restored. In fact, lately I find myself also wondering if the whole world is too far gone to be restored. The big three -- racism, patriarchy, and capitalism -- seem to be what we thought the banking system was: too big to fail. And worse yet, they are too interconnected, too dependent on one another, for any one of them to yield. Even small victories seem far-fetched.
Can I change anything as a writer/scholar/activist? Why not just give up and have fun? Let the coal companies win; if I want mountains, I can go to a national park. Be like those happy people who think systemic racism and rape culture are delusions. Find something more appreciated and profitable than writing, get rich and relax. Live the good life. Winning.
But then I think I would actually be losing, and not just by forfeiting the game. Isaiah 61 isn't addressed to people living in the 21st century, but I do find comfort its promises. The prophet states that mourners, poor, imprisoned and brokenhearted will be the ones who "renew the ruined cities that have been devastated for generations" (verse 4). If I gave up, if I no longer allowed injustices to affect me, break my heart and summon my grief, I would have no promise of renewal or restoration. And as a warrior, I need motivation, even when it doesn't quite apply to me.
[Mariam Williams is a writer born and raised in Louisville, Ky., where she's received numerous arts awards. When not working in the field of social justice research and taking graduate courses in women and gender and Pan-African studies, she blogs at RedboneAfropuff.com. Follow her on Twitter: @missmariamw.]
Editor's note: We can send you an email alert every time Mariam Williams' column, At the Intersection, is posted to NCRonline.org. Go to this page and follow directions: Email alert sign-up.