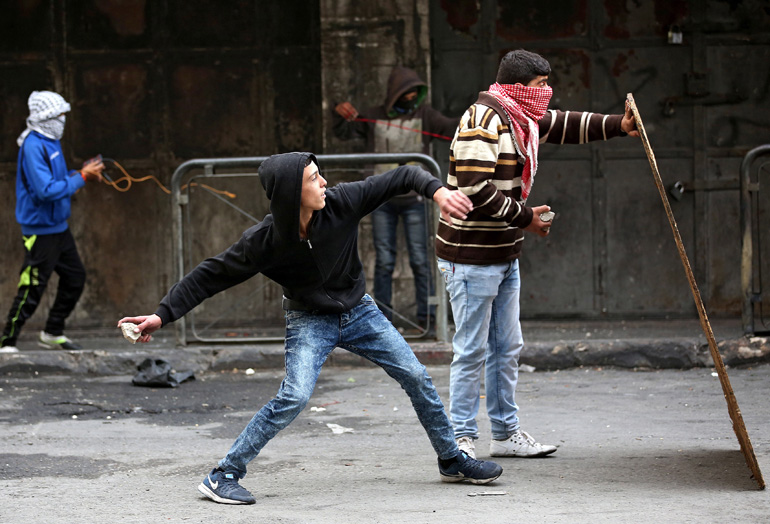 Palestinian protesters throw stones at Israeli soldiers during clashes in Hebron, West Bank, Nov. 5.(CNS/Abed Al Hashlamoun, EPA)
As Christians around the world prepare during Advent to celebrate the birth of the Prince of Peace, much of the world is at war and preparing for more war -- more bombs, more drones, more boots on the ground.
From the drug cartel war in Mexico, to the civil war in South Sudan, to the Islamic State war, armed conflict has spread like an infectious deadly disease -- which of course it is.
But nowhere is war more ironic than in the Holy Land, the land on which the feet of the God of peace (1 Thessalonians 5:23) walked.
Matt McGarry, Catholic Relief Services' country representative for Jerusalem, the West Bank and Gaza explained to me in an email interview that the situation there is extremely tense.
From Jerusalem, McGarry wrote, "Knife and vehicular attacks on Israeli civilians and security personnel, extrajudicial executions of Palestinian suspects, near daily protests and clashes, regular closures and roadblocks have combined to create a very unstable situation."
McGarry explained that Palestinians in Jerusalem and in the occupied West Bank and Gaza face numerous serious challenges, many of which are becoming more pronounced by the day. High rates of unemployment in the region (Gaza's unemployment rate is an astronomical 44 percent), home demolitions, extensive restrictions on movement, separation of families, and constant conflict are all major difficulties.
Similar to the confined townships in former apartheid South Africa, the Bethlehem area -- nearly strangled by the Israeli separation barrier -- is an example of a place where freedom of movement is seriously limited.
According to a commentary on the website of Maryknoll Office for Global Concerns' Middle East Notes:
There are no longer any realistic prospects for a viable two-state solution. The on-going and permanent occupation of the West Bank, the 'imprisonment' of the Gaza people, and the increasing restrictions of Jerusalem Palestinians, give evidence that Israel is moving toward complete annexation of all the 'occupied territories.' The focus held by Israeli, Palestinian and world-wide advocates for justice and peace, is toward pressuring the Israel government to guarantee and promote basic human rights of all the people under its control … Israelis and Palestinians.
An excellent way to greatly help accomplish the establishment of basic human rights is to actively promote the Holy Land Principles.
These principles in summary call on U.S. companies operating in Israel and Palestine to adhere to equal and fair employment practices in all areas without discrimination, to actively recruit underrepresented employee groups, and to work with governmental and community authorities to eliminate ethnic, racial and religious disparities in government spending on education, training, access to health care and housing.
Another excellent organization dedicated to justice and peace in the Holy Land is Churches for Middle East Peace.
An additional way to help ease the suffering in the Holy Land is to support Catholic Relief Services' fair trade initiatives. One of the projects CRS supported this year helped fund the complete renovation of six unsafe, unhealthy olive wood workshops in the Bethlehem region, benefiting 225 workers and their communities.
Easing the hardships of our brothers and sisters in the Holy Land will assist our preparation for a rebirth of the Prince of Peace in our hearts this Christmas.
[Tony Magliano is an internationally syndicated social justice and peace columnist. He is available to speak at diocesan or parish gatherings about Catholic social teaching. His keynote address, "Advancing the Kingdom of God in the 21st Century," has been well-received by diocesan gatherings from San Clemente, Calif., to Baltimore. His email address is tmag@zoominternet.net.]
Editor's note: We can send you an email alert every time Tony Magliano's column, "Making a Difference," is posted. Go to this page and follow directions: Email alert sign-up.