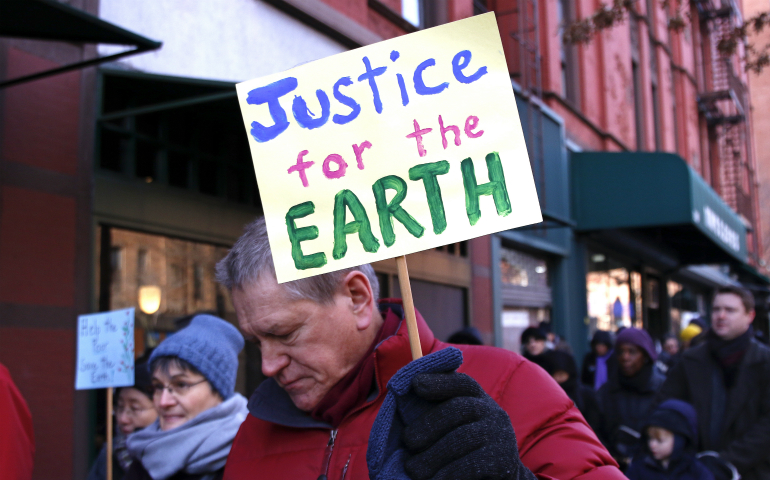 A man carries a sign during the annual Martin Luther King Jr. Day Interfaith Peace Walk Jan. 18, 2016, in New York City. Earth Day, observed April 22 every year, marks the anniversary of the birth of the modern environmental movement in 1970. (CNS/Gregory A. Shemitz)
NCR senior analyst Tom Reese talks about how "Laudato Si', on Care for Our Common Home" inspired him to take on some home improvement of his own, then Brittany Wilmes interviews Tomás Insua of the Global Catholic Climate Movement about this weekend's Mercy2Earth initiative. Later, students and faculty from Cheverus High School explain how the Ignatian Carbon Challenge is changing their campus culture.
Show Notes
We're on iTunes! Listen and subscribe from your iPhone or iPad now.
You can click the link above or, from your iPhone or iPad, open the preloaded app called "Podcasts." It has a purple icon. If you're reading this from your phone, tap this link, which will take you straight there. (You can also use the magnifying glass icon to search; type "NCR in Conversation.") Once you're on the series page, you can tap on an episode title to play it. Tap on the "subscribe" button to have new episodes sent to your phone.
If you prefer another podcast player, you can find "NCR in Conversation" there. (Here's the RSS feed.) You can also simply press the play button above to listen on this page. Make sure to keep this window open on your browser, or the audio will stop. You can find the latest episode of NCR in Conversation at NCRonline.org/podcast.