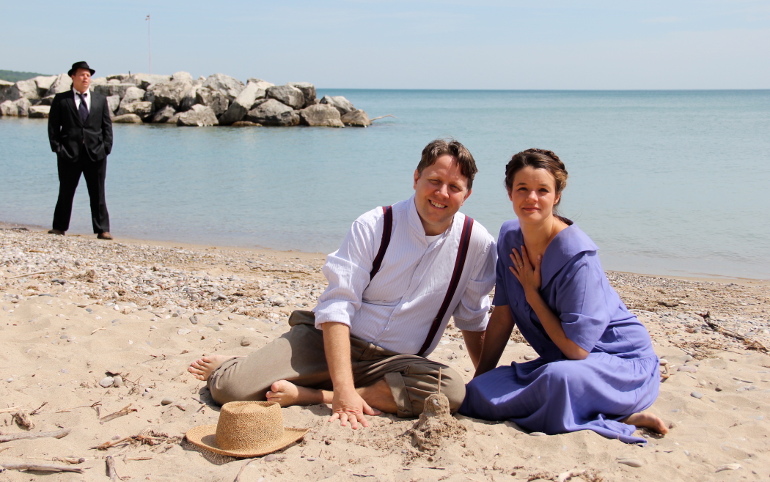 Jason Will, Ken T. Williams and Susie Duecker in a promotional image from "This Other Love" (Laura Heise)
In this episode, NCR Bertelsen intern Shireen Korkzan and playwright Patty McCarty discuss McCarty's play "This Other Love," about the life of Dorothy Day. Later, Tom Roberts and Benedictine Sr. Joan Chittister discuss the state of American politics and the role of the media.

Show Notes
Patty's play, "This Other Love," is being performed near Milwaukee this summer.
Joan Chittister's column "Make America, America Again" sparked this episode's conversation.
Read the rest of Joan's columns here.
How do I listen?
From your iPhone or iPad: Open the preloaded app called "Podcasts." It has a purple icon. If you're reading this from your phone, tap this link, which will take you straight there. (You can also use the magnifying glass icon to search; type "NCR in Conversation.") Once you're on the series page, you can tap on an episode title to play it. Tap on the "subscribe" button to have new episodes sent to your phone. If you prefer another podcast player, you can find "NCR in Conversation" there. (Here's the RSS feed.)
From your Android phone or tablet: You can listen and subscribe using the preloaded Google Play app. If you're reading this from your phone, tap this link to play the latest episode and learn more about the app.
From your desktop or laptop: You can also simply press the play button above to listen on this page. Make sure to keep this window open on your browser, or the audio will stop. You can find the latest episode of NCR in Conversation at NCRonline.org/podcast.