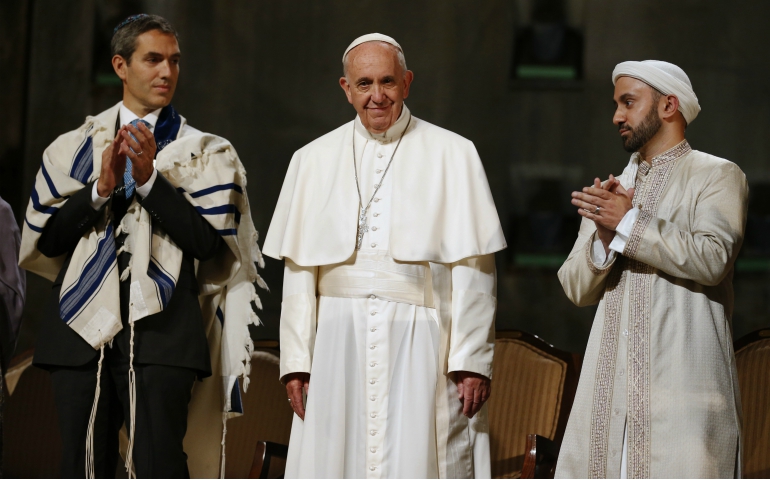 Pope Francis stands with Rabbi Elliot Cosgrove, left, and Iman Khalid Latif, right, at an interreligious gathering Sept. 25, 2015, at the the 9/11 Memorial Museum in New York. (CNS/Jin Lee, pool)
Brittany talks to Jordan Denari Duffner of Georgetown University's Bridge Initiative. They discuss Islamophobia, how Jordan's friendships with Muslims have given her a renewed appreciation for her own faith, and steps the Catholic Church is taking to improve Muslim-Christian relations. Amir Hussain of Loyola Marymount University explains Ramadan and Muslim contributions to American society. Jamie Manson describes a play that tells the stories of Mary in Christian Scripture and Maryam in the Quran.
Show Notes
How do I listen?
From your iPhone or iPad: Open the preloaded app called "Podcasts." It has a purple icon. If you're reading this from your phone, tap this link, which will take you straight there. (You can also use the magnifying glass icon to search; type "NCR in Conversation.") Once you're on the series page, you can tap on an episode title to play it. Tap on the "subscribe" button to have new episodes sent to your phone. If you prefer another podcast player, you can find "NCR in Conversation" there. (Here's the RSS feed.)
From your Android phone or tablet: You can listen and subscribe using the preloaded Google Play app. If you're reading this from your phone, tap this link to play the latest episode and learn more about the app.
From your desktop or laptop: You can also simply press the play button above to listen on this page. Make sure to keep this window open on your browser, or the audio will stop. You can find the latest episode of NCR in Conversation at NCRonline.org/podcast.