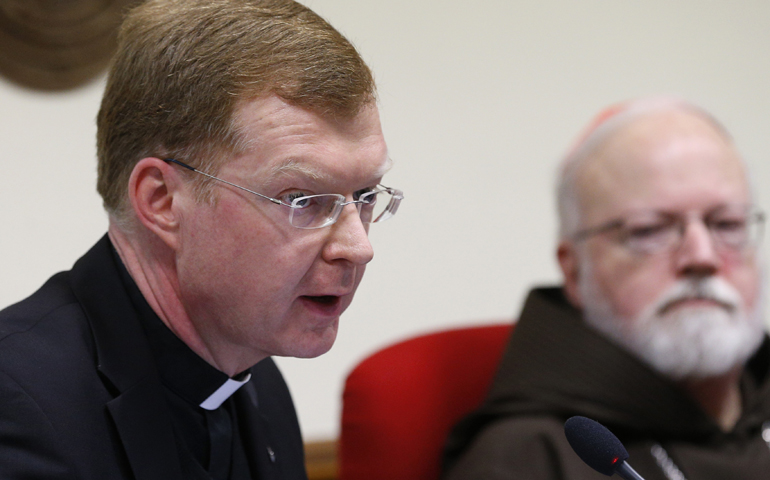 Jesuit Fr. Hans Zollner speaks in early February 2016 at the Pontifical Gregorian University in Rome during a news conference. At right is Cardinal Sean O'Malley of Boston. (CNS/Paul Haring)
A member of Pope Francis' commission on clergy sexual abuse says his group has asked the pontiff to create a new Vatican office to train the city-state's personnel in how to respond to letters from abuse survivors.
Jesuit Fr. Hans Zollner, a member of the Pontifical Commission for the Protection of Minors, told the Italian Catholic channel TV2000 Monday that Vatican officials need training before they can respond to survivors.
"Many people in the Vatican do not know how to respond because they lack the psychological, theological and juridical background," said Zollner, who also leads the Pontifical Gregorian University's Center for Child Protection.
"It takes a complex set of competences and professional abilities," he said March 27. "We have asked the pope to create an office to train people who can respond, as we must, to people."
The question of how the Vatican responds to abuse survivors' letters has been raised this month following Marie Collins March 1 resignation as a member of the pontifical commission.
Collins, an Irish abuse survivor, said her decision to resign was immediately precipitated by one Vatican office's refusal to comply with a request from the commission, approved by the pope, that all letters sent to the Vatican by abuse survivors receive a response.
Zollner spoke March 27 following the commission's meeting in Rome March 24-26.
"People who write to the Holy See expect a confirmation that their letters or emails have been read," said the Jesuit. "It is a reasonable and human desire that clashes with the reality of an office that is very often limited in its human and linguistic resources."
"Our request to the Holy See is that there might be someone able to respond adequately and that this might give a concrete and serious sign," he said. "The most important thing is that people have the perception that they have been heard."
[Joshua J. McElwee is NCR Vatican correspondent. His email address is jmcelwee@ncronline.org. Follow him on Twitter: @joshjmac.]