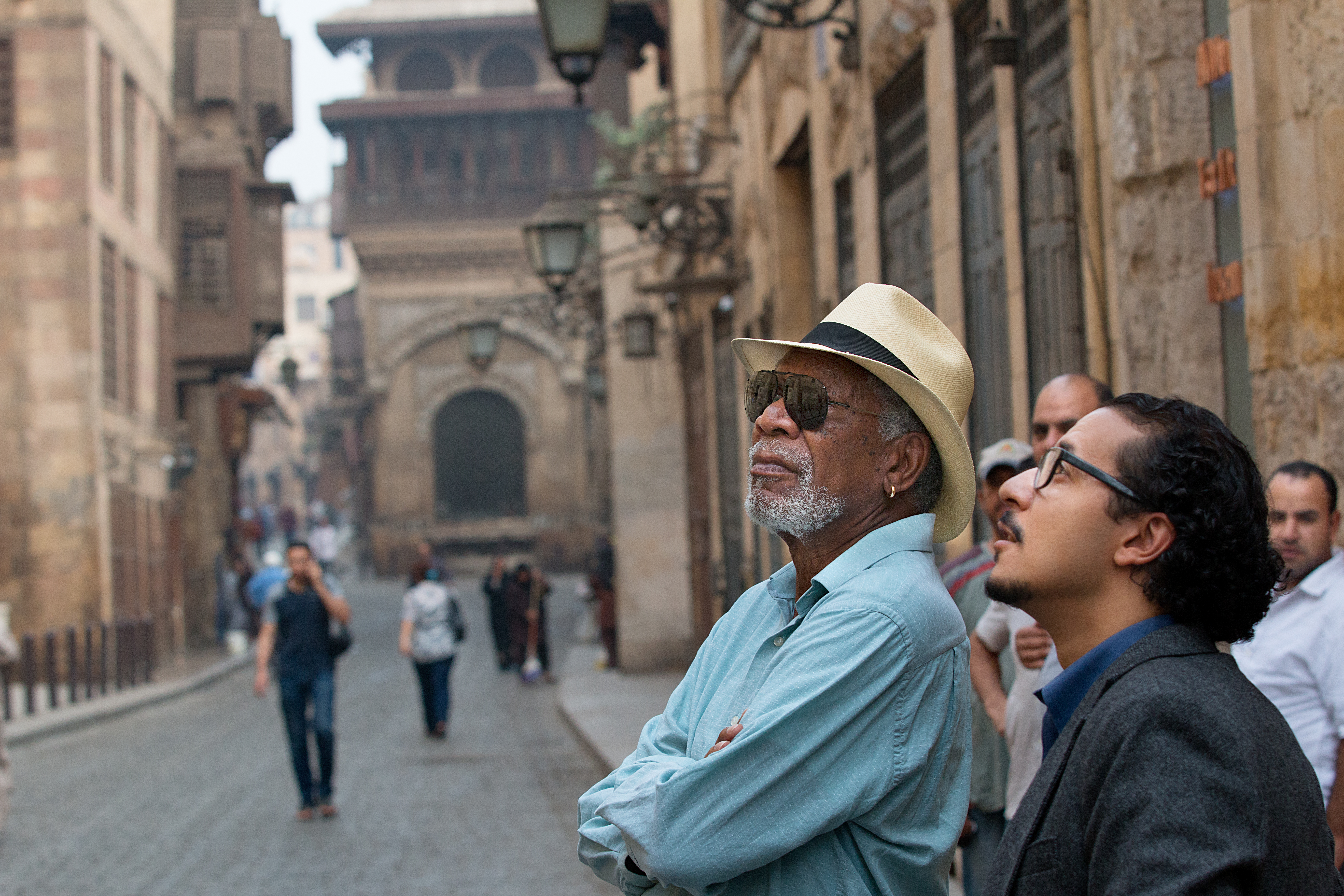 "The Story of God" with Morgan Freeman. (National Geographic Channels/Matthew Paul Turner)
National Geographic's beautiful and intelligent filmic pilgrimage about God is narrated by an actor who comes with solid credentials: Morgan Freeman played God in two feature films directed by Tom Shadyac: "Bruce Almighty" (2003) and "Evan Almighty" (2007). In "The Story of God," aired as a six-part series beginning Sunday, Freeman moors himself in Greenwood, Miss., his hometown and source of his family and identity.
From Greenwood, he travels the world in search of beliefs about the afterlife, the end of life (as in the apocalypse), creation, God, evil and miracles. The gorgeous press kit contained the first three episodes and these were enough, certainly, to engage my interest and extend an invitation to my readers to watch the series.
At first I thought my favorite episode was about the apocalypse but actually it is creation. Freeman starts out once again in Greenwood but makes his way to the Church of the Holy Sepulchre in Jerusalem with its captivating "Chapel of Adam" that connects to the crucifixion of Jesus. Then he travels to Rome to speak with the pope's chief science representative, Msgr. Marcelo Sanchez Sorondo, the chancellor of the Pontifical Academy of Sciences, which dates back to 1603.
Freeman then visits the Vatican Observatory to speak with a priest astronomer whose field of study is "extra-galactic objects." He speaks about God as "the First Cause" who is outside of space and time and how God keeps the universe in existence. It is a very contemplative moment in the episode.
The series is beautiful, like a lustrous film version of an issue of the glossy National Geographic magazine. It is reverent, informative, interesting, and reflective whether talking about Judaism, Christianity, Islam, Hinduism or the Mayan faith.
Freeman didn't appreciate having to bend low to get into the Egyptian Tomb of Menna and asks if there is another way out when it's time to leave. Alas, he must bend his tall frame to honor the gods, as did those who built the pyramid. But his voice remains even, calm, and respectful of all beliefs and believers he encounters on his journey from Albuquerque, N.M., to Jerusalem and the Dead Sea, Vatican City, Turkey, Mexico, and beyond. India is the only Asian country included in the series.
A case could be made that "The Story of God" makes all religions equal. Yet I don't think this is where the series leads audiences at all. It promotes understanding. It does ask and explore what came first: did people create religion or did religion find people -- and halfway through the series the answer is not so clear.
Freeman's narration concludes the episode on creation this way: "Our beliefs don't have to divide us but have the power to make us do marvelous things. … As it was in the beginning, is now and will be forever."
[Sr. Rose Pacatte, a member of the Daughters of St. Paul, is the director of the Pauline Center for Media Studies in Los Angeles.]