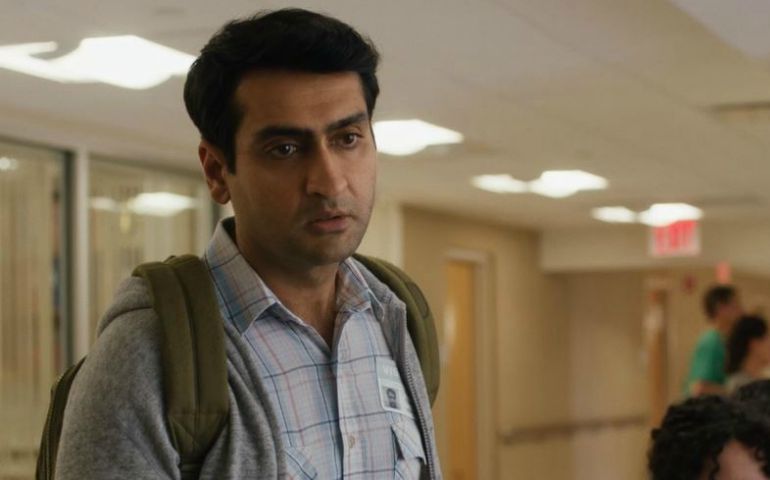 Kumail Nanjiani plays himself in "The Big Sick." (EPK.tv)
It's official. After seeing "The Big Sick" I know my family is "toast," that is, boring, as Mr. Portokalos (Michael Constantine), the father in the 2002 hit "My Big Fat Greek Wedding," describes people who are not Greek. "The Big Sick" is an entertaining and deeply felt film that is based on the real life story of comedian Kumail Nanjiani and his wife, Emily V. Gordon. They co-wrote the script that is directed by Michael Showalter and produced by Judd Apatow and Barry Mendel.
I think I need to establish my toastness as a context for reflecting on "The Big Sick." My maternal great-grandparents emigrated from Ireland in the 1880s, and mitochondrial DNA shows that we aren't that Irish but 63 percent British. Toast. My paternal great-great grandparents came from France and Switzerland to central Illinois in the 1850s. They planted corn and watched it grow. The men didn't even fight in the Civil War. Toast. Yes, my mom could boil dinners like the best of the Irish and British, but you must understand that a boiled dinner is just what you imagine it to be. It makes toast sound gourmet because you could put something on it like Spam and mustard and make a sandwich. (Believe it or not, this was the last thing my mom asked me to make for her before she died: "And trim off the crust and cut it in four squares." She loved Spam on toast.) Although my dad was "sprinkled by a passing preacher" and not raised anything, much of his family tree is Catholic as is my mom's. They married whom they wanted; they didn't even ask their parents. (OK, there's a story there, but it's all been covered in soap operas.) My siblings and I were raised Catholic.
Then I watch a movie like "The Big Sick" and step into the contemporary immigrant experience of coming to America just before 9/11 from Pakistan. It's a story of inner struggle, questioning, life experience, and deep familial love and religion in conflict. Ultimately it's about coming to grips with why a Muslim family from Pakistan would come to America if they just want to emulate living there: arranged marriages and shunning a beloved son when he questions the culture, stops praying and choses comedy over a law degree — and then falls in love with a white girl.
Nanjiani plays himself in the film. In it, he is secretly trying to make it as a stand-up comedian in Chicago. One night a young woman in the audience, Emily (Zoe Kazan), a grad student in psychology, heckles him, and he talks back to her as they seek to clarify what constitutes "authentic heckling." It is the beginning of an on again-off again relationship. They hook up that night and later, when she calls for an Uber ride, his phone goes off (it's a very funny moment). As he drives her home, they talk about why they cannot see each other: she's studying, and he has a two-day rule. He never sees a girl two days in a row, or after two days in a row. That rule is a little confusing.
Kumail, nonetheless, is tied up by the rules of his family, faith and culture. He is expected to come to the family's comfortable family home in the suburbs for dinner each week, and each time, his parents make him go to the basement and pray first. He rolls out a prayer rug, sets a timer and plays around. Praying no longer means anything to him, if it ever did. The doorbell rings; his mother Sharmeen (Zenobia Shroff) answers and says, "Look who dropped in." Week after week, one beautiful young Pakistani woman after another auditions, if you will, to attract Kumail's attention. His brother Naveed (Adeel Akhtar) and his wife Fatima (Shenaz Treasurywala) had an arranged marriage and seem happy. They watch from the sidelines as their father Azmat (Anupam Kher) loudly encourages the uninterested Kumail.
Meanwhile, Kumail and Emily can't stay away from each other. But they break up when she discovers he has not told his parents about her. Emily feels betrayed and is furious. Her parents, Terry (Ray Romano) and Beth (Holly Hunter) had wanted to meet him. Kumail moves on and continues doing comedy, making it to a comedy playoff session in Montreal.
One night one of Emily's friends calls to say Emily is in the hospital, seriously ill with an unknown infection and no one is with her. Kumail races to the hospital as Emily is being placed in a medically induced coma. He calls her parents in North Carolina who rush to be there. Emily's condition worsens and in the rough days and nights that follow, Kumail discovers that Terry and Beth's marriage is in crisis.
"The Big Sick" is a two-act film primarily about Kumail: before Emily gets sick (very sick: adult-onset Still's disease) and after. This could be the plot for an ordinary romance about star-crossed lovers. What makes it different is Kumail's struggle to be part of his family on his own terms, as a Pakistani-American, and negotiate a relationship with a young woman who is not from their culture. When his parents find out about Emily, they disown Kumail and shun him. He refuses to be cast out of his family, but nevertheless he must go his own way. He admits he no longer prays; in fact, he is searching for what he believes. He apologizes for deceiving his parents, but his mother, in particular, seems implacable.
As far as I know, the biggest challenges people in my family tree faced were economic. But they found jobs, owned land and worked their way up, though for some the Depression and two world wars created a diaspora. They came from Christian lands and from people who looked liked them to find the same in America. Some certainly had to learn English. The Irish (well, British) may have run into bigotry in New England, but most became solidly middle class, and one, a great aunt, became a millionaire after World War II (OK, that's an interesting story, but in this gigantic family tree made of toast, her story is a pat of real, salted butter on the side.)
What Muslims today face is bigotry, racism and persecution as they make their way in America — to be Muslim in America or to blend entirely into the melting pot — or find a way of doing both. A mixed marriage is not conducive to maintaining culture and religion, a hurdle the Catholic Church tries to overcome by having non-Catholic spouses sign a promise to raise their children Catholic. Muslims (and all immigrants to our country who come from ethnic groups other than white, speak languages other than English and may be very poor), have a history in their home countries and a family narrative to pass on to their children. There's color, food, faith, music, and, in the case of Pakistan, gorgeous textiles. There's genius and creativity and talent among immigrants, refugees, the homeless and destitute, longing to be free.
Producer Judd Apatow, who has said he likes "to show people struggle and try to figure out who they are," veers away from immature crass body part- and bodily function-humor that characterizes so much of his work, to tell a multifaceted story about finding love and identity in America.
Kumail's family seems to have done very well since coming to the U.S., but the story is about the choices for a Muslim coming to America: to hold on to beliefs and values or reject them to search for one's own identity while maintaining precious family ties. "The Big Sick" is also a touching love story between a Pakistani Muslim and a white American woman about whom we learn little in terms of faith and specific family culture or history. She's just plain "American" — smart, educated and lovely, but "toast" (though maybe with the crust trimmed).
The film also shows the plight of young, beautiful and well-educated Pakistani women in America looking for husbands. It's heartbreaking when one young woman confronts Kumail when he becomes one more countryman who rejects her for an American.
As I make my way this week to central Illinois, to the one and only Pacatte family reunion I have ever been to, I hope to find out more about my extended family. We can "toast" our stories and our blessings. Uncle Mick is supposed to be there; he knew my paternal great-grandfather, Gus, who was a milkman.
[Sr. Rose Pacatte, a member of the Daughters of St. Paul, is the director of the Pauline Center for Media Studies in Los Angeles.]