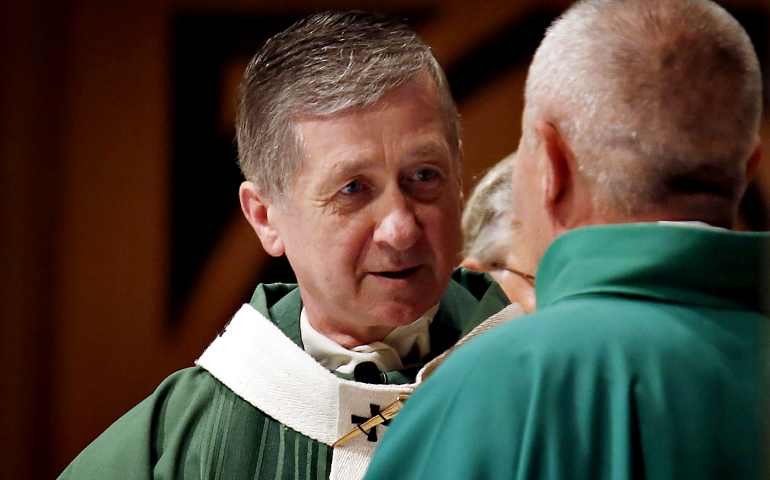 Then-Cardinal-designate Blase Cupich of Chicago shares the sign of peace with a priest during Mass Oct. 9, 2016, at Holy Name Cathedral. (CNS/Catholic New World/Karen Callaway)
If immigration authorities without a warrant knock on the door of Chicago churches, rectories or Catholic schools, don't let them in.
That is the message in a Feb. 28 letter from Cardinal Blase Cupich to his priests offering counsel on how to respond to the recent Trump administration crackdown on undocumented immigrants.
"We need to stand together and clearly make it known that the Archdiocese of Chicago supports the dignity of all persons without regard to immigration status," Cupich wrote.
Until there is comprehensive immigration reform passed by Congress, he urged the priests to "stand in solidarity with those who live in the shadows."
If Immigration and Customs Enforcement (ICE) officials come to Chicago Catholic facilities, they should politely be sent away, unless they have a warrant, Cupich wrote. He urged priests to contact the legal offices of the archdiocese if they are approached by immigration authorities.
While ICE has till now largely spared church facilities from immigration enforcement efforts, there is no legal requirement that they do so. Immigration advocates recently expressed alarm at the arrest of immigrants who had just left a church homeless shelter in Virginia. That incident took place Feb. 8 outside the Rising Hope Mission Church shelter in Alexandria. Six men were taken away by ICE agents at that time.
Cupich wrote that the archdiocese will not participate in the sanctuary movement, which has developed in largely Protestant churches in cities such as Denver and Philadelphia.
Designating Catholic churches as immigration sanctuaries, in which those threatened with deportation take up residence as safe harbors from ICE enforcement, "would be irresponsible," wrote Cupich. Such a designation would "create false hope that we can protect people from law-enforcement actions, however unjust or inhumane we may view them to be."
He cautioned that immigration law imposes criminal penalties and fines for anyone who shields undocumented immigrants from law enforcement officials.
[Peter Feuerherd is a correspondent for NCR's Field Hospital series on parish life and a professor of journalism at St. John's University, New York.]