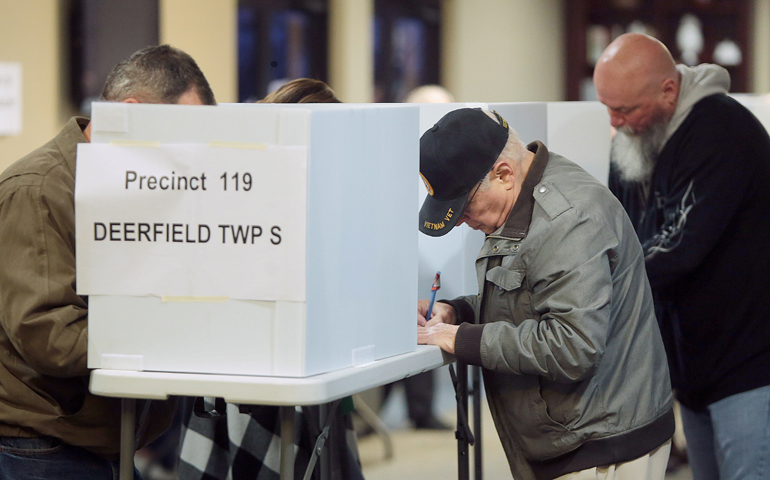 Official trailer for "Created Equal," produced by T-Cat Films and distributed by Vision Films
Catholic voters gave 52 percent of their vote to Donald Trump and only 45 percent of their vote to Hillary Clinton, according to the media exit polls. This is four percentage points higher than the 48 percent of the Catholic vote received by Mitt Romney, according to the Pew Research Center.
Surprisingly, the Hispanic Catholic vote for Clinton (67 percent) was less than that given to President Obama four years ago (75 percent). White Catholics, on the other hand, gave Trump almost the same percentage of their vote (60 percent) as they gave Romney in the last election (59 percent).
In other words, the reason Trump won the Catholic vote is not because White Catholics voted more Republican this year than four years ago, but because Hispanics did not deliver for Clinton the way they did for Obama. Despite all the negative talk about immigration, Hispanic Catholics voted less Democratic this year than four years ago.
The Catholic vote for Trump continues the trend of Catholics almost always voting for winners in presidential elections.
Since 1972 when the first exit poll was taken, Catholics have voted for the winner of the popular vote in every presidential election. They voted for Al Gore who won the popular vote but lost in the electoral college.
If Trump loses the popular vote, as it appears he will, then Catholics will have voted on the losing side only once since 1972. If you look at the electoral vote, then they were on the losing side in the Gore-Bush election in 2000. If you look at the popular vote, then they are on the losing side this year.

Graphic by Pew Research Center
Pollsters, pundits, and other experts were all proven wrong by Trump supporters. And it was not just Democratic experts; Republican experts also underestimated Trump this year.
[Updated with information from Pew Research Center, Nov. 9 and 10, 2016.]
[Jesuit Fr. Thomas Reese is a senior analyst for NCR and author of Inside the Vatican: The Politics and Organization of the Catholic Church. His email address is treesesj@ncronline.org.]
Editor's note: We can send you an email alert every time Thomas Reese's column, Faith and Justice, is posted. Go to this page and follow directions: Email alert sign-up.