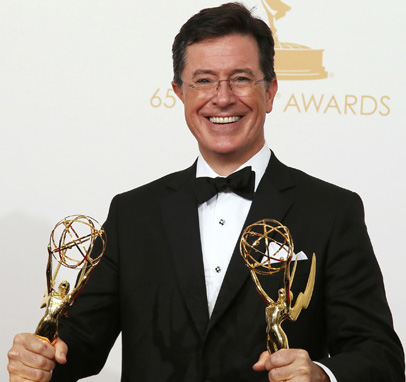 Stephen Colbert is pictured in a 2013 photo. (CNS photo/Lucy Nicholson, Reuters)
What to do if you can't land the pope for your late-night show? Apparently, book an all-Catholic guest list instead.
As Pope Francis touches down at New York's John F. Kennedy Airport on Sept. 24, Stephen Colbert, the new host of CBS's The Late Show, will be joined by an archbishop, an activist, a comedian and an author -- all of them, coincidentally, Catholic.
The guests, announced by CBS in a press release Thursday, include Miami Archbishop Thomas Wenski, journalist/activist Maria Shriver, comedian Jim Gaffigan and author Andrew Sullivan.
Colbert began his tenure Tuesday as host of The Late Show, succeeding its creator David Letterman who held the reins for 33 years. Since shedding his satirical conservative pundit identity as host of "The Colbert Report" for nine years on Comedy Central, there's been much buzz about who Colbert would be on his new show aimed at a larger, broader audience.
One question has been how his Catholic faith would factor into The Late Show. On "The Colbert Report," it was on prominent display: a running segment was "Yahweh or No Way," he held a Catholic throwdown with musician Jack White, and Jesuit Fr. Jim Martin, editor-at-large of America magazine, served as official chaplain of the Colbert Nation.
On Thursday, Colbert gave a glimpse of how Catholicism may work into his new gig as he talked with Vice President Joe Biden about faith, family and dealing with loss. On Sunday, the comedian/Sunday school teacher will be on the other side of the interview as he sits down with Fr. Thomas Rosica and Salt and Light media network.
---
More: "Dolan and Colbert talk about faith, humor at Fordham" (Sept. 17, 2012)
---
The Miami Herald reported earlier on Thursday that Colbert approached Wenski after seeing the archbishop quoted in The New York Times discussing Francis' recent environmental encyclical, "Laudato Si', on Care for Our Common Home." The archbishop's spokeswoman, Mary Ross Agosta, jumped at the opportunity before consulting Wenski, who has been recording the new show and working on his jokes, according to the Herald.
Gaffigan is a popular comedian who in July began "The Jim Gaffigan Show," which airs on TV Land and Comedy Central. A recent episode titled "The Bible Story" followed his misadventures in picking up a Bible from his priest. Throughout his standup career, Gaffigan has used his family and Catholic faith as central elements in his routines:
Shriver is a special anchor for NBC News and has reported extensively on American cultural and societal shifts affecting women through her Shriver Reports series. In addition to women's issues, the former First Lady of California has been active in promoting the Special Olympics and research for Alzheimer's disease.
Sullivan was the writer of The Dish who in February ended the 13-year run of his popular blog, which was one of the first political blogs. A gay Catholic and former editor of The New Republic, he has said one of the blog's subthemes throughout its history was his "passionate, tortured relationship with the Catholic Church," and devoted one of his final entries to discussing "the miracle of Francis," stating he "may well become a figure more important than merely Pope."
For those wondering if Francis might join in person, The Late Show tapes at 5 p.m., eastern, which is the same time the pope is set to land at JFK.
[Brian Roewe is an NCR staff writer. Follow him on Twitter: @BrianRoewe.]