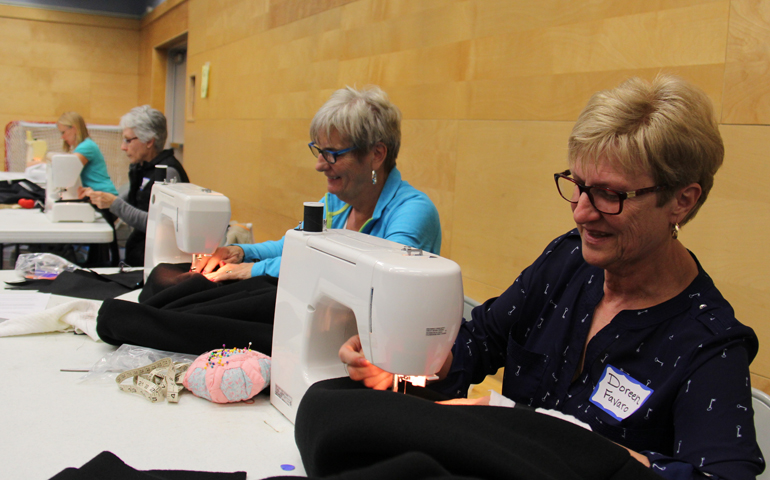 Members of Star of the Sea parish, White Rock, British Columbia, fabricate thick, waterproof coats for the homeless in the school gymnasium. (Agnieszka Krawczynski/The B.C. Catholic)
"Joe was shivering. His hands were hard and numb. We wrapped the coat around him, and we helped him put on the gloves ... Your coat came to him just in time. Just know that you and your team have made a difference again today."
The note from a Vancouver, British Columbia, winter street minister synthesizes the reason the Helpers of St. Anne and St. Joachim and their founder, Carolyn Wharton, have sustained their ministry of handcrafting a remarkable garment designed for people trying to survive on the streets.
Based at Star of the Sea Parish in White Rock, British Columbia, the Helpers cut, assemble and sew what they call a "comfort coat," a knee-length parka that is waterproof, fleece-insulated and hooded.
And it converts to a sleeping bag. The coats come in shoulder bags made of the same hardy fabric which also serve as the sleeping bag base.
The Helpers recently completed their 16th year of producing an average of two dozen of the substantial coats, distributed to and through various street ministries in the lower mainland area of Vancouver,* British Columbia.
In all, the group has created 376 comfort coats "via our volunteer fall project since we started in 2001," Wharton said. In 2010, the group also raised special funding and contracted with a clothing manufacturer prior to the Winter Olympics in British Columbia to produce an additional 12 dozen coats to reach out to the predictable influx of homeless attracted to the event.
The coats have been credited with saving lives. In another feedback note, a street worker described "a guy laying down on Water Street" who "only had a very thin blanket covering himself."
"He was shivering," the note continued. "He put on the coat, hat, hood and gloves right away. He used the pouch as his pillow, and he covered his feet with his blanket. He felt warmer right away. Praise God we met him. He really needed the coat at that time. It is amazing how God provided for him at the moment he most needed it!"
Wharton designed the initial comfort coat herself, incorporating common-sense features such as no buttons, no zippers, no breakable parts. "Homeless people have no means of repairing these things," she explained. Rather, the comfort coat crew employs resilient knots, loops and tie cords.
The unisex design has been refined with experience, Wharton said. "One change is that we have placed a hidden pocket inside to hold money and I.D. The large, double pockets on the outside could invite theft, so we have added a secret inside breast pocket. Another earlier change is that we embroider our name 'Helpers of St. Anne' on the inside so recipients know which group provided the gift. We went from water-resistant outerwear to waterproof breathable about five years ago. This requires more work in seam-sealing stitching lines, but it ensures that the wearer stays dry. Also we sew illuminated safety stripping on the upper outside arm of the coat so wearers can be seen at night."
Asked if the coats' desirability could make their wearers street targets, Wharton replied she had "heard no feedback that there are such concerns," but also observed, "Anyone who lives outdoors is vulnerable to theft and abuse as we know, but the benefits would far outweigh any concerns."
Costs per coat run about $115, she said, all of it raised by her and the group. To have them commercially manufactured, she added, would be $175 or more. Sizes include small, medium and large -- with an occasional extra large.
The coat pockets are filled with toiletries, small food items, and handmade gloves, scarves and toques, along with a St. Anne prayer card.
Overall the sewing project itself "attracts about 75 or more volunteers," Wharton said. The fabrication process takes place on Mondays from 6:30 p.m. to 9 p.m. in the parish school gymnasium during which 10-15 sewing machines are whirring from late September to late November.
"I never dreamt of starting a parish group, but when it was clear that this was where our Lord was leading me, I sought my pastor's guidance," Wharton emailed NCR. "I began with the coat project, and on the first night 55 women turned up for our first orientation meeting. I was shocked. I had hoped for maybe 10 individuals."
"Initially our group was only called the Helpers of St. Anne, but we added St. Joachim a few years back when I received requests from parish men to include them in our ministry's works," Wharton said.
More than 230 Helpers of St. Anne and St. Joachim today operate "The King's Banquet" soup kitchen, a knitting and crocheting group who create comfort coat accessories, a crib quilts contingent, and most recently "Father Stan's Garden" which augments the soup kitchen's offerings. Parish school students raised $600 for organic soil for the garden.
"I have discovered to my amazement, that hard work done in Jesus' name, combined with daily prayer, can become wonderfully contagious! I could never have imagined that so many individuals would want to volunteer for our group's works," wrote Wharton. "They are people of various ages, backgrounds and professions. And we often receive offers from more volunteers than we can find work for."
Persons of other denominations take part as well, she said.
"We are a very joy-filled group," she said, adding that the Helpers "try to be faithful to our promise to pray daily for each other and all recipients of our gifts. It is the volunteers' work and their ongoing prayers that keep this little ministry humming."
Wharton said the group tries "to have a special Mass and celebration" annually on the shared feast day of Saints Anne and Joachim, July 26, during which they also venerate a first-class relic of St. Anne gifted to the Helpers.
Pope Francis' "words and example are an ongoing source of encouragement to our members and to myself, to not only continue what we started 15 years ago, but to search for even greater means of assisting those who, like Jesus ... 'have no place to lay their heads'," said Wharton, adding:
"How helpful it is for the entire world to witness love and mercy in action through this humble servant. He is such an inspiration to both the young and old. I would love to thank him personally for his example and encouragement in finding more ways to address the increasing needs of the poor and lonely in our society."
Wharton also lauded eucharistic adoration as a bedrock to the Helpers' success. "Our parish had a Eucharistic Adoration Chapel for six years that grew into a perpetual chapel for the past 11 years. Undoubtedly, it is the graces received through this special time spent in front of the Most Blessed Sacrament that has helped so many of our parishioners grow in virtue and has sustained us."
Located about 30 miles from Vancouver, British Columbia, Star of the Sea is joined with Good Shepherd Church in Surrey and Holy Cross Church at Crescent Beach under one administrative umbrella. About five minutes apart, the trio includes about 2,500 families.
For more information on the comfort coat project and other ministries of Helpers of St. Anne and St. Joachim, coordinator Carolyn Wharton may be emailed at cawharton@shaw.ca.
*An earlier version of this story named the lower mainland as the area around Victoria.
[Dan Morris-Young is NCR's West Coast correspondent. His email is dmyoung@ncronline.org.]
---
Editor's note: "The Field Hospital" is NCRonline's newest blog series, covering life in Catholic parishes across the United States and Canada. The title comes from the words of Pope Francis: "I see the church as a field hospital after battle. It is useless to ask a seriously injured person if he has high cholesterol and about the level of his blood sugars! You have to heal his wounds. Then we can talk about everything else. Heal the wounds, heal the wounds. ... And you have to start from the ground up."
"The Field Hospital" blog will run twice weekly on NCRonline.org along with feature stories and news reports about parish life in the U.S. and Canada. If you have a story suggestion, send it to Dan Morris-Young (dmyoung@ncronline.org) or Peter Feuerherd (pfeuerherd@ncronline.org).