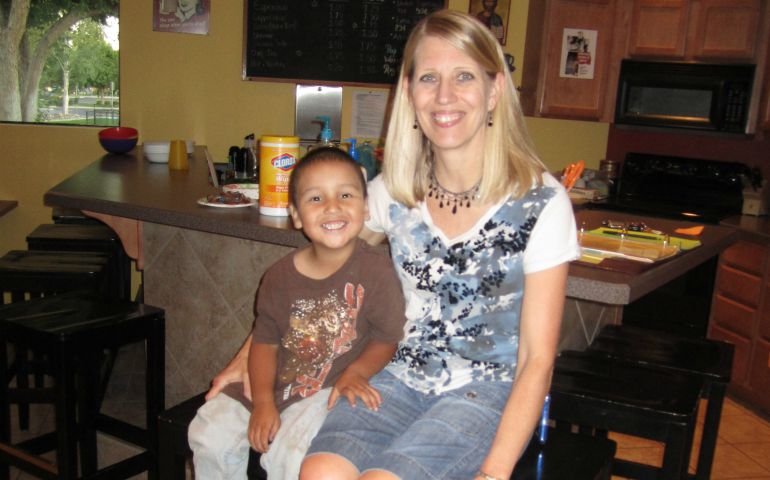 Sue Hogenson, a volunteer evening host for Family Promise in Billings, Montana, sits with a young guest who stayed with the program in July 2012. (Courtesy of Family Promise of Yellowstone Valley)
Kathy McCleary, a 13-year volunteer of the Billings, Montana, chapter of Family Promise, is part of a team of 26 local faith-based organizations — Catholic, Protestant, and Jewish — who rotate housing homeless families on a weekly basis.
"The families have to be really committed," McCleary said, a member of St. Pius X Parish in Billings.
In 2015, Family Promise of Yellowstone Valley provided 43 children and 29 parents with more than 4,000 nights of emergency shelter and more than 4,500 nights of transitional living. But the program does more than just provide housing. Volunteers also make homemade breakfasts and dinners and hand-packed lunches, provide transportation and tutoring, and teach free classes on subjects like parenting and financial planning.
In turn, the families sign an agreement that they will remain drug- and alcohol-free, find work within 28 days of entering the program and follow a strict case management plan provided by a counselor.
Since the program began in 2004, the dedication of the volunteers and the families has paid off: 85 percent of participating families have found full-time employment, and 83 percent have found temporary housing.
Recently, two families purchased their own first homes, according to Shelly Greenfield, coordinator of Christian service at St. Pius X, and one of the team members who started Family Promise of Yellowstone Valley. The program also recently began a trailer park refurbishment program that will offer families permanent housing at a discounted price, with opportunities available for loan assistance.
Greenfield said that she first observed Family Promise, a national organization founded two decades before in New Jersey, during a site visit in Colorado in 2004. But the Montana chapter didn't come into being until a local Lutheran pastor, the Rev. Kay Tostengard of Good Shephard Lutheran Church, visited a Family Promise site in Spokane, Washington, and asked faith-based community leaders in Billings if this was "something we needed."
"The answer was, 'Yes,' that we needed it," Greenfield said. "Some of our shelters have odd rules, like you can't keep the family together unless the man and woman have documentation that they're married. If not, the man goes to the men's mission, and the woman goes to the women's mission."
"We just thought it wasn't helpful, as it's important to keep families together especially during crisis situations," she said.
Today there are more than 100 parishioners from St. Pius X alone who volunteer. Family Promise has been "the perfect program for St. Pius X, as it brings people of a different income level into contact with one another," Greenfield said.
"They literally rub elbows with folks and learn about each other. Parish volunteers learn from our guests, and guests learn from us," she said. "By providing support and safety to homeless families, it was our hope that the parish would begin to awaken to needs of low-income people and affect how we vote, donate and volunteer."

One of the host churches' lodging rooms where Family Promise guests stay (Courtesy of Family Promise of Yellowstone Valley)
First-time volunteers, who might be hesitant to work with families because of the stigma around homelessness, come away with the realization that "their children also like M&Ms and going to school and swimming, and a connection is made that breaks down these stereotypes," Greenfield said.
She said it's these connections that not only change the lives of volunteers and Family Promise families but also the larger community.
"Anytime we do something that helps someone change their lives for the better, the community becomes stronger," Greenfield said.
Greenfield said that Family Promise is the most worthwhile social justice program she has been involved in, adding that seeing the results of Catholic social teaching put into action is the only "juice" she needs to keep going.
At the time of this interview, McCleary and Greenfield had just finished housing families for a week at St. Pius X, where they worked in conjunction with volunteers from Mary Queen of Peace Catholic Church.
The week began with families arriving by van at 5 p.m. on Sunday. The families stay in a remodeled convent, now called the Youth Center, where dividers are used to separate families into bedrooms. Every day of the week, the same vans picked up the families at 6 a.m. from the Youth Center and transport them to the Family Promise Day Center in downtown Billings, where they get their mail, use computers and get transportation to daycare and work.
At the end of the school and work days, the vans bring the families back to the host church for dinner, followed by homework and playtime for children and class time for parents. At 8:30 p.m., the overnight volunteers arrive to staff the Youth Center in case of emergencies.
McCleary said that the schedule is a lot of work, but the goal is to provide families not just with housing but a solution to their homelessness.
"A counselor and social worker at Family Promise works with the director and others involved on a case-by-case basis to determine how to get families into transitional housing as soon as possible, and then they still meet with individuals during follow-up," McCleary said.
Family Promise continues to work with families to find permanent housing, too. This is why the program has been so successful, McCleary said, noting that along with housing and jobs, families have completed GED programs, enrolled in college courses, gotten their driver's licenses and completed career-building programs.
And for volunteers, the connections they've made help them see people in their communities in a different light.
"You will discover that these people are just exactly like you," McCleary said. "At any given moment, you could end up homeless yourself. I'm always aware that I have a safety net that they don't have."
[Danielle Prieur is a freelance writer in Washington, D.C. She writes on a variety of beats from health and science to religion. Follow her on Twitter @prieur2016.]
We can send you an email alert every time The Field Hospital is posted. Go to this page and follow directions: Email alert sign-up.