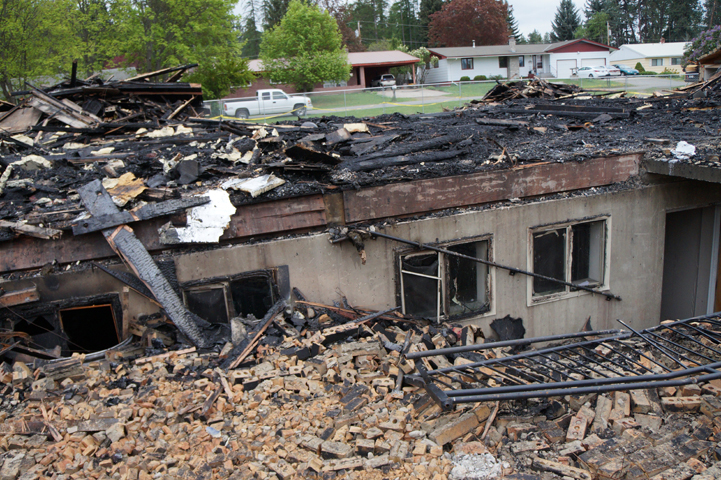 Debris surrounds the destroyed St. Ann's Church April 23 in Bonners Ferry, Idaho, after a fire, believed to have been started by vandals, ripped through the building in the early hours of April 21. (CNS/Alayna Youngwirth, Idaho Catholic Register)
Editor's note: "The Field Hospital" blog series covers life in U.S. and Canadian Catholic parishes. The title comes from Pope Francis' words: "I see the church as a field hospital after battle. It is useless to ask a seriously injured person if he has high cholesterol and about the level of his blood sugars! You have to heal his wounds. Then we can talk about everything else. …"
If you have a story suggestion, send it to Dan Morris-Young (dmyoung@ncronline.org) or Peter Feuerherd (pfeuerherd@ncronline.org).
---
Federal investigators consider a blaze that destroyed a church near the Canadian border arson. Located 27 miles from the Canadian border, St. Ann's is the northernmost Catholic church in Idaho.
There's a problem at the Church of the Nativity in Timonium, Md., outside Baltimore. There isn't enough room as the parish expands. Much of its evangelization process for newcomers has become a national model. In response, the parish recently broke ground on a new church building.
Expansion is also happening for Latino parishioners at a church in Riverside County, Calif.
A Villanova University program helps pastors and lay staff learn the basics of parish administration. Does your parish need help with finances or evangelizing? The Villanova program is one of many such programs geared to parish renewal and practicalities. We will be presenting an overview in a future addition of The Field Hospital.
South Philly parishioners look to the future with hope, as they see that mergers may not necessarily mean the end of their churches.
Deep in the heart of Texas, a Francis effect is seen as more than 400 new Catholics are added in the Diocese of Beaumont.
A connection is made between parishioners of a shuttered church in Pittsburgh and a Nigerian parish. The end result: a fundraising drive to ship stained-glass windows to Africa, from one St. James to another St. James.
Latinos now comprise the majority of young Catholics in the United States. Still, there are relatively few priest vocations among them. A workshop is held to address that concern.
[Peter Feuerherd is a professor of communications and journalism at St. John's University in New York and contributor to NCR's Field Hospital blog.]
Editor's note: We can send you an email alert every time The Field Hospital is posted. Go to this page and follow directions: Email alert sign-up.