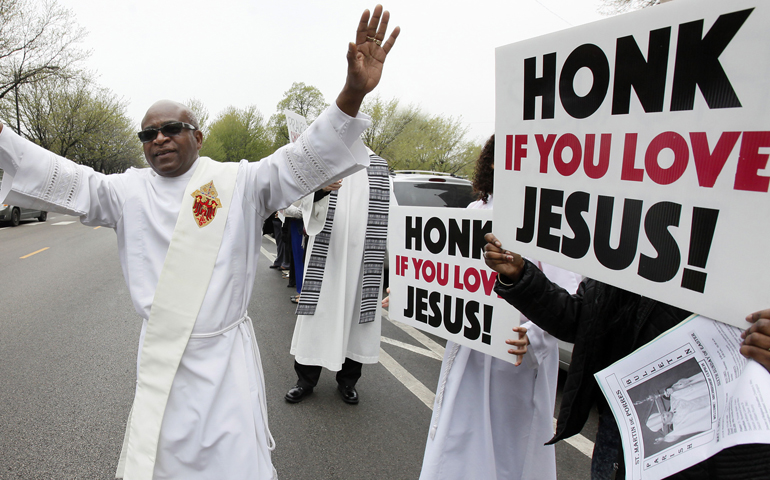 Deacon William Pouncy encourages drivers in passing cars to "Honk for Jesus" outside St. Martin de Porres Church in Chicago May 1. Parishioners took to the streets to witness for peace, after a Mass celebrated by Chicago Archbishop Blase Cupich. (CNS/Karen Callaway, Catholic New World)
Editor's note: "The Field Hospital" blog series covers life in U.S. and Canadian Catholic parishes. The title comes from Pope Francis' words: "I see the church as a field hospital after battle. It is useless to ask a seriously injured person if he has high cholesterol and about the level of his blood sugars! You have to heal his wounds. Then we can talk about everything else. …"
If you have a story suggestion, send it to Dan Morris-Young (dmyoung@ncronline.org) or Peter Feuerherd (pfeuerherd@ncronline.org).
---
Catholic parishes are urged to get behind a Tim Tebow project which provides a prom experience for the developmentally disabled. Seems like Protestant congregations are well represented, Catholics not so much.
A good use for a shuttered church in Yonkers, N.Y., located in the Archdiocese of New York. It will now become the site for a Malankara Catholic Rite church which has been looking for a permanent home in Westchester County.
Church leaders in the Detroit archdiocese gather together to build "Amazing" parishes. Seems like a bit of management advice combined with the atmosophere of a pep rally. Among the suggestions: welcome, welcome, welcome.
Archbishop Blase Cupich of Chicago comes to offer support for a parish located in one of the toughest neighborhoods in what has become an increasingly violent city.
As an outer-borough New Yorker, I can attest that New York City is booming. Everywhere, even in once foreboding neighborhoods, new construction is abundant. Yet not so its many Catholic churches. Seems that as some groups move in, more Catholic groups move out. It's not just about ethnicity, either. The "hipsters," many of them baptized Catholics, have taken over whole Brooklyn neighborhoods, but their numbers are rarely reflected in Catholic Sunday Mass attendance. The result is that there is a lot of Catholic property for sale throughout the Big Apple.
Fox News Philadelphia reports that a pastor in the Camden, N.J., diocese is spending a lot of time with a woman friend. (Full disclosure: I am a former director of communications for the diocese.) Seems like a parishioner didn't like the situation so he called up the television news station. They responded with a full stakeout. Wonder what the story conference was like at the Fox station to justify the hours put into this story, as well as the amount of time devoted to it on-air. The diocese is said to be investigating.
Cardinal Daniel DiNardo of the Galveston-Houston archdiocese says a merger there is a marriage made in heaven. At least some parishioners disagree (subscription required for story) and they see it is a real estate maneuver.
Another joint Eco Catholic and Field Hospital story: Priests, women religious and an archbishop joined more than 10,000 Filipinos in the "Break Free from Fossil Fuels" march in Batangas City.
[Peter Feuerherd is a professor of communications and journalism at St. John's University in New York and contributor to NCR's Field Hospital blog.]
Editor's note: We can send you an email alert every time The Field Hospital is posted. Go to this page and follow directions: Email alert sign-up.