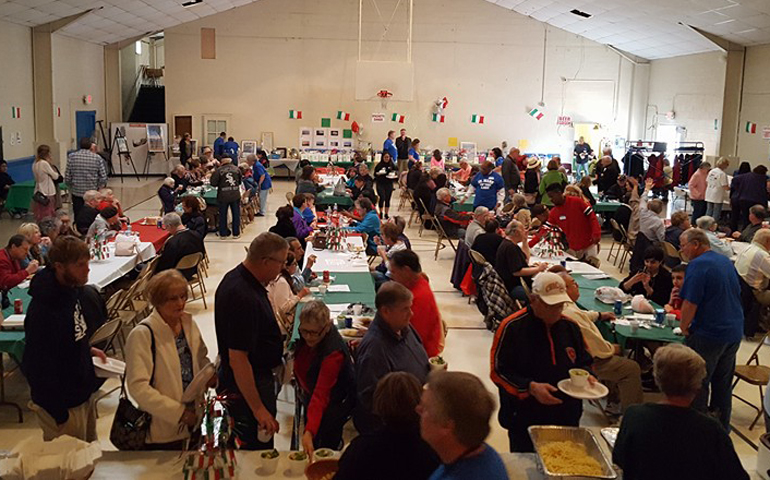 More than 500 tickets were sold to the May 7 Second Annual Festa Italiana at Gary, Ind.'s St. Mary of the Lake Parish. (M.T. Carey)
Editor's note: "The Field Hospital" blog series covers life in U.S. and Canadian Catholic parishes. The title comes from Pope Francis' words: "I see the church as a field hospital after battle. It is useless to ask a seriously injured person if he has high cholesterol and about the level of his blood sugars! You have to heal his wounds. Then we can talk about everything else. …"
If you have a story suggestion, send it to Dan Morris-Young (dmyoung@ncronline.org) or Peter Feuerherd (pfeuerherd@ncronline.org).
---
Amid pervasive reports of Catholic church closings and consolidations across the country, St. Mary of the Lake Parish in Gary, Ind., has been able to stem the tide of imminent closing through efforts that some call miraculous.
One key element has been the active support of the Gary diocese's recently retired Bishop Dale Melczek (often addressed as "Bishop Dale"). He "not only joyfully volunteered to return to active ministry to pastor us but personally visited the homes of all the registered members of the parish and inspired parishioners, led by our Outreach and Evangelization Committee chair, Josie Werhowatz Nieman, to go door to door to re-introduce the parish to the community and encourage folks of all faiths to actively support their own faith communities for the sake of the well-being of the entire community," shared parishioner Judy Stanton. Melczek resides in the parish.
"Who knows?" Stanton said. "We may get national recognition and be an example for other parishes in dire straits."
On May 7 parishioners celebrated their year of opportunity -- a reprieve granted by current Gary Bishop Donald Hying -- with their Second Annual Festa Italiana, a fundraiser that generated more than 500 ticket sales and raised more than $9,000 with the help of its bake sale and silent auction, reports supporter Therese Carey. The event, spearheaded by longtime member Jim Wiseman and his wife Adina, featured the homemade spaghetti sauce recipe of Jim's mother, Mary Maio Wiseman, the former longtime rectory housekeeper and cook.
A video on the parish Facebook page profiles the parish in faces.
Interesting "extraneous material" surfaced while researching and writing The Field Hospital's profile of Fr. William Treacy and in the wake of its online publication:
Parishes that have members who could benefit from a free eye examination -- and maybe no-cost prescription glasses -- might want to contact See the Lord, a nonprofit "based on Catholic principles that seeks to serve the underprivileged around the world by providing healthcare, Catholic ministry, and education," states its website. Founded in 2011 by Dr. Kelly Kao, an optometrist, the organization has worked in the U.S. and internationally, focusing (pun intended) on visual healthcare to the low-income through clinic days or "missions."
[Dan Morris-Young is NCR's West Coast correspondent. His email is dmyoung@ncronline.org.]
Editor's note: We can send you an email alert every time The Field Hospital is posted. Go to this page and follow directions: Email alert sign-up.