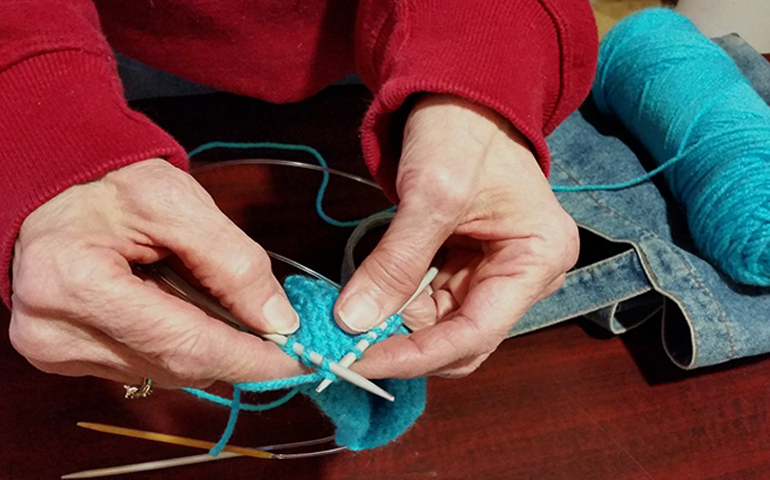 It takes Nora Schindler about 90 minutes to knit a tiny hat that will warm the head of a newborn at St. Joseph Medical Center in Tacoma. (Courtesy Holy Disciples Parish)
Editor's note: "The Field Hospital" blog series covers life in U.S. and Canadian Catholic parishes. The title comes from Pope Francis' words: "I see the church as a field hospital after battle. It is useless to ask a seriously injured person if he has high cholesterol and about the level of his blood sugars! You have to heal his wounds. Then we can talk about everything else. …"
If you have a story suggestion, send it to Dan Morris-Young (dmyoung@ncronline.org) or Peter Feuerherd (pfeuerherd@ncronline.org).
---
Nora Schindler founded a "hat drive" ministry after hearing "the story of a former drug addict who was told her premature baby couldn't be discharged from the hospital without wearing a hat," reports Michelle Bruno in NW Catholic magazine. The mother had no money to buy one, so the infant was released wearing a sock on its head. Since 2014, Schindler and other parishioners from Holy Disciples Parish in Puyallup, Wash., and Our Lady of Good Counsel in Eatonville, have knitted, crocheted or collected more than 2,600 hats for newborns, cancer patients and the homeless at Tacoma's St. Joseph Medical Center.
In a like-minded effort, parishioners of Holy Child Parish, Tijeras, New Mexico, and its mission churches at Chilili (San Juan Nepomuceno) and Escobosa (San Isidro) continue tangible support for Women's Pregnancy Options at Project Defending Life, a "Catholic-based ministry ... committed to defending the sacredness of human life from conception to natural death," states its website. A recent Holy Child Parish bulletin shares that the three congregations' most recent donation to the Albuquerque-based organization included nearly 2,500 diapers, more than 5,000 "wipes," seven hand-made quilts, and scores of other items.
Prayer vigils with a heavy emphasis on the healing power of music are being designed by Michelle Wodtli, music minister at St. Ignatius Parish, Portland, Ore., to help address tragic events. For example, reports Ed Langlois in The Catholic Sentinel, "After the November attacks in Paris, Wodtli convened a vigil at Marylhurst University [near Portland]. People of all ages sat in darkness, holding candles and listening to music and readings from scripture and other sources. Readings came from Isaiah, the Koran, the psalms, the Buddhist teacher Thich Nhat Hanh and the Gospel of John. One peace prayer implored the help of Mary, the Mother of God." Wodtli also designed a vigil after a gunman's shooting spree last fall at Umpqua Community College that left 10 persons dead. The vigil incorporated prayer, readings, sacred music and secular songs such as Eric Clapton's "Tears in Heaven."
In an email to NCR, Wodtli provided an update, writing that "we were privileged to be asked back to Marylhurst University on the 2nd of May to offer a Marian Meditation to not only honor the opening of the month of Mary, but to also honor those fallen in Brussels, Turkey, Beruit and Syria, as well as to acknowledge the natural disasters of earthquake, flooding and tornadoes occurring since the last vigil. This represents a great deal of potential communal trauma being addressed, with varying impact on each individual, though still held in community as well." Approximately 50 people attended.
Results of a 2015 online questionnaire on topics addressed at the 2014 and 2015 Vatican synods on family highlight need for ongoing adult formation as well as active youth and young adult ministries, writes San Francisco Archbishop Salvatore Cordileone in a commentary accompanying publication of survey results. About 1,100 responses were received in the Archdiocese of more than 400,000 Catholics. Among findings: 71 percent disagreed or strongly disagreed with the statement, "The Church should not make any changes to its teaching that prohibits Catholics who have divorced and remarried from receiving the Eucharist," archdiocesan spokesman Mike Brown confirmed. In addition, roughly two-thirds want the annulment process to be easier and less expensive; about two-thirds think church teaching on contraception is "clear," but only one-third find it helpful in forming conscience; just over half believe teaching on homosexuality is "clear," and 57 percent said it was not "useful in forming conscience."
Meanwhile, a former San Francisco auxiliary bishop, San Diego's Bishop Robert McElroy, has called for a diocesan synod on family.
Life-long educators (50 years each), Ron and Marsha Feller erected a tiny book exchange "library" in their front yard two years ago as a kind of demarcation for semi-retirement. Little did the parishioners of Spokane's Our Lady of Lourdes Cathedral Parish realize how much the Little Library on Post Street would become "a neighborhood focal point," they said. When they recently sent the structure out for refurbishing (including installation of a solar light), they were amazed at the number of neighbors and strangers who expressed concern about the absence of the wee library-perched-on-a-post. The free book exchange operates on an informal take-one-leave-one basis. Still, sometimes the facility overflows. At times it runs low; when that occurs, the Fellers re-stock from thrift stores -- cleaning and repairing the books before shelving them. The couple was partially inspired by a local story on the growing popularity of the tiny book exchanges and an international organization, Little Free Library, that registers and encourages the units. There are in excess of 36,000 registered, some in all 50 states and more than 70 countries, the group says. The Fellers have spent more than four decades traveling the West Coast as invited guests of schools and school districts to provide intense educational experiences for students in art, writing, song and storytelling.
[Dan Morris-Young is NCR's West Coast correspondent. His email is dmyoung@ncronline.org.]