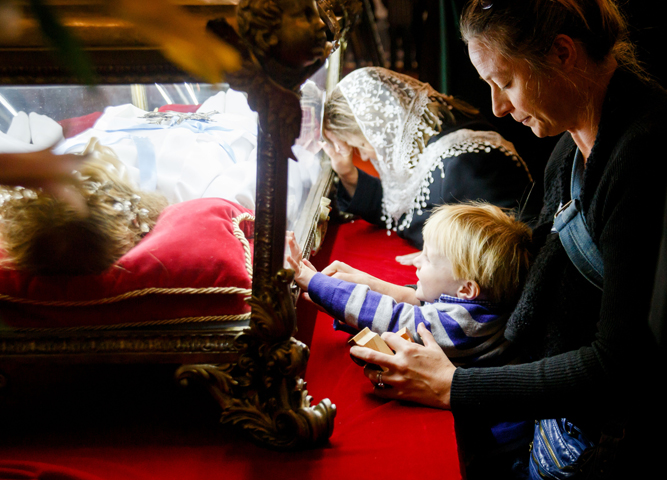 Mother helps her child touch the reliquary containing the relics of St. Maria Goretti at the Cathedral of the Holy Cross in Boston Oct. 5. The major relics, which are virtually all of the skeletal remains of the saint, known as the "patroness of purity," are on a U.S. "pilgrimage of mercy" this fall that will go to nearly 20 states. (CNS/Gregory L. Tracy)
Editor's note: "The Field Hospital" is NCRonline's newest blog series, covering life in Catholic parishes across the United States. The title comes from the words of Pope Francis: "I see the church as a field hospital after battle. It is useless to ask a seriously injured person if he has high cholesterol and about the level of his blood sugars! You have to heal his wounds. Then we can talk about everything else. Heal the wounds, heal the wounds. ... And you have to start from the ground up."
"The Field Hospital" blog will run twice weekly on NCRonline.org along with feature stories and news reports about parish life in the U.S. If you have a story suggestion, send it to Dan Morris Young (dmyoung@ncronline.org) or Peter Feuerherd (pfeuerherd@ncronline.org).
---
Some 10,000 parishioners and others lined up at Our Lady of Good Counsel Church in Plymouth, Mich., outside Detroit, to view relics of St. Maria Goretti, the Italian saint who was murdered by her rapist, who later converted to the faith after seeing a vision of her in jail. The relics are currently on tour, including a visit to St. Peter's Church in Merchantville, N.J., a part of the Diocese of Camden. The relics were also exhibited at Sing Sing Prison in New York (Maria Goretti is considered the patroness of prisoners), and in parishes in North Carolina and Florida as well.
Never any shortage of stories like these, as Northeast and Midwest dioceses continue consolidation. Bayonne, N.J., in the Archdiocese of Newark and Pittsburgh:
Some 150,000 Adult Catholics continue to enter the church each year via the Rite of Christian Initiation for Adults. A study from Wake Forest University indicates that poorer parishes tend to use a traditional lecture approach to learning about the faith, while wealthier parishes engage new faith seekers in a variety of ways, including group discussions and Scripture sharing.
The Guardian reports on the one majority white congregation affected by an onslaught of fires afflicting mostly African-American churches on the north side of St. Louis. The Shrine of St. Joseph suffered a recent fire, similar to those that affected six other congregations. Damage at St. Joseph was minor. Fr. Dale Wunderlich, pastor of the struggling church which was almost closed in an archdiocesan consolidation, organized a collection for the other congregations affected by fires in the community, as a sign of solidarity with fellow struggling Christians.
Cenacle Legal Services has joined with the Diocese of Venice, Fla., in an effort to provide working poor people with legal services. The project is housed at Epiphany Cathedral Parish in Venice.
Georgia Tech's Catholic Center recently celebrated its 30th anniversary with an announcement by Father Josh Allen, pastor, that it has received a $100,000 grant from the Lilly Endowment to promote vocation discernment to the priesthood, religious life and marriage for the school's Catholic students. According to the Fellowship of Catholic University Students (FOCUS), Georgia Tech is the second most active Catholic campus ministry center in the nation, surpassed only by Texas A&M.
[Regular Catholic press contributor Peter Feuerherd writes from Queens, N.Y.]