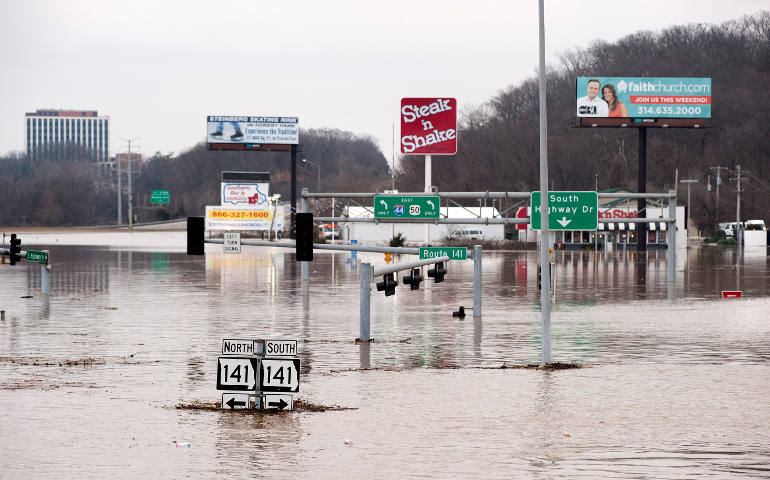 Floodwaters from the nearby Meramec River fill the traffic lanes of I-44 and Missouri Route 141 Dec. 30 in Valley Park, just outside St. Louis. (CNS/Sid Hastings, EPA)
Editor's note: "The Field Hospital" is NCRonline's newest blog series, covering life in Catholic parishes across the United States. The title comes from the words of Pope Francis: "I see the church as a field hospital after battle. It is useless to ask a seriously injured person if he has high cholesterol and about the level of his blood sugars! You have to heal his wounds. Then we can talk about everything else. Heal the wounds, heal the wounds. ... And you have to start from the ground up."
"The Field Hospital" blog will run twice weekly on NCRonline.org along with feature stories and news reports about parish life in the U.S. If you have a story suggestion, send it to Dan Morris Young (dmyoung@ncronline.org) or Peter Feuerherd (pfeuerherd@ncronline.org).
---
The new year is sure to bring more such cases: a music leader in a Maryland parish, part of the Archdiocese of Washington, is fired after it is learned he is in a same-sex marriage. Fired church employees in such situations apparently have no legal recourse.
St. Louis-area Catholic parishes respond to the floods in the Midwest. While, in this winter of strange weather, Dallas-area Catholics offer support to tornado victims.
A letter writer to the Los Angeles Times says that Catholic parishes could be a natural outreach vehicle to spread the word among Mexican immigrants about the need for flu shots.
This week is National Migration Week. Breitbart News reports a problem: Catholic parishes are taking Jesus' teachings about welcoming strangers too seriously. Interesting take on how anti-immigrant fervor objects to basic Catholic social teaching. Here is the U.S. bishops' view.
A Catholic parish in Tampa celebrates its history, complete with period costumes.
[Regular Catholic press contributor Peter Feuerherd writes from Queens, N.Y.]